Kim Il Sung Stadium
Introduction
Location
History
Architecture
Events
Visting & Tips
Kim Il Sung Stadium: Introduction
Kim Il Sung Stadium is the venue of Marathons, Football Matches, Mass Games, and momentous Political speeches.
The stadium is a large structure very centrally located in the heart of Pyongyang, as one would expect for a venue named for the founding (and eternal) President of the DPRK.
This stadium has an interesting history, is a venue for some of the most amazing events in North Korea, and is one that you too could get the chance to not only visit but to compete in also; read on for all that you need to know about Pyongyang's Kim Il Sung Stadium!
Tour Guides often claim that the stadium holds 100,000 people. This may have been true when standing was allowed but as an all-seater venue it is closer to 50,000. This is still massive though, and the second largest in the country, behind only the colossal May Day Stadium.
The grass surface is actually artificial, however, FIFA approves the DPRK Football Association to host international matches on this surface (which is very rare) and as a result, both the DPRK domestic football league as well as qualifying matches for Asian tournaments, World Cups, and Olympics, are played here.
It is very much the home of football in the DPRK,
For anyone visiting Pyongyang when there is no game on here and wanting a peek inside, we recommend visiting the top of the Arch of Triumph, or Ulmil Pavilion in Moranbong Park, both of which offer views over and into the Stadium.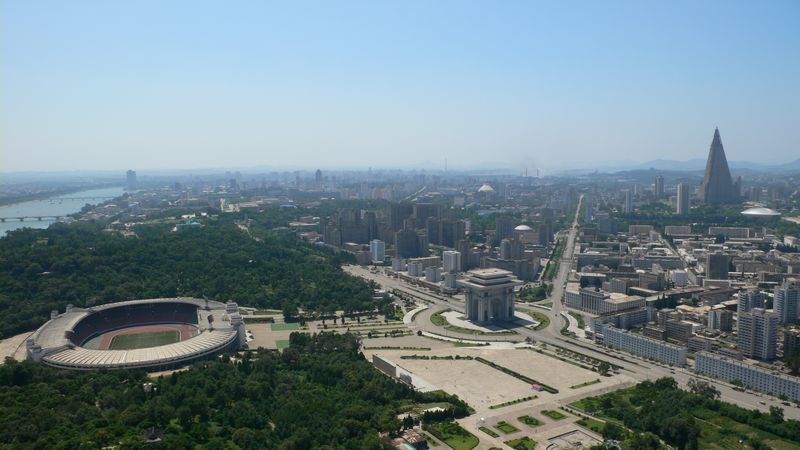 ---
Kim Il Sung Stadium: Location
Kim Il Sung Stadium is located opposite the Arch of Triumph. There is a Pyongyang metro station called "Triumph Station" that opens out right at the stadium.
When coming out of the Metro, the Kim Il Sung Stadium is directly right and behind the station. Behind it is Moranbong Park and Kaeson Youth Park.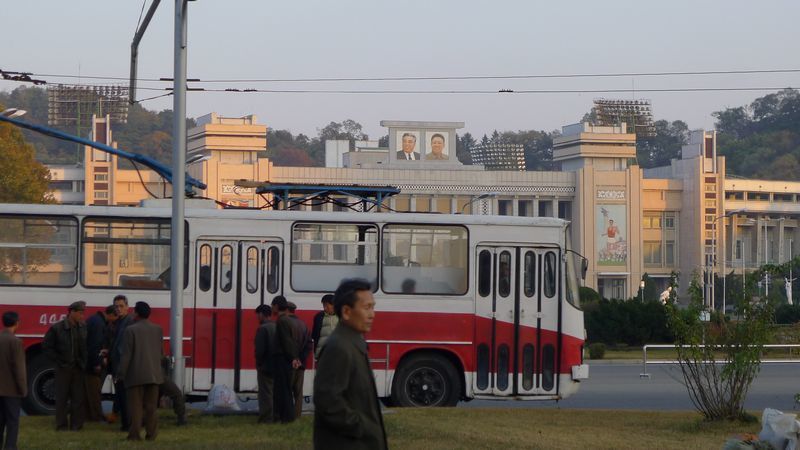 ---
Kim Il Sung Stadium: History
A sports ground was initially built on this very site, a spot of flat land between the two halves of Moran Hill, in 1926. At that time it was known as the Kirimi Stadium (built by the Japanese) and hosted football and other events, the main sports venue in occupied Pyongyang.
In 1946, following Liberation, Kim Il Sung gave the crucial speech "every effort for the Building of a new democratic Korea" in the square in front of the stadium.
This event is captured in the very impressive Mosaic Mural to the north of the stadium and as a result, this location became known as 'Triumph' with the nearby Metro Station taking this name, as well as the reason for the construction of the Arch of Triumph on this site.
If you want to hear the content of this speech then ask your tour guide, all North Koreans know it!
During the Korean War, the allied Air Force obliterated the stadium (and everything else) and in 1954 it rose again, this time named Moranbong Stadium, enlarged in the late 60s and again in the early 80s when it was renamed in honour of Kim Il; Sung on his 70th birthday in April 1982. It was renovated most recently in 2016 with new seats and a coat of paint.
Mass Games used to take place here until the more purpose-built May Day Stadium was fully operational in the mid-1990s.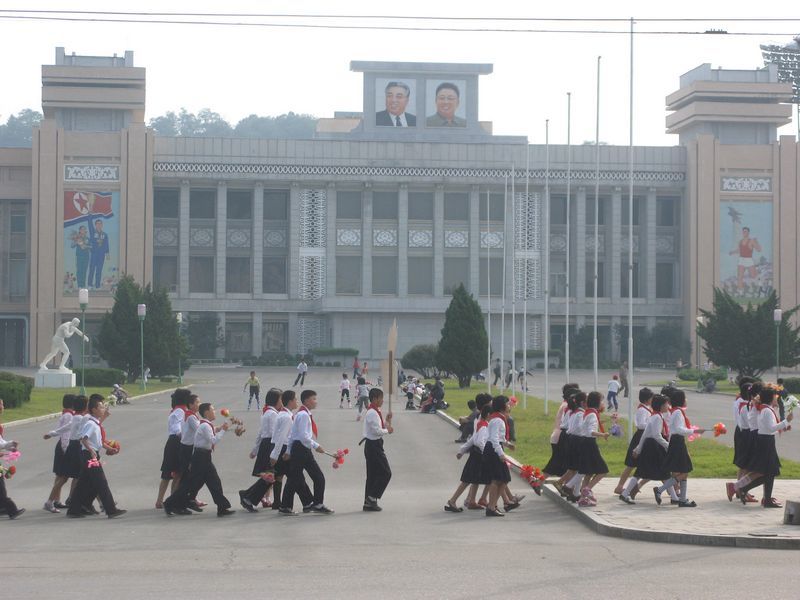 ---
Kim Il Sung Stadium: Architecture
Less architecturally significant than the May Day Stadium, Kim Il Sung Stadium is still an impressive albeit-somewhat-utilitarian arena.
One tier of seats, bisected by a footpath, with a VIP area underneath the portraits of Kim Il Sung and Kim Jong Il, 43 sections, with foreigners usually limited to being in just one area (usually next to the VIP area for football, and next to the main entrance during the marathon.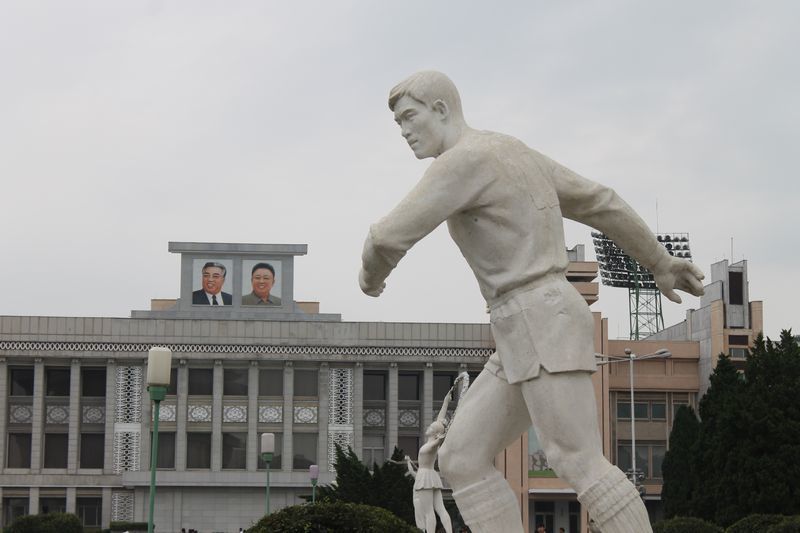 ---
Kim Il Sung Stadium: Events
Over the decades many big sporting events have taken place here. A selection follows;
held usually on the second Sunday of April, this massive event is the largest sports even held in the DPRK. Foreign visitors are now welcome to take part and information can be found on the Marathon's Official Website. As the race starts and finishes inside the stadium this is the chance visitors have of running on the track, starting and finishing the race to the cheers of a capacity local crowd, a proper Olympic finish!
Football
Local matches are not publicised very much in advance but for anyone wanting to see one they should go to the stadium and check the large board besides the Subway Station entrance – matches are listed there. Usually up to 3 per day and some starting as early as 9 AM. Often foreigners can attend and the cost is usually around 20 EUR. Attendance is often very low though and the atmosphere is not exactly up there with the Maracana, but get some cheers ready and back the underdog team!
International Football
Many world cup qualifiers, as well as pre-tournament matches for other events as well as friendlies, have been played here. Men, Women, Youth teams, all manner of footy is kicked around in this hallowed ground. Check tournament websites for upcoming games.
On occasion (such as a match against Japan in 2007, games are played at other stadiums (that one was at the Yanggakdo Stadium). Some clips of a match between DPRK and Philippines in 2015 can be watched online here.
Matches against South Korea have been scheduled here but have been somewhat disrupted for somewhat obvious reasons of sensitivity. In 2009 two World Cup qualifiers were due to be played but both were moved to Shanghai. In 2019, a match took place but in an empty stadium. Although the President of FIFA flew in for it and was unimpressed with the lack of crowd.

A women's under-15s match did take place between the two Koreas in 2016 though. So, it can happen sometimes!
Back in the days of the Japanese Occupation, there were matches between Pyongyang and Seoul's football teams played here - Check out some info on this here!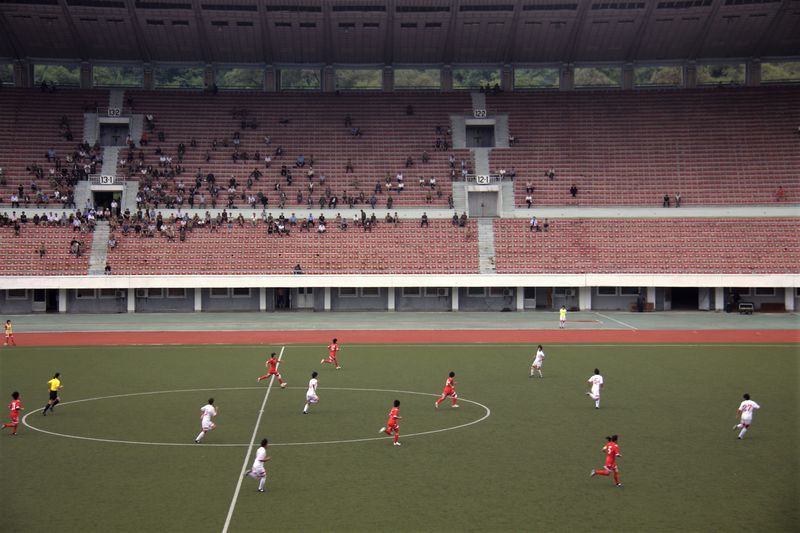 ---
Kim Il Sung Stadium: Visiting Tips
While it is possible to make a visit to Kim Il Sung Stadium even with no events taking place, this is not always guaranteed. To be sure of getting inside either attend during the Pyongyang Marathon, or aim for a national holiday when local football matches tend to be clustered.

There are no restaurants, bars, concessions in Kim Il Sung Stadium, but there is often a simple snack bar on site. While alcohol is not really allowed there is often no opposition offered if someone in the foreign area wants to take in a bottle of refreshment or a snack.

During the Pyongyang Marathon, a small shopping village is set up outside the ground. There, one can get a beer, a souvenir, a bite to eat. Locals also flock to this area and it is among the best opportunities of the year to mix with Pyongyangers; make sure you do that!

In spring and summer, there are often a lot of people sitting around outside the ground, sometimes pop-gun games are set up, people line up for football tickets, and there is also a booth selling tickets for the Pyongyang Sports Lottery.

If you take a trip on the Pyongyang Metro, then you will usually emerge from underground at the Triumph Station, this is directly next to Kim Il Sung Stadium and is a good way to get to a football match (although some may imagine the trains to be full of footy fans singing songs and wearing the shirts of their favourite team, it is nothing like this in reality – sadly!)

Kaeson Youth Funfair is located just a 2-minute walk from the stadium, this amazing fun place is open in the evening and should definitely be included on any trip to Pyongyang for anyone wanting to try out some of the amazing rides and scream in terror along with the locals!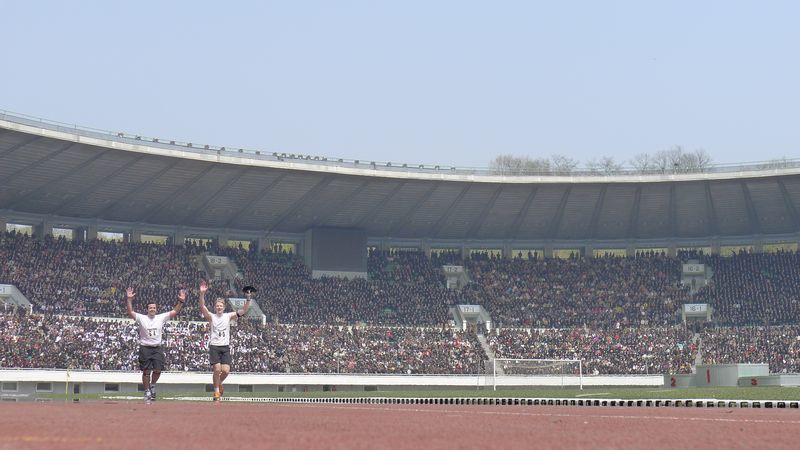 ---
---
Interested in a tour to North Korea?


Travel to

North Korea

with the only
North Korea travel experts, Koryo Tours
North Korea Travel Guide PDF | Sign up to the mailing list | About Koryo Tours