Introduction
Location
Visiting Tips
Foreign Languages Bookshop: Introduction
The Foreign Languages Bookshop is the main place in the city to get your propaganda fix in English, Chinese, Russian, Japanese, Spanish and other languages.
There are books here by and about Kim Il Sung, Kim Jong Il and Kim Jong Un, picture books of Pyongyang and other significant areas of the country, anti-Japanese and anti-American texts, children's storybooks, recipe books and much more besides.
There are also books in Korean available including a good selection of comic books.
These are mainly for locals but are cheap and make for an interesting souvenir too.
There is also another, new Foreign Languages Bookshop that you can also visit on Ryomyong Street.
The range of products is the same as this store.
---
Foreign Languages Bookshop: Location
Located on the ground floor of one of the older buildings in central Pyongyang, it is across the road from Department Store Number 1 and just one block away from Kim Il Sung Square.
Your visit here will likely be included with a walk through central Pyongyang that may also take in the Pyongyang Grand Theatre, Kim Il Sung Square, Taedong Gate and Okryugwan Restaurant depending on your itinerary.
Being in one of Pyongyang's older buildings, the building has a very Russian feel to it with overhanging balconies and decorative towers at the top. The shop itself isn't very big and doesn't take very long to look around it.
---
Foreign Languages Bookshop: Visiting Tips
No prices are listed but the ladies who work here can tell you the price of everything. They do speak a little bit of English!

The payment process can be slow, so do finalise your purchases and get in line to pay in good time especially if the shop is busy.

They sell a small range of artwork and propaganda posters here, but the range at the DMZ souvenir shop is much better.

They also sell a small range of stamps, but the dedicated stamp shops in Kaesong and next to the Koryo Hotel are much better for this

The staff kindly ask that no photos are taken inside the shop.

Hotels also have very good bookshops, so don't worry if you don't make it here or don't have enough time to decide which books to buy.

If you're lucky, you might be given your purchases in a beautiful locally-made silk bag.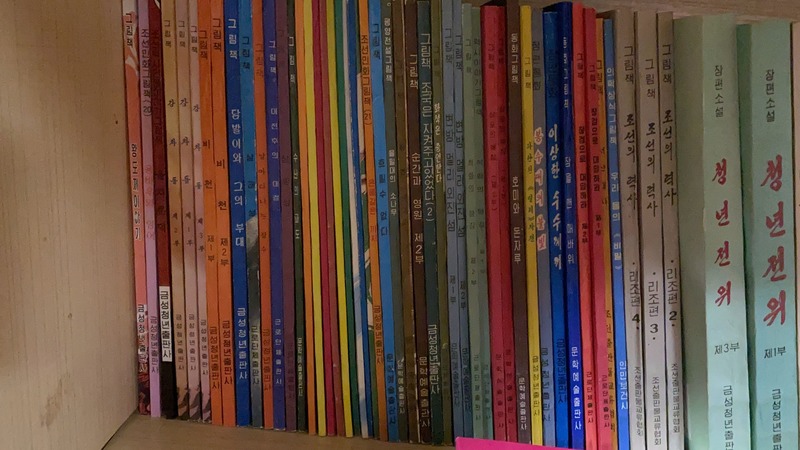 ---
---
Interested in a tour to North Korea?


Travel to

North Korea

with the only
North Korea travel experts, Koryo Tours
North Korea Travel Guide PDF | Sign up to the mailing list | About Koryo Tours