Introduction
Location
Exterior
Interior
Visiting & Tips
Further Information
Introduction
The Kumgangsan Hotel, also known the Mt Kumgang Hotel, is one of the oldest hotels in North Korea having opened in 1958.
In the early 2000's it was taken over by South Korean conglomerate Hyundai Asan who were responsible for the North Korean tour program for South Koreans, and renovated as part of their development in this area.
As a result it is one of the best hotels in North Korea and the main hotel used in the Mt Kumgang area.
---
Location
The hotel is located within the Mt Kumgang tourist village at the base of the Mt Kumgang mountain range on Korea's scenic east coast.
It's just a short distance to DMZ on this side of Korea, though you can't visit the DMZ here (you can do that here). The South Korean city of Sokcho is just 60km away.
Being in the tourist village it is just a short distance to all the facilities in the village such as restaurants, performance centre, hot spa, shops, hotels and other facilities of the area. At the time of writing only two of the restaurants, the hot spa and one of the shops are open during the warmer months (April – October).
To get to Mt Kumgang from Pyongyang is a full day's driving via Wonsan including stops along the way.
---
Exterior
It is a twelve storey building finished in a combination of white and pastel green.
All rooms in the hotel have their own balconies which face the mountain range so you can greet the mountain in the morning and take in the fresh mountain air.
Outside of the hotel is the car park area which you can stretch your legs in, but it's advisable to not leave the car park area itself (as in, it isn't allowed!)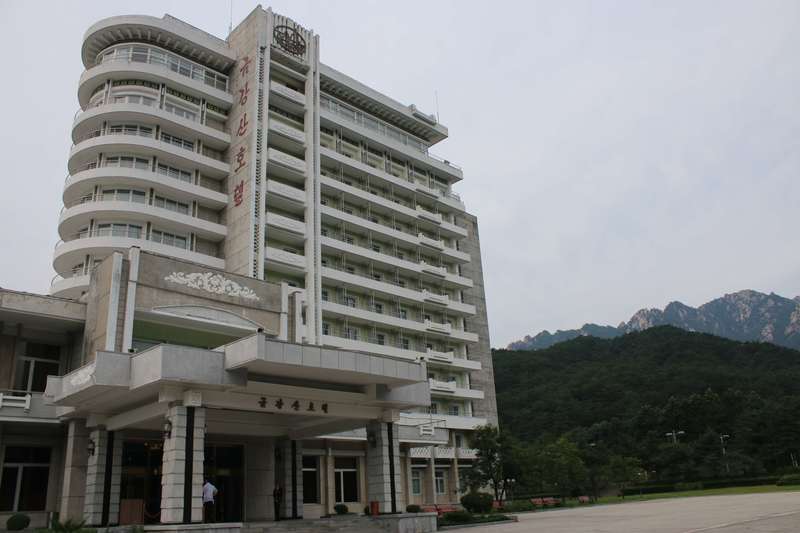 ---
Interior
The hotel was fully renovated by Hyundai Asan in the early 2000s and is still in great condition.

It has 215 rooms with three levels of room available – Royal Suite, Deluxe Suite and Standard Rooms.

Standard rooms are the rooms included in your tour fee and have two beds, television, heated floors and a bathroom. The Royal Suite has a large king-size bed, and deluxe suites can have twin beds, double beds or ondol (floor) beds. There is an additional cost for deluxe and royal suites.
The hotel is equipped with the following facilities;
Bar/lounge
Restaurants
Souvenir shop
Sky lounge on the top floor
Nightclub/karaoke room
Massage room
Meeting rooms
Gym
Internet access from the business centre
Billiards table
Table tennis room
There are two elevators here and both work well.
Hot water is well supplied here with it generally being made available for all or at least most of your stay. It is good to have your guides double-check the hot water status upon arrival.
Electricity is generally reliable, but power outages do happen so it's good to be prepared.
---
Visiting & Tips
The food served here to tourists can be a bit mediocre, but there are a couple of really excellent Korean restaurants nearby called the Sujongbong and Pyolkumgang Restaurants. We recommend eating at these restaurants for main meals if possible which will need to be requested in advance.

The souvenir shop has some excellent Mt Kumgang souvenirs that you will only find here such as Kumgangsan branded t-shirts and handkerchiefs.

As mentioned, it is advisable to not go beyond the car park area in front of the hotel. Despite it seeming the whole tourist region is surrounded by a fence, its proximity to the DMZ means there are many military units in the area and unfortunate incidents have occurred here when people have gone too far (read below)
---
Further Information
This is one of the most fascinating places in North Korea to visit and not just because of the stunning mountain scenery. Along with the Kaesong Industrial Zone, the Mt Kumgang Tourist Region was one of the shining beacons of inter Korean cooperation and key achievements of the Sunshine Policy period until 2008 when an unfortunate incident occurred where a South Korean lady was shot by North Korean soldiers early one morning while out for a walk. You will likely hear differing versions of what exactly happened, but the outcome was all inter Korean tourist projects were shelved and inter Korean relations went backwards after a long period of growth and stability.

During this Sunshine Policy period Mt Kumgang was the location for family reunions between separated families from North and South Korea. There is a special meeting hall that was constructed for this, but for the most recent round of family reunions in 2018 were all held at the Kumgangsan Hotel.

Having been renovated by South Koreans, just about all of the appliances and fittings in the hotel are South Korean products. Look closely at the televisions and you might notice the logo on the front has been unceremoniously removed, but look at the back and you will notice they are all made by LG in the Republic of Korea.

Hyundai Asan still maintains the website advertising its Mt. Kumgang Tours for South Koreans even though it has been 12 years (at the time of writing) since the last South Korean tourists set foot here. The Kumgangsan Hotel has it's own page on this website, so you can see more of the hotel online by following this link here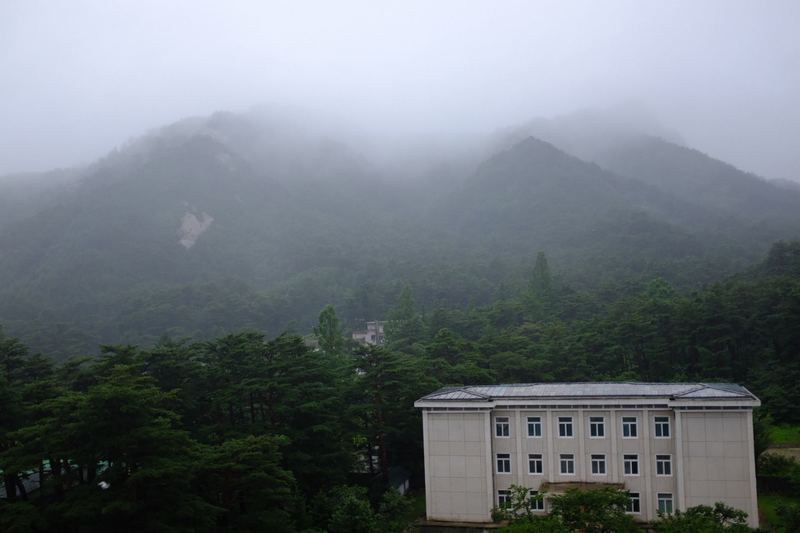 Hotel room view onto a foggy Mt Kumgang
---
---
Interested in a tour to North Korea?


Travel to

North Korea

with the only
North Korea travel experts, Koryo Tours
North Korea Travel Guide PDF | Sign up to the mailing list | About Koryo Tours