Changgwangwon Health Complex
Introduction
Location
History
Visiting
Costs
Anecdotes
Introduction
One of Pyongyang's great Socialist Modernism-style buildings, the Changgwangwon Health Complex is a comprehensive leisure facility comprised of saunas, bathhouses, a massive swimming pool (with seating for 2000 spectators when events take place as well as multiple diving boards in another specific pool alongside), smaller wading pools, barbers for men and women, and much more.

The largest such health complex in the city and a truly iconic building of the era, built in 1981 and largely unchanged since then.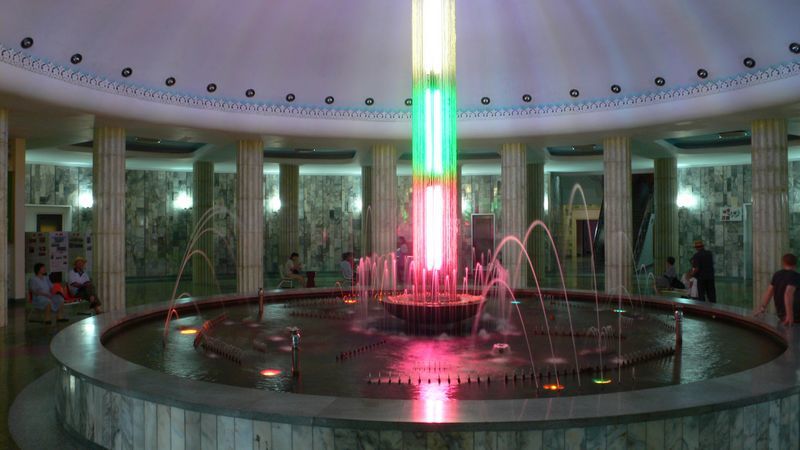 ---
Location
Changgwangwon Health complex if on Changgwang Street, behind the Changgwangsan Hotel.
The rear of the Changgwangwon Health Complex backs onto a small street with the Rakwon (Paradise) Department Store and the main offices of Air Koryo. The Potong River flows nearby and across nearby Chollima Street is both the Party Central District and an area where many of the better-off Pyongyangers live.

Despite this, the Changgwangwon Health Complex is used by people across the social strata of the city. As well as tourists!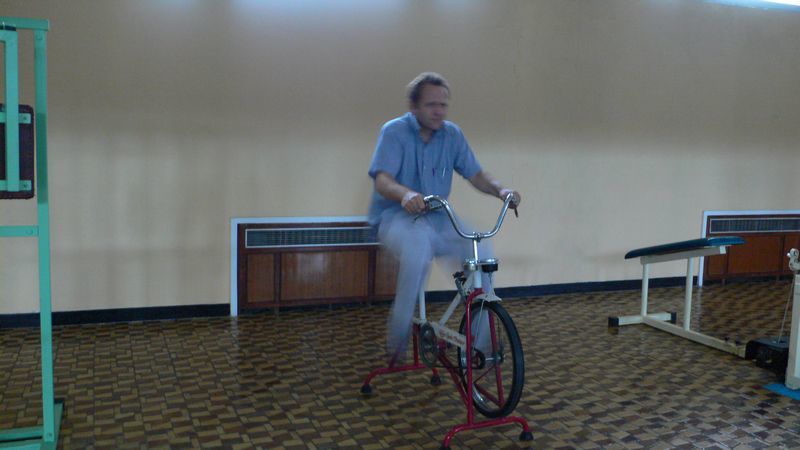 ---
History
Changgwangwon Health Complex was opened in 1981, at the time the largest such facility in the city and only beaten now by the massive Munsu Water Park.

This is very much a building epitomising the socialist modernism popular at that time, see also many of Pyongyang's hotels also built in the 1980s.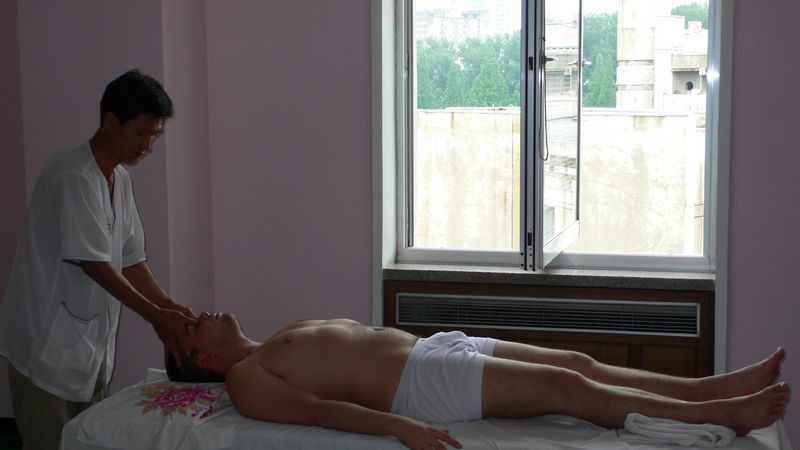 ---
Visiting
Changgwangwon Health Complex is officially open to foreigners only on Saturdays (although exceptions are made sometimes).
Tourists can use the facilities, resident foreigners (diplomats, usually from Russia) also head here on such days, as do local people. a good chance to mix at leisure with some of the Pyongyang public.

It is also possible just to visit for a look. The barbershop area has lovely décor and the haircutting rooms themselves are set into the curved sides of the building, well-lit, and the combination of the pink décor, retro-fittings and chairs, and the smell of pomade and hair products gives you a curious otherworldly sense.
Not what one would expect from visiting a hairdresser's for a look!

Tourists, of course, can also get their haircut here, or a shave.
Hairdressers at the Changgwangwon Health Complex are highly trained but are not very experienced in dealing with the different types of hair of the outside world, or with shaving heavily-bearded faces, so take that into account when asking for various services. If you ask nicely you can even get a haircut or shave while sitting in a seat used by Kim Il Sung when he visited for some pampering!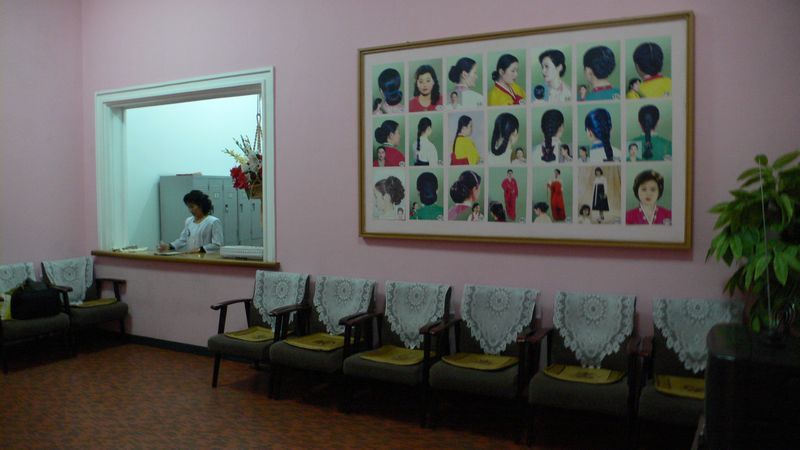 The swimming area is the main attraction though; Olympic-sized pool, usually roped into lanes it is clean and well-maintained. The diving boards are simply amazing; with an elevator going up to the 10m board. The pool below is often used by various synchronised swimming teams so try not to land on them as you dive with grace and poise/fall flailing into the deep pool below.

As with other swimming pools in North Korea, the Changgwangwon Health Complex offers the hire of swimming costumes for guests who didn't bring their own. This will be very tiny for men and very modest for women. Embrace the local style though!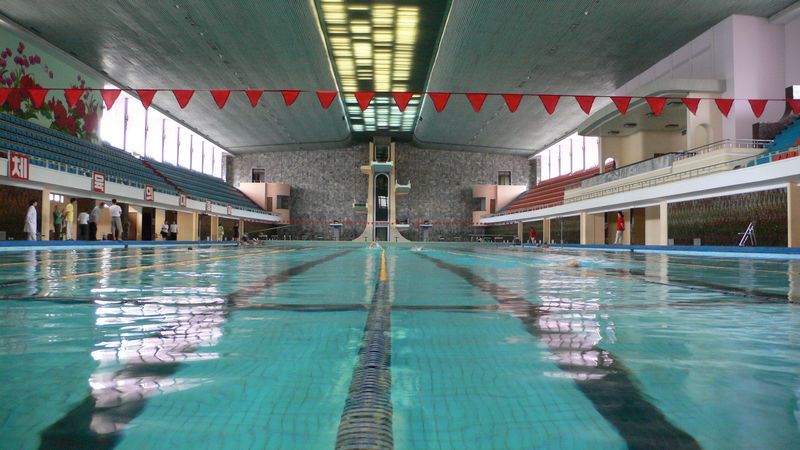 ---
Costs
A basic haircut and shave for men costs around $8 for tourists. For women, it is usually more as most women's haircuts on offer are more elaborate. Access to the pool and diving area costs around $10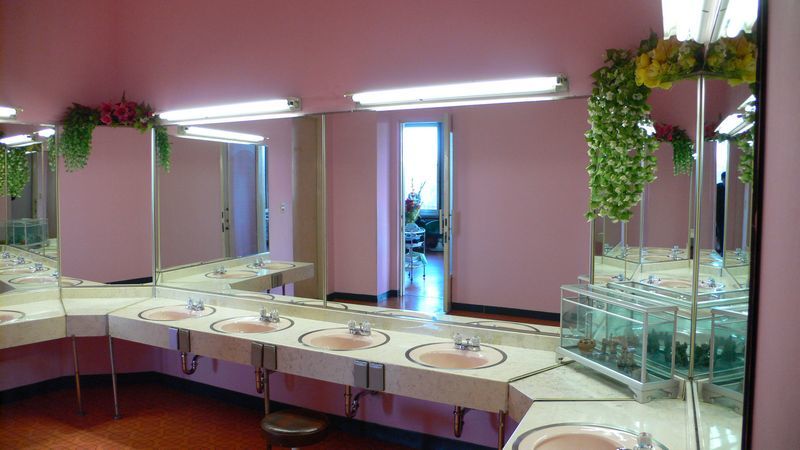 ---
Anecdotes
The hair of North Korean people can be relied upon to make the news every so often in the outside world. For many years there has been a persistent rumour, repeated in some otherwise credible publications, that only a certain number of 'official' haircuts are permitted in the country. While there is certainly a cultural trend towards the 'short back and sides' for men (basically the near-universal men's haircut, plus hair longer than 5cm for men is frowned upon – 'Let's trim our hair in accordance with Socialist lifestyle' was a genuine campaign in North Korea in 2004 and 2005) and married women tend to cut their hair shorter than single women, it is simply not true that there are specifically permitted styles.
These rumours emanate from this very place, the Changgwangwon Health Complex! As foreign journalists visit here from time-to-time and the boards of suggested hairstyles look so amazing they decide that this must be all that can possibly be on offer, and report this.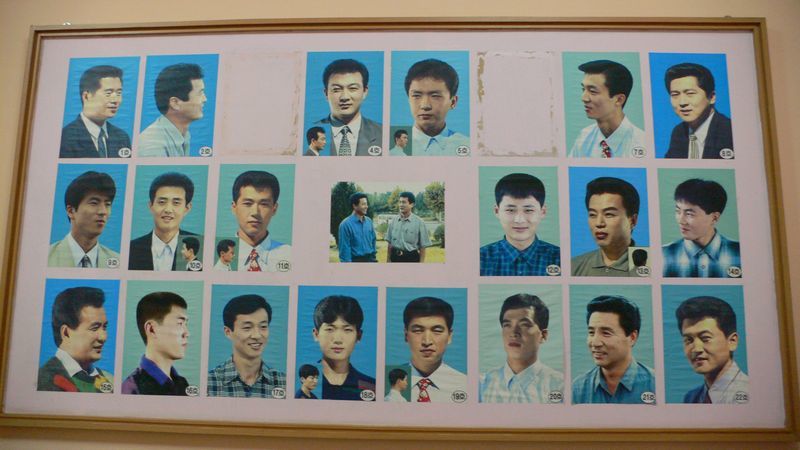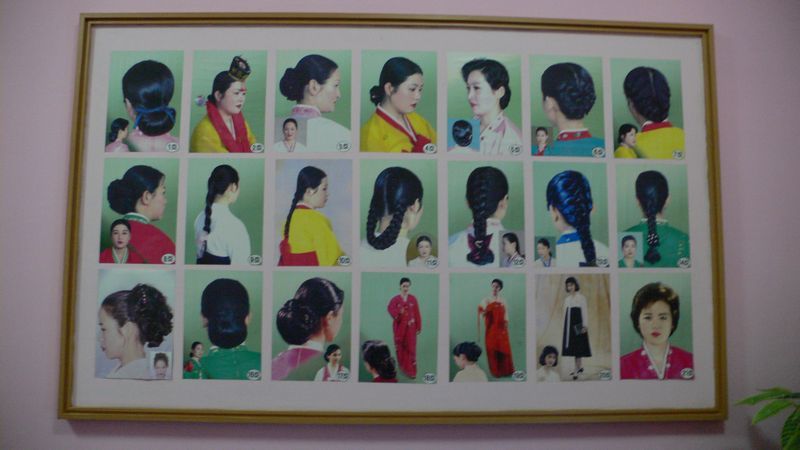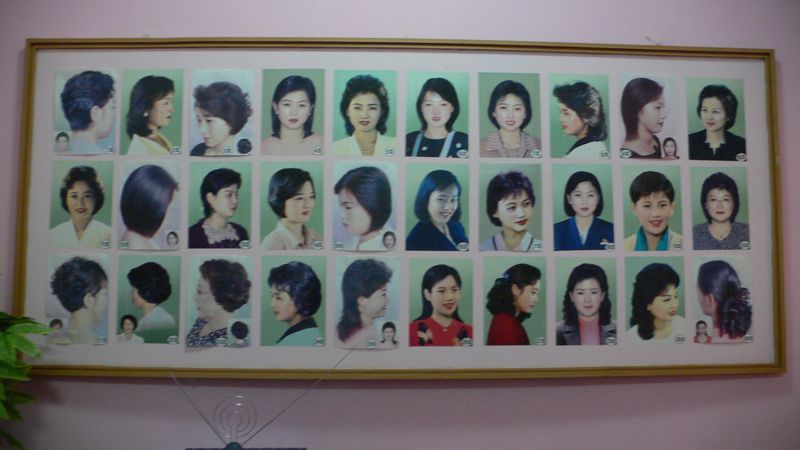 In 2014 there was also a claim made that all men, or all male students (the rumour varied) were mandated to have the same haircut as Kim Jong Un, this was manifestly false and easily disprovable, but still managed to enter the common consciousness of the world and is something people often ask about upon their arrival in North Korea, despite even one counter-example being enough to disprove this supposed rule – facepalm!

Michael Palin came here for a shave in the first episode of the amazing travel Show Michael Palin in North Korea.

Every February over the 'Day of the Shining Star' – the birthday of Kim Jong Il, there is a synchronised swimming display at the Changgwangwon Health Complex. This can be attended by tourists and is rather spectacular indeed. A video of the 2015 event can be seen here.
Retro DPRK has scanned and published the whole of an amazing 1981 brochure on the Changgwangwon Health Complex here, all the necessary stats and bombastic claims can be found, it is fascinating reading!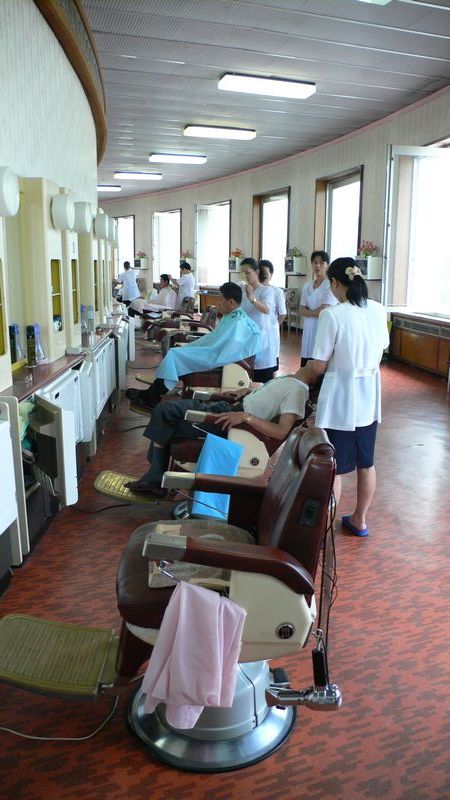 ---
---
Interested in a tour to North Korea?
Travel to
North Korea
with the only
North Korea travel experts, Koryo Tours
North Korea Travel Guide PDF | Sign up to the mailing list | About Koryo Tours