Rakwon Department Store
Background
Location
What can I buy?
Visiting Rakwon
Background
Hard currency shops began emerging in Pyongyang around the mid-1970s.
By the mid 80's they were explicitly legitimized and a fixture on the scene for foreign residents and those locals lucky enough to find themselves in possession of said hard currency.
But what is hard currency?
Basically it is foreign cash; at the time these shops started opening the DPRK used a confusing system of three forms of local North Korean currency.
However, the king of cash was that from overseas.
This was the period when the Euro (once known as the 'hard ECU' after all) was but a glint in the eye of a young Jacques Delors.
The key won for North Koreans and foreigners looking to buy anything important was the hardy perennial of the US Dollar, and the Japanese yen.
China was still a bit of a mess (let's be gracious and say 'finding its feet' perhaps) so the RMB wasn't worth the paper it was printed on.
Also, these were the days when trade and even passage between Japan and North Korea were simpler, so Japanese Yen was something that existed in some quantity in the DPRK.
To this day the system of requiring foreigners to use hard currency still exist (with exceptions, also a subject for another blog!).
There are even shops which will only accept hard currency.
These are often thought of as simply tourist shops, or shops for foreigners, but this is not true at all.
In fact there are hundreds and hundreds of such establishments, centred in Pyongyang of course, but spread throughout the country.
These shops accept only foreign currency, and though they price in DPRK Won it is at the official rate as a guide to convert to hard currency, you can't (or at least are not supposed to) spend local money in such places.
Confusing we know, anyway one of the most well-established extant hard currency emporia is in Pyongyang is the Rakwon (Paradise) Department Store.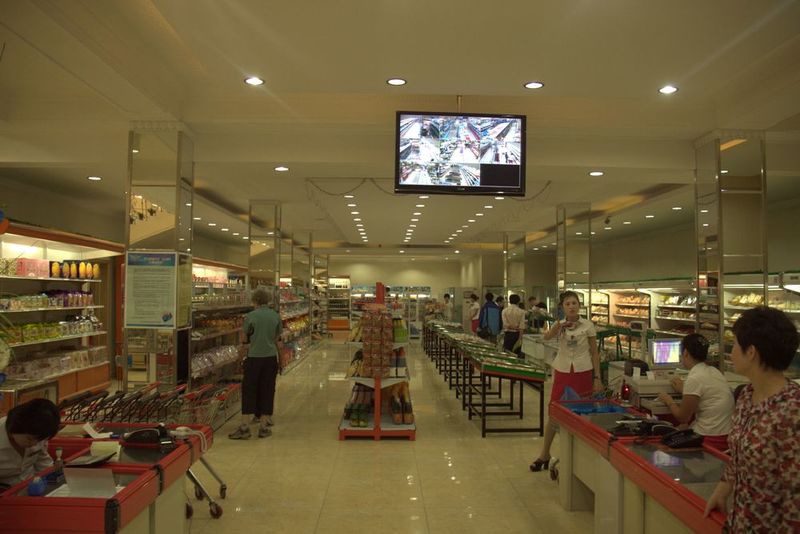 ---
Location
Located on Changgwang Street in the centre of Pyongyang, behind the Changwangsan Hotel, opposite the back of the Changgwangwon Health Complex, next to Air Koryo building.
This four storey building has housed the same store since at least the mid-80s.
---
What can I buy?
In its glory days, this was the shop to go to for those with yen to burn – imported goods, furniture, musical instruments, and so on could be found there.
The main attraction for tourists isn't really the sordid thrill of seeing middle and upper-middle-class Pyongyangers shopping.
But is that the supermarket on the ground floor is pretty well stocked with things you may want as supplies for a train ride to leave the country, or to treat yourself if on a long trip to North Korea.
The rest of the shop is mostly full of things you wouldn't want.
However the top floors of the building (accessed via a lift which is confusingly not actually in the shop) contain an excellent micro-brewery, and the restaurant run by the famous Japanese chef Kenji Fujimoto.
---
Visiting Rakwon
Rakwon Department Store these days is worth a stop mainly if you are in a rush and are too far from Kwangbok Supermarket to make a visit there worthwhile.
The shop may be past it's prime but it is still well-stocked and interesting.
If you ask nicely you can also join their loyalty card scheme.
The basement of the shop also has a pool and sauna complex, a health spa basically.
It's not really used by tourists but classier than the Changgwangwon public health complex across the road.
Still of you want a swim then we still suggest doing it with the popular masses over at Changgwangwon Health Complex rather than in the basement of a supermarket!
If you are a fan of Rakwon Beer or Rakwon Makgeolli (both made in this very building), then the supermarket is the best place to buy these for takeaway; an extra reason to visit if you find yourself at a loose end in this part of Pyongyang!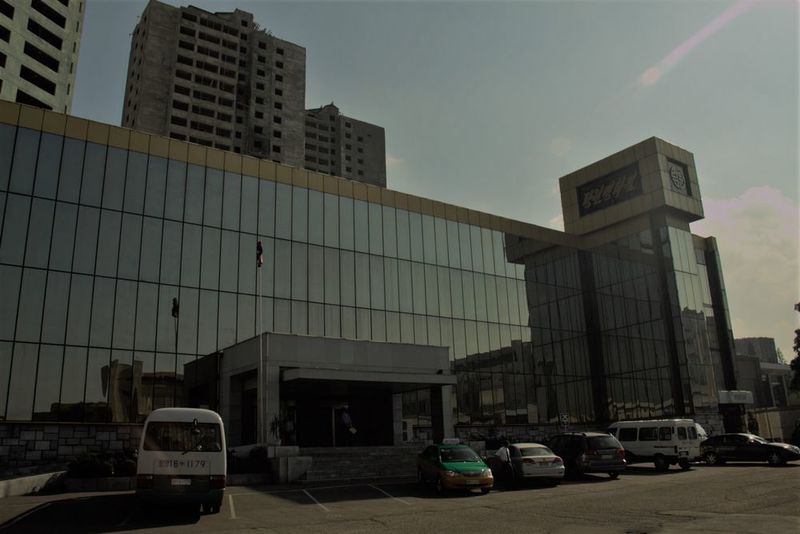 ---
---
Interested in a tour to North Korea?


Travel to

North Korea

with the only
North Korea travel experts, Koryo Tours
North Korea Travel Guide PDF | Sign up to the mailing list | About Koryo Tours