Changwangsan Hotel
Introduction
Location
What facilities are available?
Changwangsan Hotel: Introduction
Built in 1976 the Changwangsan, along with the Haebangsan Hotel, is one of the most centrally located of Pyongyang's hotels and a place not normally frequented by tourists.
It is the kind of hotel that you could very well find yourself being the only foreign guest at certain times, so if this sense of isolation is one you are looking for, the Changwangsan could be the place for you!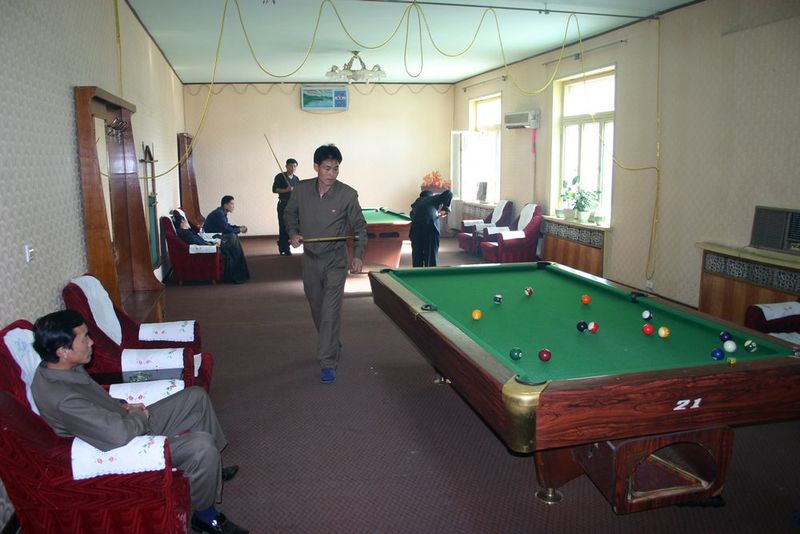 ---
Changwangsan Hotel: Location
Located in a prime spot along Chollima Street in Pyongyang and within just a couple of minutes' walk of such landmarks as Pyongyang indoor stadium, Rakwon Department Store (with its excellent micro-brewery), the Takahashi Japanese restaurant run by Japanese chef Kenji Fujimoto, the central ice rink, and the vast Changwangwon Health Complex.
The Changwangsan Hotel also contains some quirky spots within its walls.
This includes a usually empty swimming pool, a smoky café in the lobby, and a multi-room shop selling a range of goods imported from German. This is known as the "Germany Shop" to many Koreans).
Over time, the proportion of German goods in this shop have declined though.
There used to be a charming small café on the Chollima Street side of the building, but that was closed some years ago.
The towering Central Trade Bank was built right beside the hotel on that side, obscuring the street view for rooms in that part of the hotel.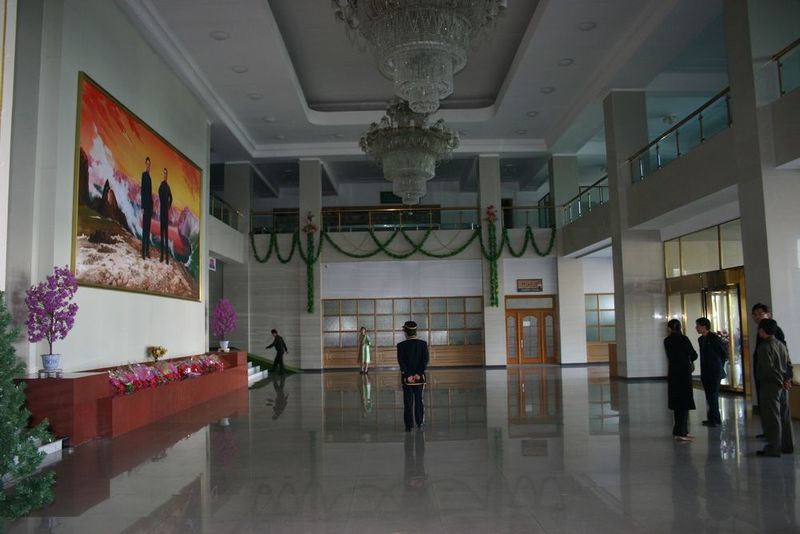 ---
Changwangsan Hotel: What facilities are available?
Changwangsan Hotel is composed of two towers.
Each tower in the Changwangsan Hotel has 18 floors and contain a total of 420 rooms, many of which have open balconies, affording some great street views of Pyongyang.
It is a rather large building, but rarely, if ever, has any issues with capacity being reached.
The Changwangsan Hotel lobby contains one of the classic and widely seen pictures of the DPRK's Leaders Kim Il Sung and Kim Jong Il standing at the top of Mt. Paekdu.
This lobby, as well as some other parts of the hotel, have been updated and renovated in recent years. So, they can be shiny and new, but the majority of the hotel, including almost all rooms, still has that kind of timeless classic style of the 1970s DPRK.
The second floor of the hotel holds a small bookshop (those that are in the smaller hotels in the DPRK often contain some obscure and otherwise out of print treasures), and tailors' shop.
In terms of nightlife, there is just a simple bar option.
For anything more lively other hotels can be recommended, or guides can be asked to take tourists to the nearby Rakwon Brewery for an evening drink of North Korean beer.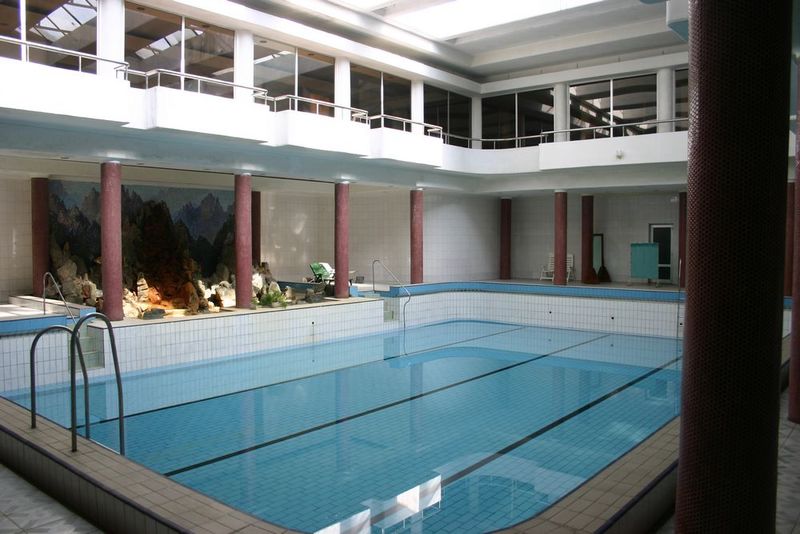 ---
---
Interested in a tour to North Korea?


Travel to

North Korea

with the only
North Korea travel experts, Koryo Tours
North Korea Travel Guide PDF | Sign up to the mailing list | About Koryo Tours