April 25th House of Culture
Introduction
Architecture
Location
Visiting
Introduction
Opened on 7th October 1975 the April 25th House of Culture was specifically to provide a venue for military education.

It contains two large theatres with 6,000 seats and 1,100 seats respectively with a cinema theatre of 600 seats. The interior space is 80,000 square metres and provides for some 600 other rooms in support of the theatres and rather long corridors.

The building was first named February 8 House of Culture to mark the date of the founding of the Korean People's Army (KPA). It was changed to 25 April (the founding date of the resistance army against the Japanese occupation) and the building's name was changed to the April 25 House of Culture to reflect this.

The name of the building was changed because although 8th February represents the date of the founding of the Korean People's Army (KPA). 25th April was the establishment of the earlier Revolutionary Army against the Japanese occupation with the KPA being seen as their direct successor.

The building is home to the April 25th Culture and Art Composition Office, which is in charge of organizing major KPA cultural events, including international conferences and state funerals. In addition to meetings for military education, awards and solidarity, official state ceremonies and party meetings the theatres in the 25 April House of Culture are used for cultural events such as performances by the Korean People's Army Ensemble, and the Moranbong Band has played there

April 25th House of Culture was the venue for the landmark meeting of North Korean leader Kim Jong Il with the president of South Korea, Roh Moo-hyun in 2007.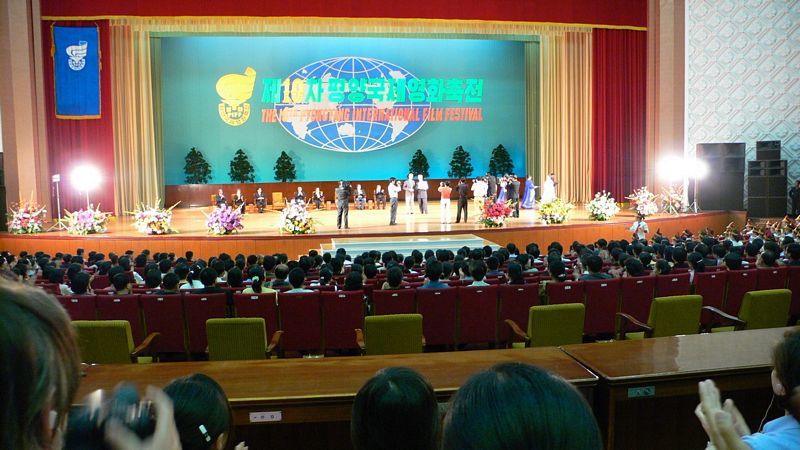 ---
Architecture
The squared collonaded tiered design appears part neo-classical with Korean details. Its scale makes it a good example of socialist monumental architecture.

The building is 105 metres wide across the front, 176 metres deep, and rises to a height of almost 50 metres.
Between 2012 and 2013 two large portraits of the North Korean leaders Kim Il Sung and Kim Jong Il were added to the façade.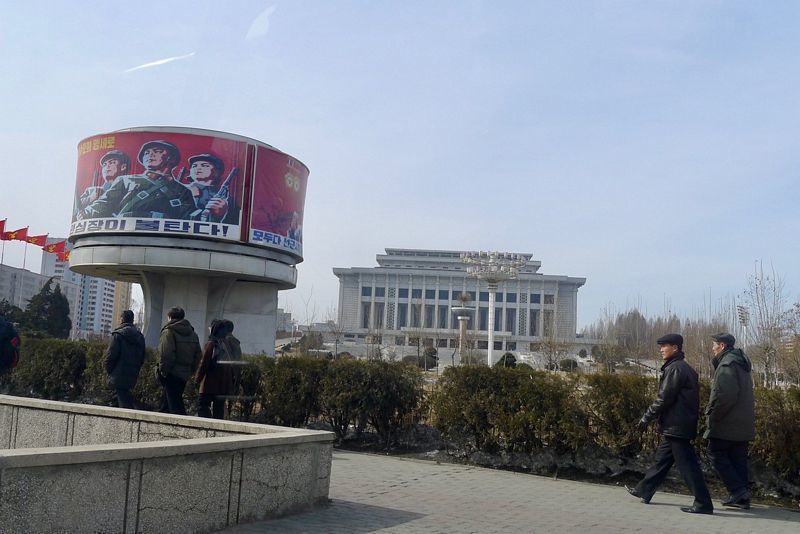 ---
Location
Visitors to Pyongyang will usually pass this building on their way into the city from Pyongyang Airport.
It is on Pipha Street, very close to the new Ryomyong Street, the Metro Museum, the Chinese Embassy, and handily to the first branch of the Samtaesong Hamburger chain.
---
Visiting
April 25th house of Culture is not generally open to tourist, mainly because it is a military site.
However, in 2006 it was used as a venue for the closing ceremony of the Pyongyang International Film Festival, which tourists were able to attend.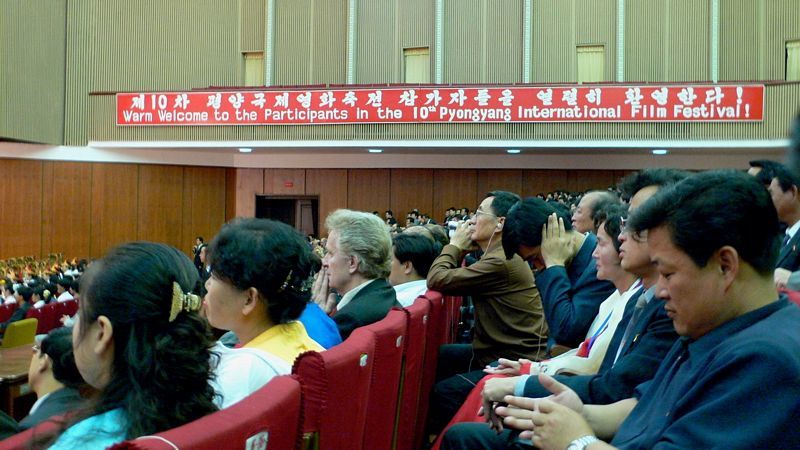 ---
---
Interested in a tour to North Korea?


Travel to

North Korea

with the only
North Korea travel experts, Koryo Tours
North Korea Travel Guide PDF | Sign up to the mailing list | About Koryo Tours