Taedongmun – Taedong Gate (and Pyongyang Bell)
Introduction
Location
Visiting
Introduction
Taedongmun (Taedong Gate) was originally built in the 6th Century when Pyongyang was a walled city.
This was the gate which allowed access to the citadel from the Taedong River. While the walls do not exist any more there are still some relics extant with this gate, Potongmun, and some gates in Moranbong Park still standing.

Taedongmun has been rebuilt several times over the years and the original was destroyed in the Imjin Wars of the 16th Century (a series of Japanese invasions). The current incarnation is said to date from the 17th Century and is made up of a large granite base with a two-storey pavilion on the top with a well-crafted and attractive wooden roof.

Rising up to 19m in total this gate is a fine example of Korean architecture of the period.
It is said that the reason that the gate survived the bombardment of the Korean War (although it did take some damage and have to be repaired) is that pilots would use it as an orientation point as they pounded the rubble of Pyongyang into even smaller pieces of rubble.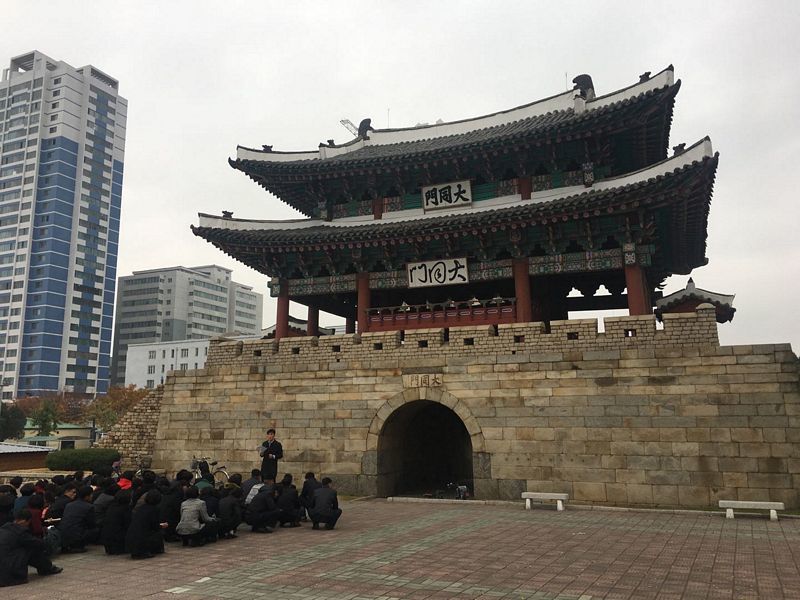 ---
Location
Taedongmun is, as its name would suggest, on the shore of the Taedong River. In Central Pyongyang and a short walk from Kim Il Sung Square, the Foreign Language Bookstore, and Widow Paek's House.

Set inside a small park which is commonly visited by people doing exercise, having a morning walk.
---
Visiting
A very simple place to visit as there is a handy car park nearby (for visitors to Kim Il Sung Square) and as Taedongmun is in an open area there isn't a need to arrange anything in advance.

The lower pavilion can be climbed up to easily and photos are of course permitted. For anyone in central Pyongyang and with a few minutes to spare then a trip to see Taedongmun is highly recommended.
It takes only a few minutes, stands as a good example of pre-revolutionary and pre-war construction in Pyongyang (something of which there are very few examples), and is simply a very nice looking medieval gate.

Also in this compound is the Pyongyang Bell – a large bell housed in a small wooden pavilion.
This bell is over 3m tall and weighs more than 13 tons. Pyongyang Bell is rung every December 31st at midnight to herald the New Year.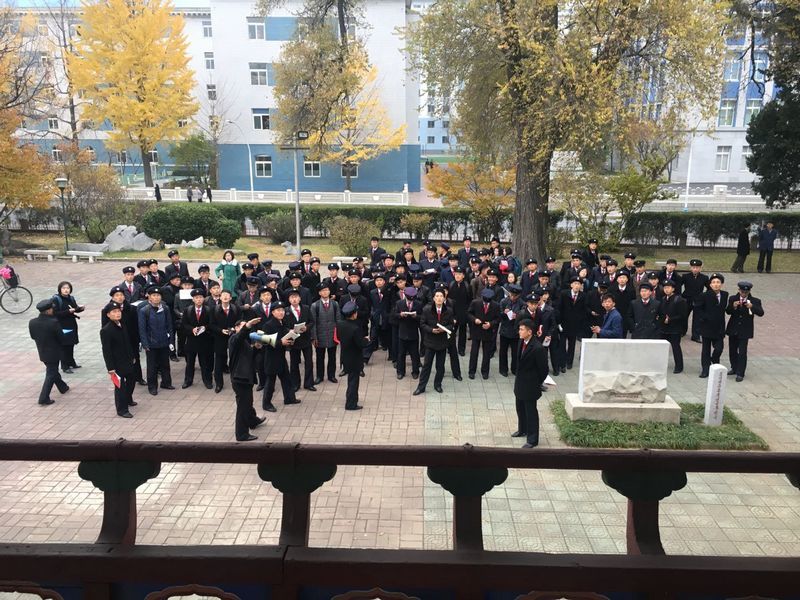 ---
---
Interested in a tour to North Korea?
Travel to
North Korea
with the only
North Korea travel experts, Koryo Tours
North Korea Travel Guide PDF | Sign up to the mailing list | About Koryo Tours