Ryongmun Caves
Introduction
Location
Visiting
Tips & Anecdotes
Introduction
Visiting Mt. Myohyang (home of the International Friendship Exhibition and the Pohyon Buddhist Temple) is a frequent occurrence on tourist visits to North Korea.
The 3-hour drive from Pyongyang is an interesting one but there is a spot along that road that is often-overlooked and for those with enough time and inclination a side-trip to the Ryongmun Caves system is something that should be considered.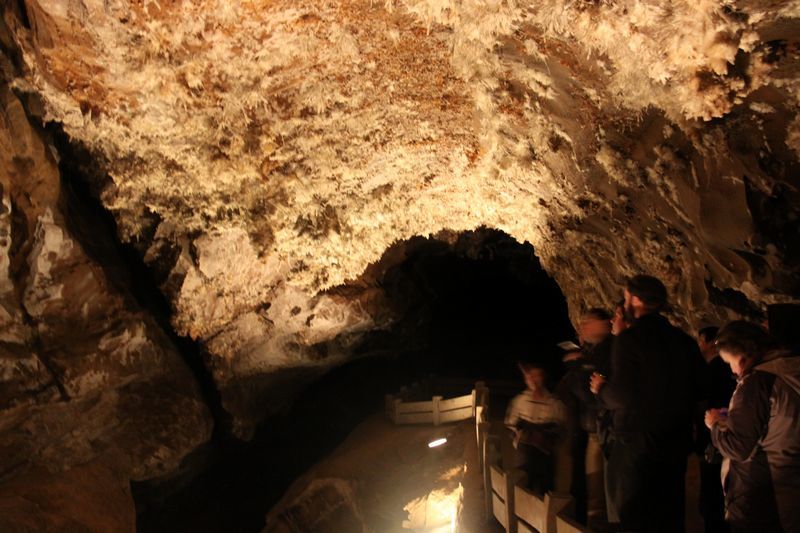 ---
Location
A mere 40 minutes' drive from Mt. Myohyang, partly along the highway, partly on a scenic set of winding country roads, brings one to what looks like a concrete bunker, this is the typically North Korean entrance to the cave system.
Meet a local guide, get yourself a torch/flashlight, make sure you don't suffer from crippling claustrophobia. If you do then stay outside in the open air, relax a bit!, and head down the initially-utilitarian descending pathway into the bowels of the Earth, the adventure soon begins!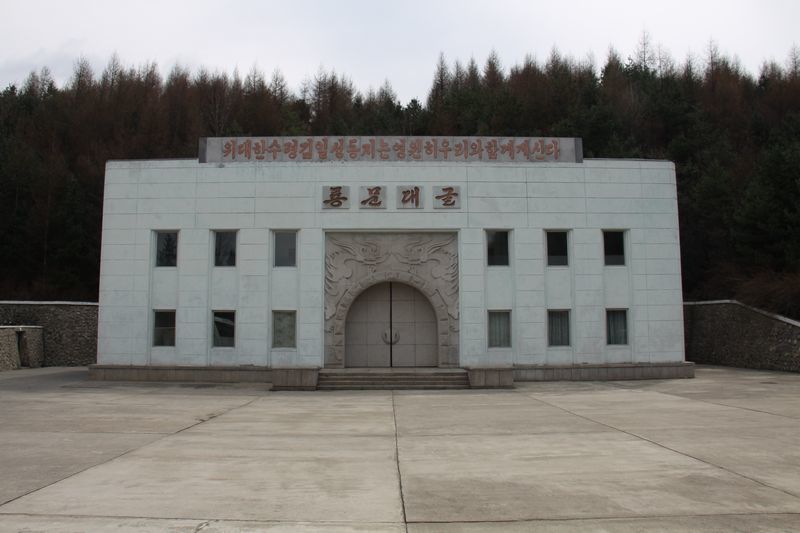 ---
Visiting
Formed hundreds of millions of years ago (as such geological formations tend to be), this vast limestone cave complex consists of both large caverns and smaller side-systems.
Local guides know it very well and many parts are illuminated in garish colours, like a 1980s school disco, which makes for a curiously psychedelic experience sometimes, as if you're stuck in an old Sci-Fi movie (recommended watching: Logan's Run)
While the larger caverns can be up to 40m in height there are also smaller tunnels to navigate, with staircases bolted and carved into the rock to allow access. It is not particularly strenuous to get through the system, no crawling or climbing is needed, but a steady tread, decent shows, and being able to duck under some sharp stalactites is important.

A basic hike down here is 2-3 km, the cave itself extends for 7km.

While you wouldn't think there is a particular relevance to revolutionary history in a half-billion-year-old Limestone cave you would, of course, be wrong, this is the DPRK after all! Many of the amazing formations of rocks, stalactites, stalagmites, have been named after significant revolutionary sites and events. No matter how deep you go into history or the earth itself when in North Korea, there is always the revolution present!

'Bumper Harvest', 'Paekdusan Secret Camp' are some examples of the not-so-natural names given to parts of the cave system.

Despite this naming convention there are also plenty of formations where the local guide will point out the similarity of the rocks to certain usually-covered human anatomical elements, and there are plenty of rude jokes made at such spots too; a relieving proof that the juvenile human side is as ever-present as the revolutionary character in North Korea!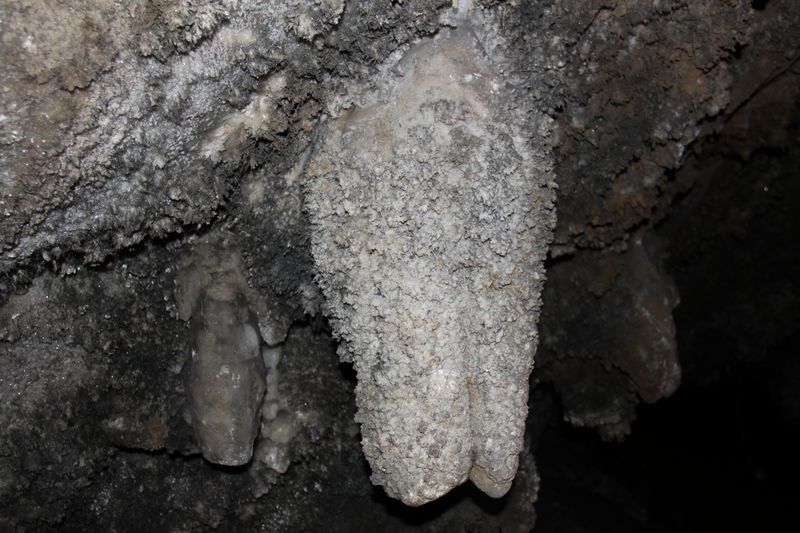 Of course, there are blackouts from time to time. But don't panic, that is why you have a flashlight.
So don't wander off (as you will have learned already this is one of the main rules when visiting North Korea anyway), and keep one eye on the floor and one on the ceiling, you will get out of this subterranean wonderland eventually, but enjoy the colours, shapes, stories, and sheer quirkiness of it all while you're down there!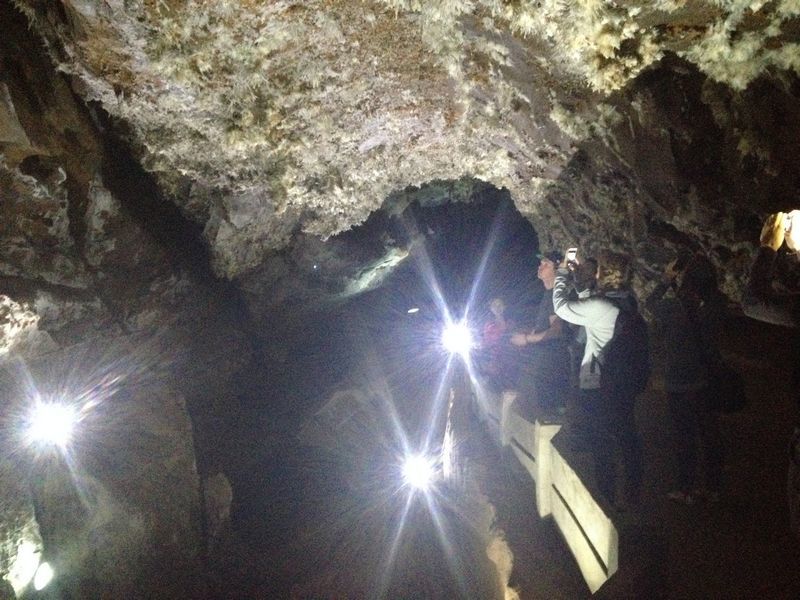 ---
Tips & Anecdotes
In 2000 the DPRK's Korean Cultural Relics Publishing House submitted the Ryongmun Caves complex (as well as the nearby Paekryong Cave) to UNESCO for consideration to be included on its World Heritage List for natural sites.
This application sadly was not accepted, however, it is a really interesting and fun spot to visit in a tour usually shaped around events in the 20th and 21st Century, to remind one that the world is ancient and that under our feet there lay marvels, and that if you light them up with fun colours and give them revolutionary names it enhances them even further!
See you down in the caves comrades!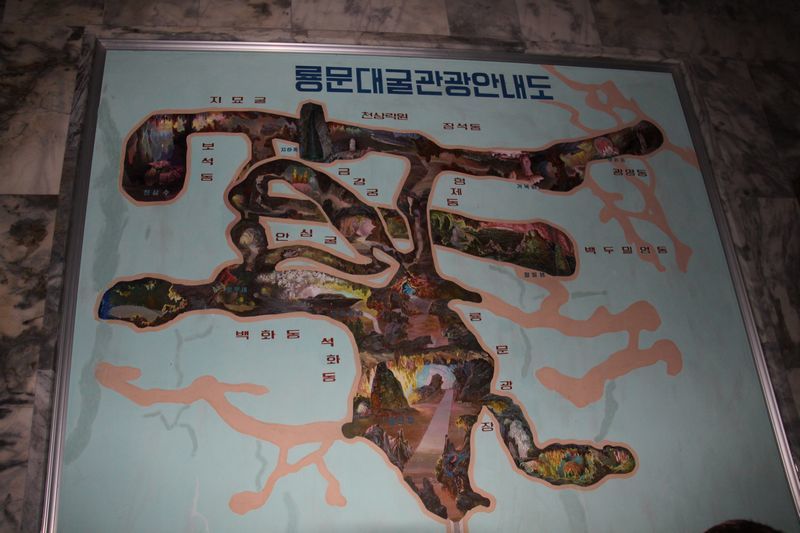 ---
---
Interested in a tour to North Korea?
Travel to
North Korea
with the only
North Korea travel experts, Koryo Tours
North Korea Travel Guide PDF | Sign up to the mailing list | About Koryo Tours