Pyongyang Skate Park
Introduction
Location
Skating in North Korea
Visiting
The Pyongyang Skate Park sits in central Pyongyang and is a popular place for young North Koreans to hang out or practice their skills.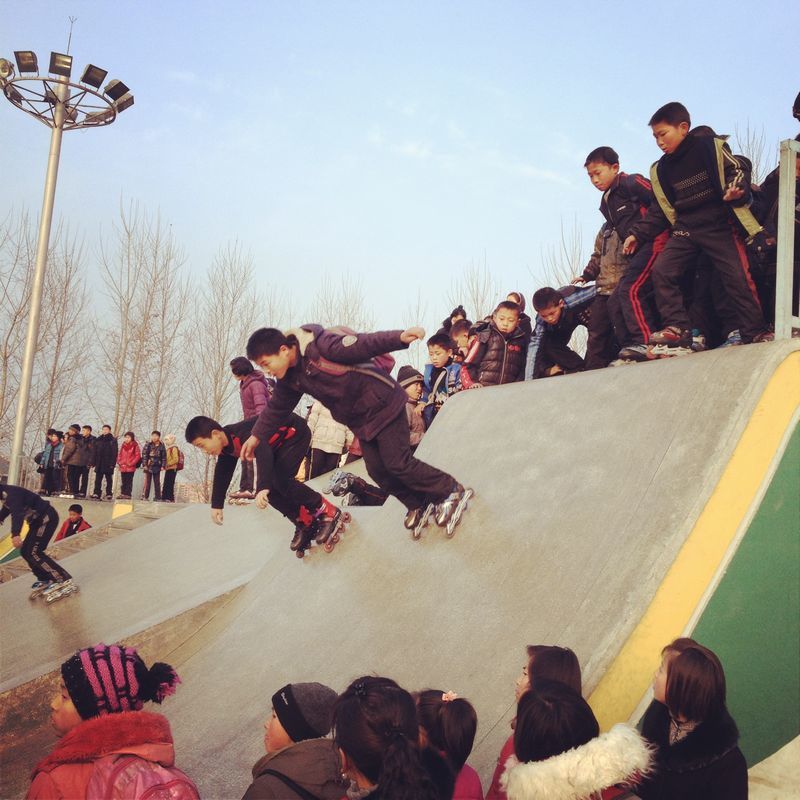 ---
Introduction
Throughout the 2010s there has been a wide range of much-discussed construction projects in Pyongyang and across the country, from the prestige streets of Changjon, Mirae, and Ryomyong in the capital, to the Masik-Ryong Ski Resort, the new city of Samjiyon, and the massive beach resort of Kalma on the east coast.
These projects get international attention and speculation, e.g. How did they pay for this? Who is it built for?
Sometimes though the smaller projects get overlooked and among these phenomena would be the explosion of leisure facilities across the country but particularly in Pyongyang.
A good example of this would be the main Pyongyang Skate Park.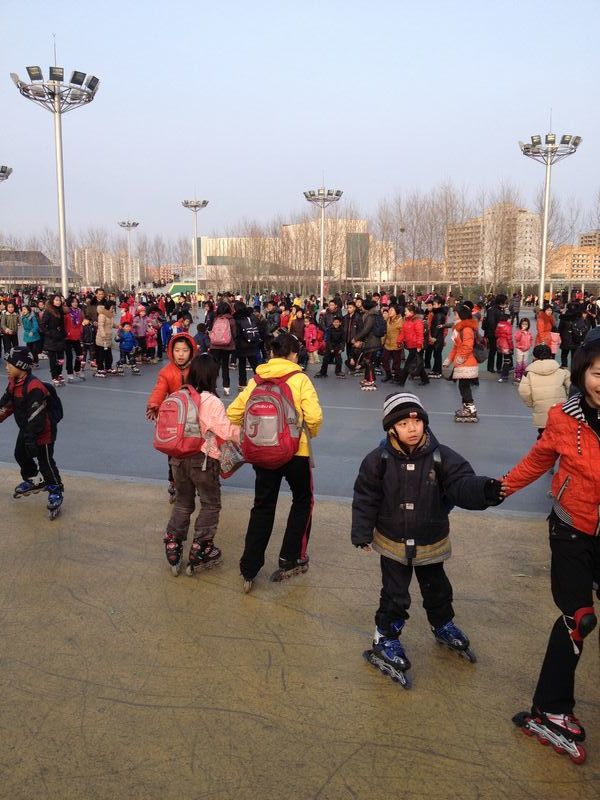 ---
Location
On the east side of the Taedong River, sited between the Ryugyong Health Complex and the Kimilsungia-Kimjongilia Hothouse.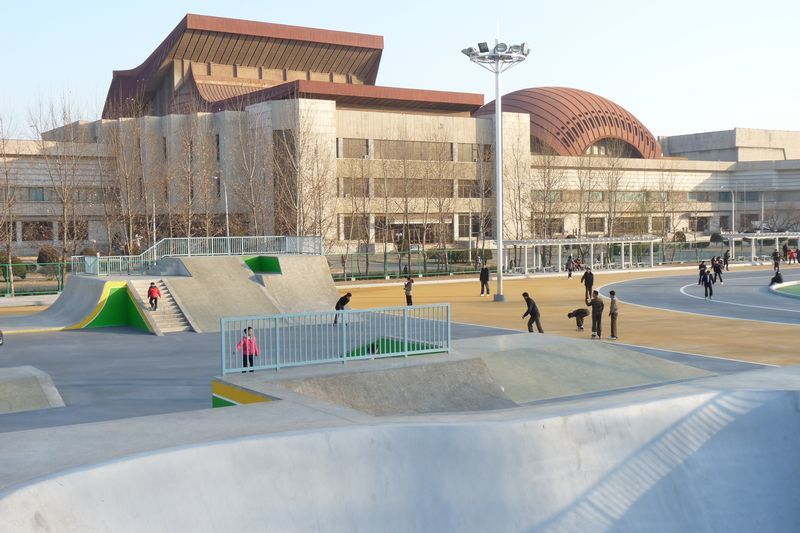 ---
Skating in North Korea
Skating has long been a popular activity among the kids of Pyongyang.
Prior to 2012, it was common to show up to Kim Il Sung Square and see large groups of kids practising their skills, initially with roller-skates, then switching to rollerblades (in-line skates).
This was also common in the large square behind the Arch of Triumph, with booths set up to rent out skates to those who didn't have their own, along with helmets, knee and elbow pads, something not mandatory, but advisable at least when learning to skate!
In late 2012 the first major skate park was opened in Pyongyang, since added to by a larger number of smaller such centres.
Mostly comprised of flat ground with a track around the periphery (people tend to skate in an anti-clockwise circle here). Kim Jong Un himself opened the park and made a speech about the necessity of promoting sports and physical exercise.
There is also a half-pipe, ramps, and grind rails for the more advanced skater visiting here as well as booths for equipment rental.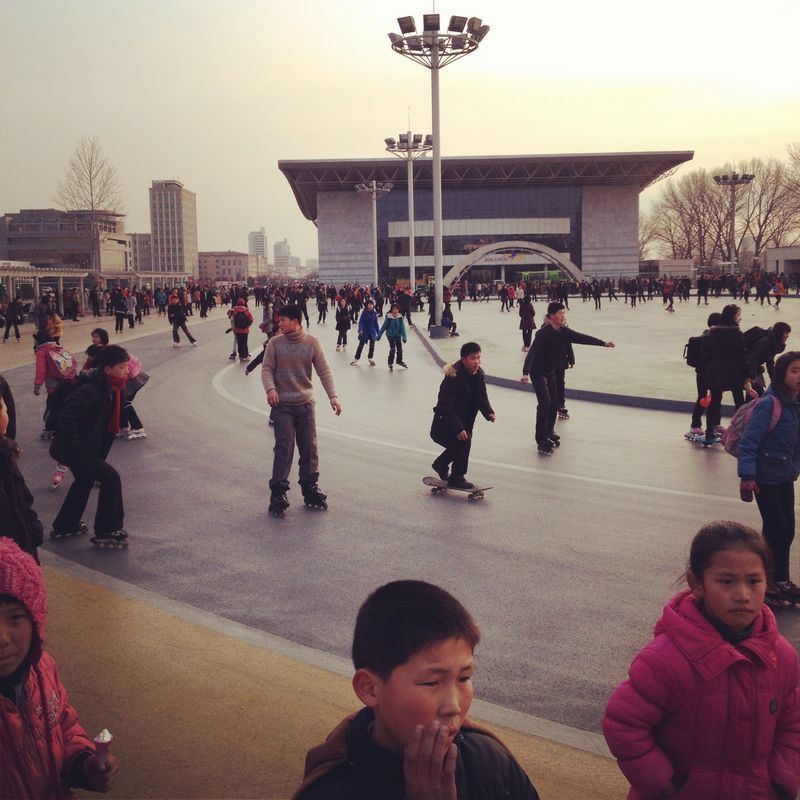 ---
Visiting
One thing missing in general though are skateboards. These are exceptionally rare in North Korea, but on one visit to the Skate Park in 2015, it was possible to rent a very wobbly deck.
For tourists visiting here who have large feet, it is necessary to bring your own skates as the rental sizes often top out at around 42 European size.
As with many leisure facilities in the DPRK, this place is sometimes empty, sometimes bustling - you just have to take your chance!
But whether for photos or for some actual skating this is a worthy addition to the itinerary of anyone wanting to see and experience a bit of leisure time with the citizens of Pyongyang.
'Enter Pyongyang' – an amazing and groundbreaking time-lapse video shot in the DPRK capital in 2014 features some great footage of the Skate Park, starting at 2:22 in this video.
When the girls realise they are on film one of them says "oh gosh, they're filming!"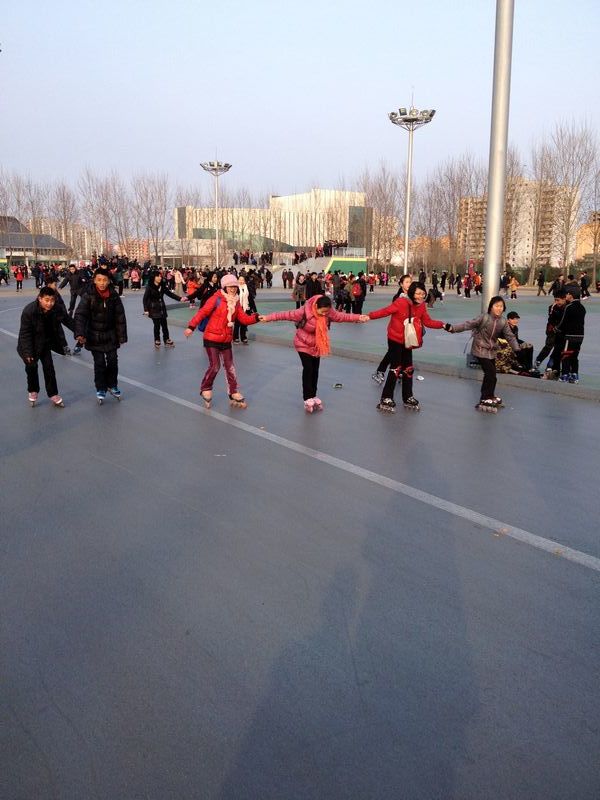 ---
---
Interested in a tour to North Korea?


Travel to

North Korea

with the only
North Korea travel experts, Koryo Tours
North Korea Travel Guide PDF | Sign up to the mailing list | About Koryo Tours