Pyongyang Mini-Golf
Introduction
Location
Visiting
Introduction
Pyongyang MIni-Golf Course is Pyongyang's first and only Miniature Golf course was constructed in 2013.
The course is well looked after by the female staff who will also act as your caddy, not to carry your putter but to jot down scores and point out what you are supposed to do.

There is a small clubhouse that sells soft drinks, beer and snacks.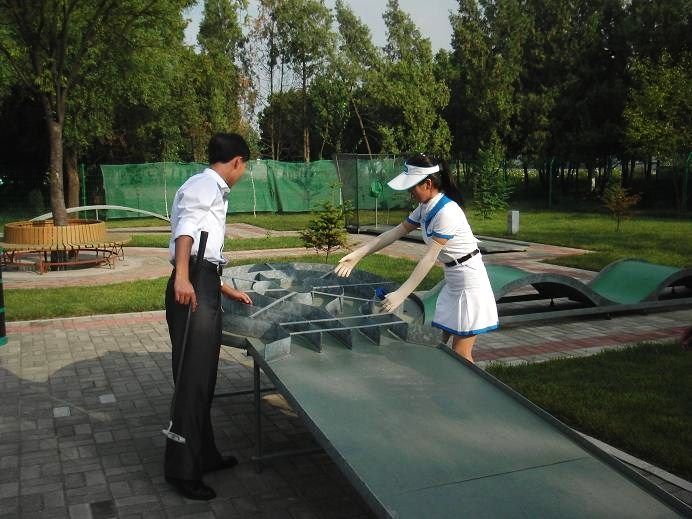 ---
Location
Pyongyang Mini-Golf is on Rungra Island, beside the Rungra Funfair, Dolphinarium, Water Park, and a short drive from the May Day Stadium and Football Academy.
All located on the same island in the Taedong River.
---
Visiting
Opening times vary, so have your guides call ahead. They tend to be 10.00- 18:00 though later is possible in summer months. The course, along with the other entertainment facilities on Rungna Island, is closed in winter.
Included in the small fee for playing is the use of a putter and a very rubbery ball, which has a tendency to ricochet everywhere and is far too light for the course.
Each of the holes on the 18-hole course is made of 'Eternit', a fibre-cement hemmed in by thin metallic edging. To make the game even more difficult than it already is players are not allowed to actually stand on the material to address the ball.
This is not a particularly amazing mini-golf course. It suffers from a lack of imagination in the design of the holes, the poor quality of the balls used, and the fact that you can't even stand on the playing area.
It would perhaps have been easier and cheaper to make something a bit simpler with astroturf and a bit more inspiration as many of the holes are just straight lines or a simple dog-leg.
Still, this is worth a visit for a quirky story, a bit of fun, or a challenge to your guides or fellow travellers. They do allow you to take drinks onto the course after all!
If the Pyongyang Mini-Golf doesn't do it for you then why not try either the Pyongyang Driving Range or the full Pyongyang Golf Course.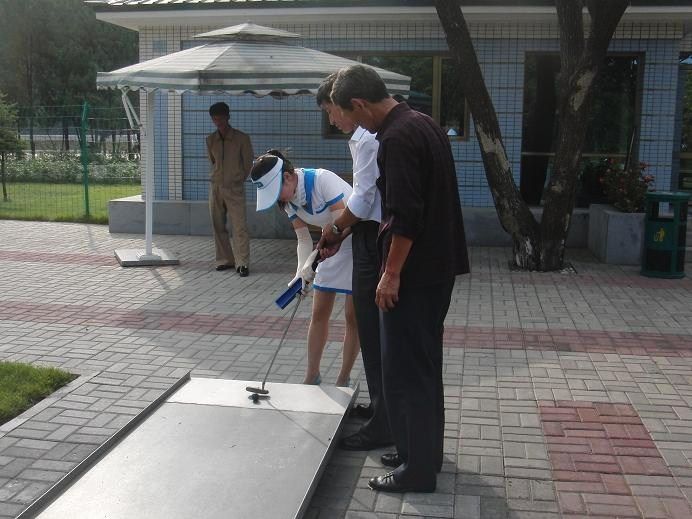 ---
---
Interested in a tour to North Korea?
Travel to
North Korea
with the only
North Korea travel experts, Koryo Tours
North Korea Travel Guide PDF | Sign up to the mailing list | About Koryo Tours