Pine Mushroom BBQ
Introduction
Location
Facilities
Visiting Tips
Introduction
Pine mushrooms are famous mushrooms across the Korean Peninsula.
They have high value, are very tasty, and very good for you!
They are found in the Chilbosan region, located in the North East of North Korea.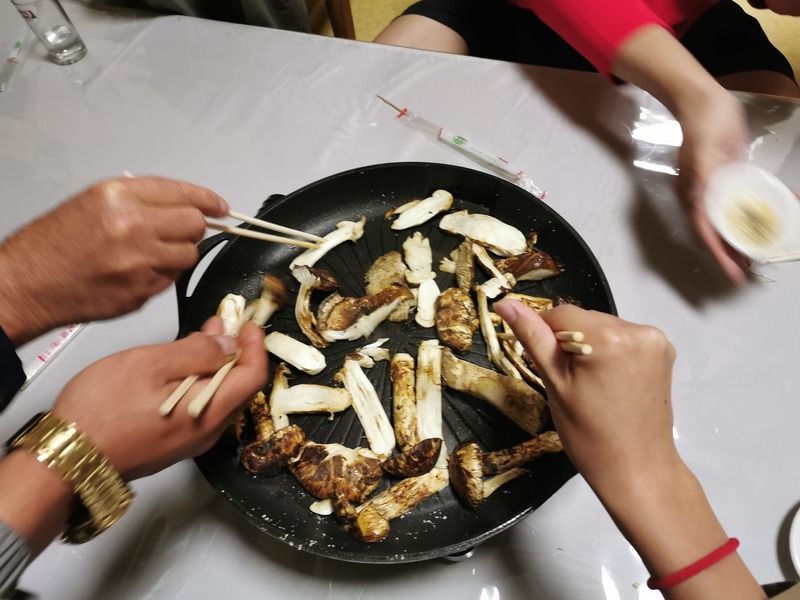 ---
Location
You can enjoy a pine mushroom BBQ in the Mt. Chilbo / Chilbosan area in the North East of North Korea.
Here, you have the option to stay at a North Korean homestay where you can purchase and cook the pine mushrooms.
The BBQ area is located in the restaurant area in the Chilbosan Homestay.
---
Cooking & Eating
Cooking
Cooking pine mushrooms is pretty simple since you don't need to add much flavour. They are already full of flavour themselves!
You will need some oil or something in which to fry the pine mushrooms.
Then, you will need a small amount of salt to season them if you wish.
It's always best to leave the cooking to the experts - especially when it is something so expensive!
Cooking the pine mushrooms on the BBQ should not take more than 5 minutes, depending on the size of the mushroom.
Eating
Once they are cooked, pick them up and eat!
It is best not to mix the pine mushrooms with anything else, lest you spoil their flavour!
Be careful - they will be hot straight off the BBQ!
---
Tips
Remember to share the pine mushrooms with the North Korean guides and driver - who may have only ever had them once or twice before!

Get a bigger group together and it will be cheaper, and you can buy more!

If you think you will just want to "try" them - think again. They are very delicious and moreish.

Eat them before dinner as an appetiser, or after dinner, so you can take your time to enjoy the pine mushrooms.
---
---
Interested in a tour to North Korea?


Travel to

North Korea

with the only
North Korea travel experts, Koryo Tours
North Korea Travel Guide PDF | Sign up to the mailing list | About Koryo Tours