Pine Mushrooms
Introduction
Pine Mushrooms
Purchasing
Tips
Introduction
Chilbosan is a famous area for the famous North Korean pine mushrooms.
Chilbosan/Mt. Chilbo is located in the North East of North Korea. It boasts beautiful landscapes and incredible hiking routes.
Pine mushrooms are highly valued for their health properties and are famous across the Korean peninsula in both North Korea and South Korea.
Pine mushrooms are otherwise known as Matsutake Mushrooms.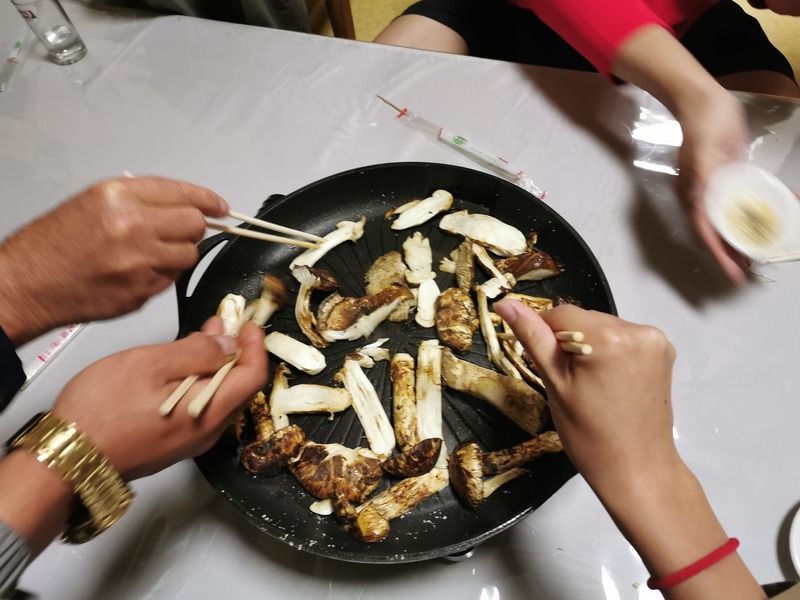 ---
Pine Mushrooms
Pine Mushrooms are prized mushrooms that are very expensive. They are said to have many health benefits. And, they taste pretty good too!
They are also important politically.
Health Benefits
Pine mushrooms are a good source of B vitamins, protein, copper, potassium, zinc and selenium. They are also rich in dietary fibre and are low in both saturated and unsaturated fat.
Importance of Pine Mushrooms
In celebration of the North-South Korean summit, North Korea sent 2 tons of pine mushrooms to South Korea. This is a value of approx. $1.4 million.
It was later announced by the South Korean government that these would be distributed amongst 4,000 families of separated family members.
This is not the first time pine mushrooms were sent to South Korea.
In fact, North Korea sent pine mushrooms on two other occasions.
In both 2007 and 2000 Kim Jong Il gifted South Korea with pine mushrooms at previous inter-Korean summits.
---
Purchasing
You can purchase pine mushrooms at the homestay in Mt. Chilbo/Chilbosan in the North East of North Korea.
They are only available at certain times of the year.
Pine mushrooms are highly valued and can be very expensive.
Depending on the time of year and how many you buy, they may be around 30 USD per KG.
If you wish to buy pine mushrooms and eat them as a pine mushroom BBQ at the homestay, you should get a group together to buy a larger amount.
---
Tips
Pine mushrooms can be very expensive and cannot be taken out of the country.

If you wish to travel throughout the country with them pine mushrooms, they should be well stored.

It depends what time of year you buy them as to how well they will preserve and for how long.
The later in the year they are bought, the less moisture and therefore the longer they can be preserved for.

If you want to buy a lot, it's worth a haggle to get the price of the pine mushrooms down!

You should order the pine mushrooms in advance.
---
---
Interested in a tour to North Korea?


Travel to

North Korea

with the only
North Korea travel experts, Koryo Tours
North Korea Travel Guide PDF | Sign up to the mailing list | About Koryo Tours