Native House of Kim Jong Suk, Hoeryong
Introduction
Location
Visiting
Bonus Fact
Introduction
Kim Jong Suk (1917-1949) was the first wife of DPRK President Kim Il Sung and also the mother of Kim Jong Il. She is one of the 'Three Generals' often referred to in the DPRK.

Kim Jong Suk was born in Hoeryong, a city in the far north of North Korea, right on the Chinese border. Her origin story is as well known in North Korea as those of her husband and son; growing up in deep poverty under the Japanese occupation, her mother died young while in China, her father followed soon after and she left the family home to join the guerilla resistance to the occupation.
Here in Hoeryong, she is by far the most famous daughter of the city and her childhood home is thus preserved in her honour and as a shrine to a famed revolutionary.
Officially this site is called the Hoeryong Revolutionary Site.
Kim Jong Suk is buried in the Revolutionary Martyrs' Cemetery in Pyongyang. In the most honoured position at the top of the hill in the centre.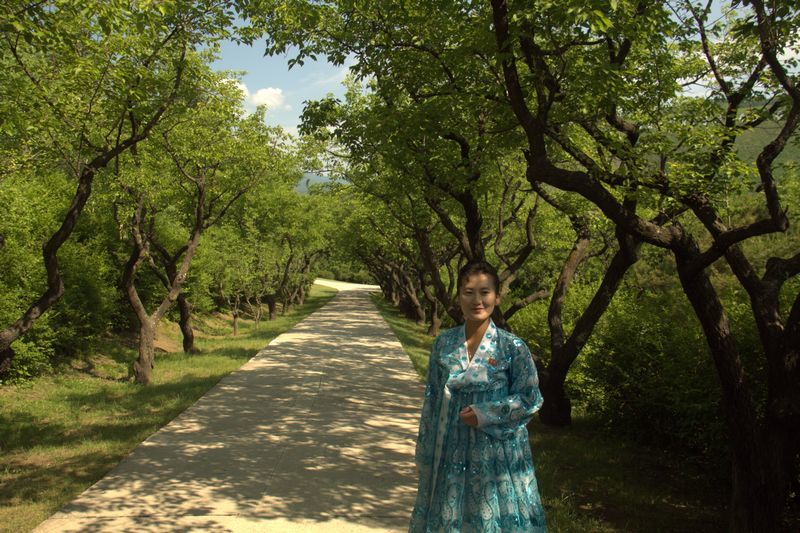 ---
Location
Hoeryong is a small city in North Hamgyong Province, the Native House of Kim Jong Suk is quite centrally located, just a short walk from the statue of Kim Jong Suk in the centre of the city – the only city in North Korea not to have statues of her husband and son.

Visitors are taken past a large concrete memorial telling the basic details of Kim Jong Suk's life story, and down a very pleasant pathway, lined with peach trees (Hoeryong is famed in the DPRK for these), to arrive at the site of the house itself.

Like the Mangyongdae Native House of her husband, Kim Il Sung, this is now in a cleared park area, not like it was at the time of her residence when it was part of a village of farmhouses.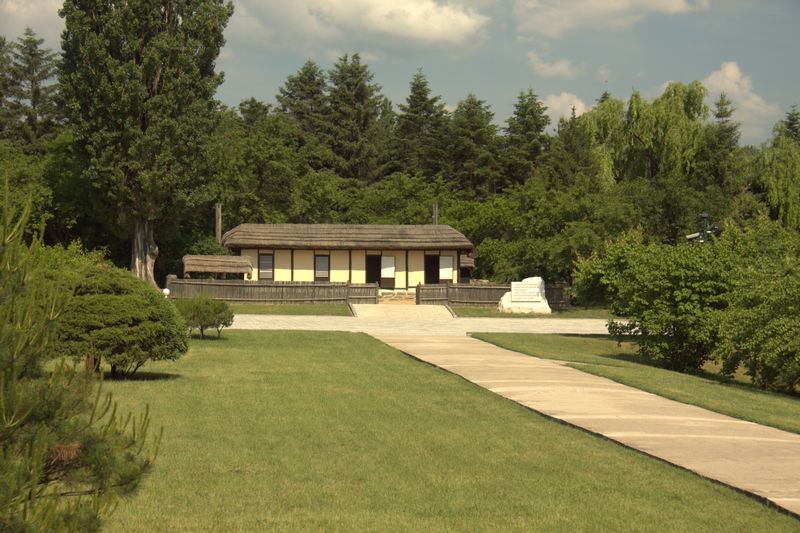 ---
Visiting
As with other such sacred sites in North Korea, it is not possible to go inside the house. Instead, visitors can go to the entrance and look inside through the open doors and windows.

Inside the house are relics of Kim Jong Suk's childhood and her family's life here – cooking implements, farming tools, etc. Her bedroom is bare and with a portrait of her as a child on the wall.

Nearby is a spring that Kim Jong Suk and her family used for water, visitors can taste this water if they like.

A local guide is provided here and she will tell stories of their most famous resident, the emphasis is placed on the poverty of the family and the rise of Kim Jong Suk from an early life of repression and desperation to the glory of becoming a guerilla commander, crack marksman, and progenitor of the ruling family.
---
Bonus Fact
The Native House of Kim Jong Suk appears on the reverse side of the current DPRK 100 Won note.
---
---
Interested in a tour to North Korea?
Travel to
North Korea
with the only
North Korea travel experts, Koryo Tours
North Korea Travel Guide PDF | Sign up to the mailing list | About Koryo Tours