Mangyongdae Funfair
Introduction
Location
Visiting
Rides at Mangyongdae Funfair
Introduction
Mangyongdae Funfair opened in April 1982 as Pyongyang's largest and most prestigious public pleasure ground. It still operates and is a place which can be busy with locals making the most of time off or completely deserted due to being somewhat inconveniently located at the edge of the city.
A place of great fascination to a large number of visitors and DPRK-watchers, as well as a place for those who spend some time there to mix with locals on a range of rides that are hard to find in many other international funfairs and theme parks!
In 2012, Mangyongdae Funfair was the subject of some rare public criticism from Kim Jong Un, who remarked that it was looking a bit faded and wasn't up to the standard he expected. As a result, the park closed for a time and re-opened with a fresh coat of paint, buts and bolts-tightened, and some footpaths re-laid.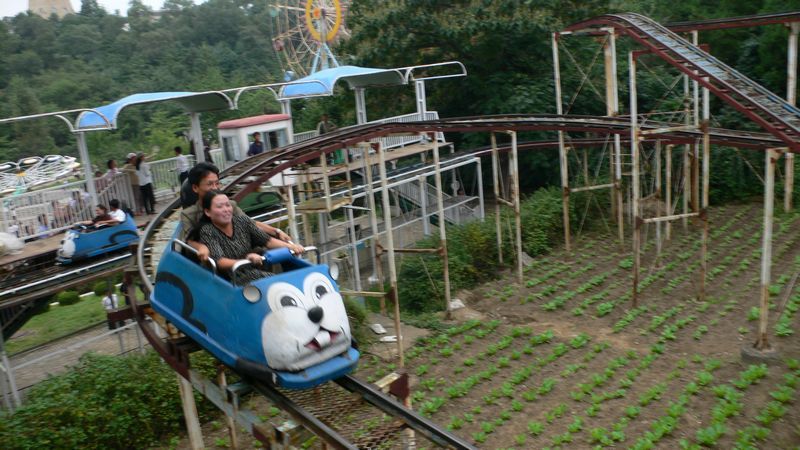 ---
Location
As the name would suggest, the Mangyongdae Funfair is in Mangyongdae District, to the south of Pyongyang and quite close to the Mangyongdae Native House.
Anyone visiting this birthplace of Kim Il Sung will use one of the funfair car parks before walking to the Native House itself.
Mangyongdae Funfair is split into two parts, with a high separating them. A cable car runs over that hill or a pleasant walk around can be done instead. This walk takes one past what some call the 'Secret Zoo' and an amazing retro-monorail that rides around a fishing lake.
There is also a waterpark that is part of the Mangyongdae Funfair complex. This is almost never open though, and has very much been superseded by the excellent Munsu Waterpark as the prime venue for aquatic excitement in Pyongyang.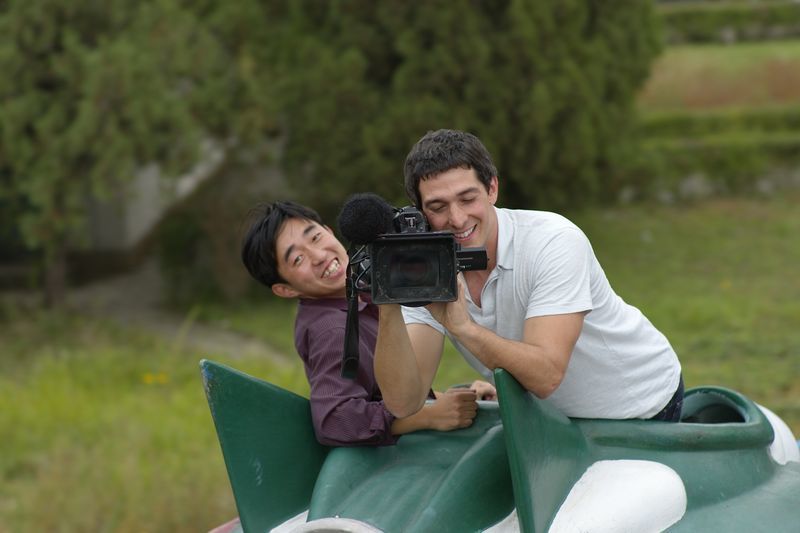 ---
Visiting
While Mangyongdae Funfair is an easy place for tourists to visit, the main problem is that it is both often closed and if open often very empty.
Aiming to visit on national holidays or sunny summer Sundays is a good idea to maximise interaction with local funfair-goers and to maximise the number of rides which are open at any one time (which can also be an issue for visitors).
There are additional fees for foreign guests to use each of the rides. The pricing system can be a little idiosyncratic, but a funfair guide will accompany any group and count what rides they used and present a bill at the end. So just remember what rides you went on!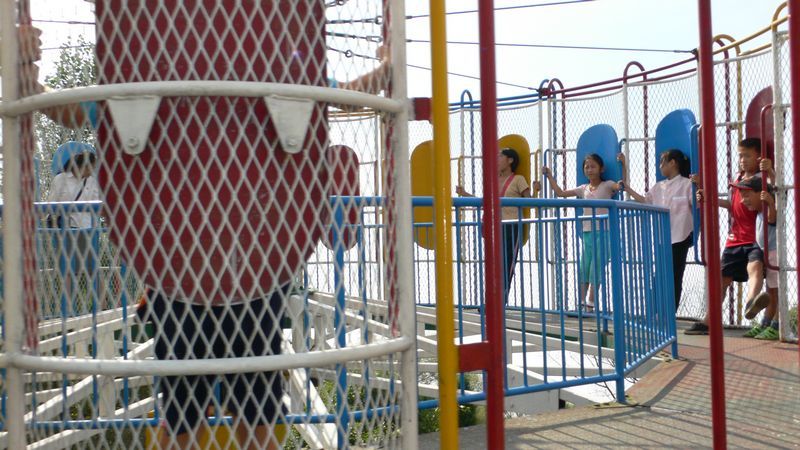 ---
Rides at Mangyongdae Funfair
There are a variety of rides and attractions available for visitors to try out when they visit Mangyongdae Funfair, from an arcade with some shooting, strength-testing, and so on games, to the more prestigious outdoor attractions that people are willing to stand in some long lines for.
One thing to note about the rides at Mangyongdae Funfair – they are not new, not at all.
They have a retro-aesthetic which is quite pleasant to fans of such a rare style, but they are also just simply a bit old and dated. Safety harnesses often don't quite work, some of them are rusty, and they could all do with a bit of updating. However in contrast to the most modern funfairs across town (Kaeson Youth Park and Rungna Funfair) this is a place that looks very much like it did when it opened, and that is an attraction in itself.
There is a two-storey carousel which is very pleasant, there are various swinging and spinning rides, there is a 'Manic Mouse' mini-coaster, there is a small Ferris Wheel, and there are two large rollercoasters; one in each part of the park.
The names of these rides tend to be somewhat prosaic and not particularly evocative.
The smaller big coaster is called the One Loop Gravity Train. That's because it has one loop. The larger coaster has twin loops, and is called…..Two Loop Gravity Train.
These are pretty terrifying, due to a combination of speed, rotation, and knowledge that this isn't the most up-to-date piece of machinery you could possibly ride on. So for the nervous-types - be warned!
Mangyongdae Funfair's two main coasters, as well as some other rides most-likely, were actually manufactured by the Japanese company Meisho. The brand names are not visible anywhere on the rides these days though.
The rides at the more modern parks in the centre of Pyongyang were all imported from Italy.
Whether a visitor is there for the rides, or there to simply have a wander around and mix with some locals, the Mangyongdae Funfair is a place well worth taking the time to visit. A stop here could be anything from 45 mins to 2+ hours.
So plan ahead, hope that it is open and operational, and check if the seatbelt works before the ride begins!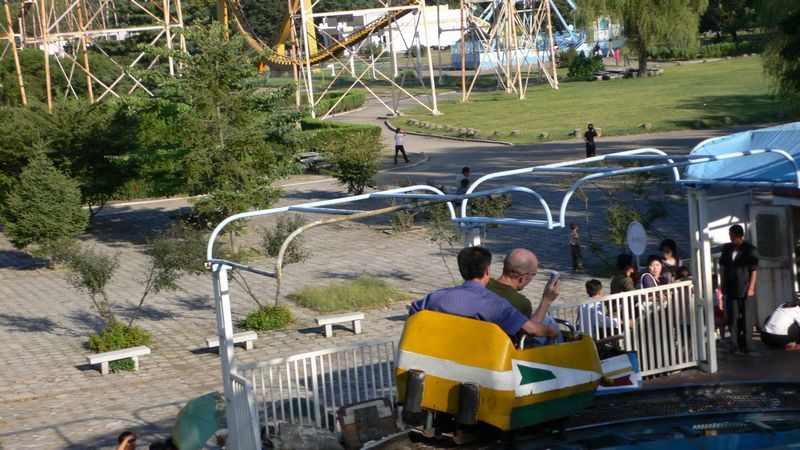 ---
---
Interested in a tour to North Korea?
Travel to
North Korea
with the only
North Korea travel experts, Koryo Tours
North Korea Travel Guide PDF | Sign up to the mailing list | About Koryo Tours