Kumrung Leisure Centre
Introduction
Location
Visiting
Introduction
On the east side of the Taedong River, north of the Juche Tower but before the row of theatres starts is an area which has, in recent years, become very much a centre of health and leisure for the people of central Pyongyang.

While the Golden Lane Bowling Centre has existed for some decades the recent renovation and construction of the Ryugyong Health Complex, the largest of Pyongyang's Skate Parks, the Ryugyonggwan Restaurant (which also has a sauna and pool in its building), and the Kumrung Leisure Centre, have made this an area more worthwhile to visit than ever before.

Kumrung Leisure Centre (also called Kumrung Health Complex, as the logo on these crisps once sold there indicate – the design may be familiar to some folks) is the smallest of the complexes here and was opened in 2013.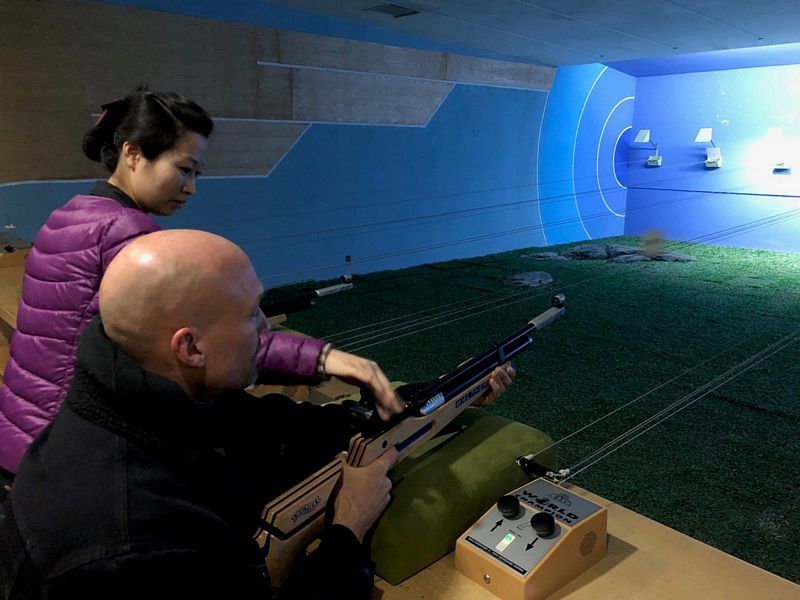 ---
Location
Very easy to find.
On the east side of the Taedong River, across the Okryu Bridge, opposite the Ryugyong Health Complex is the Ryugyonggwan Restaurant and the Golden Lane Bowling Centre.
The building between these two places is the Kumrung Leisure Centre.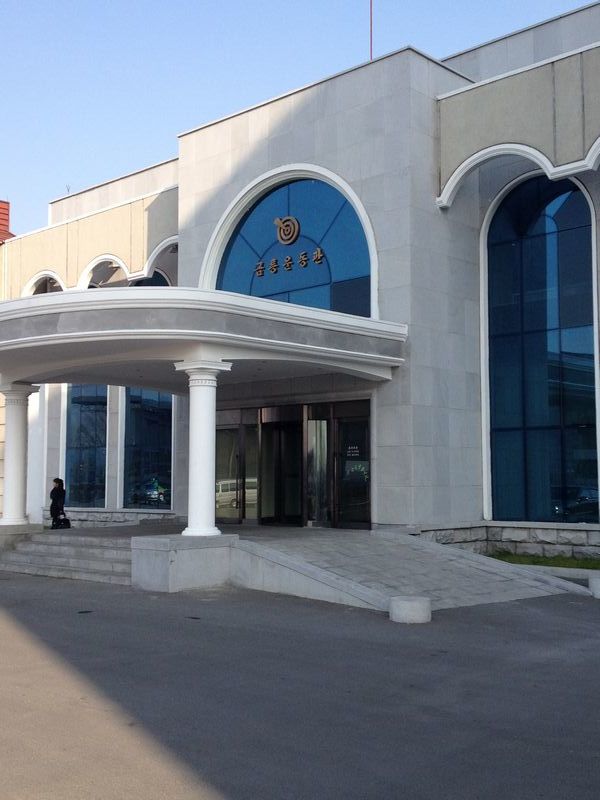 ---
Visiting
Inside the two-storey building manages to squeeze quite a lot in; upstairs there are some squash courts, a dance/pilates studio and fitness equipment, as well as a rather nice restaurant with an extensive & expensive cocktail list.

Downstairs though is where most foreign guests on limited time tend to try out.
Shooting range
First, we have the Shooting Range; this is a small space and uses precision German-made air pistols and air rifles. The range is about 10m long and the staff here are used to people who are very accurate and will tut you if you fire too many errant shots (perhaps the fact that so many men have served in the armed forces elevates shooting to a higher level here?). Have a look at Michael Palin's guide Ms Ri having a shoot-out at the range https://www.youtube.com/watch?v=-Wxrws5hFUE&feature=youtu.be

Recorded birdsong chirps, plastic plants drape the walls, it is often unbearably hot (there is a sauna underneath) but it is great fun indeed.

In the front is somewhere a bit more special though, the first modern coffee shop in Pyongyang; first of many to come – the Kumrung Coffee Shop.
Kumrung Coffee Shop
When the centre opened this space was occupied by a simple soft drinks bar for a couple of years, this is where the crisps in the photo linked above were sold. This proved unviable and in 2016 a young lady, inspired by a Women in Business course run by Singaporean NGO Choson Exchange managed to open a very nice coffee shop, even sending her head barista to China for training in the art of coffee preparation (her certificate is displayed on the wall).

A small space with a good range of coffees, the menu on display is only in English, while most customers are Koreans.
A sign perhaps that the kind of clientele they get here (the kind that can afford the $3-7 prices) are not the normal instant coffee or canned iced coffee drinkers as in most of the rest of Pyongyang.
Service can be slow, the place is small and can be a bit smoky, but it is a great spot to stop and try one of PY's higher-end establishments. This is not a coffee shop for the masses for sure, if you want to see more normal Pyongyang folk then go to the bowling centre next door, this place is more popular with those with a bit of cash, and younger, better-off, people on discrete dates too.
An impressive spot with an interesting history of unexpected entrepreneurship – we hope that many more such places open up in the future!

Kumrung Leisure Centre is open almost every day including holidays, and when tourists visit the Golden Lane Bowling Centre their guides are usually happy to have people wander freely between there and the Kumrung Leisure Centre – just don't go any further afield unaccompanied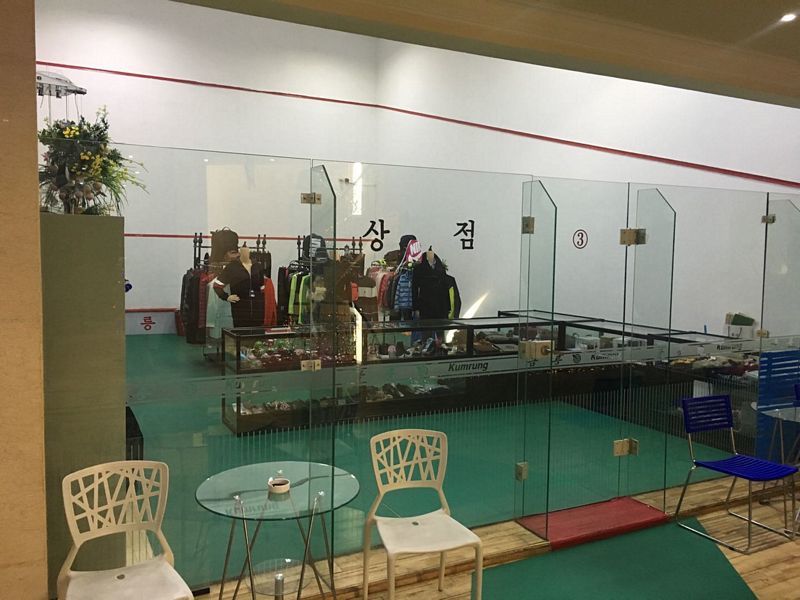 ---
---
Interested in a tour to North Korea?
Travel to
North Korea
with the only
North Korea travel experts, Koryo Tours
North Korea Travel Guide PDF | Sign up to the mailing list | About Koryo Tours
---