Korean Wrestling
Introduction
Korean Wrestling
Location
Tips
Introduction
Traditional Korean Wrestling is known as Ssireum (씨름).
It is a national sport of Korea and has been part of the society since the 4th century.
This Korean wrestling is a folk wrestling style.
---
Korean Wrestling
History
Traditionally, Korean wrestling was a sport popular to play during the Lunar New Year in North Korea.
Today, Korean wrestling is recognised as a national sport and is often broadcast on TV.
In 1927, the Pan Chosun Ssireum Federation was founded and since 1947 the competition organised by the Ssireum Federation has been called the National Ssireum Championship Contest.
Practice
There are two traditional styles of Korean wrestling. The "right-sided" style (predominant in parts of the Gyunggi province, and Honam province of southern Korea), and the "left side" style favoured in Hamgyung province, Gyungsang province and Choonchong province.
The difference depended on the way the satba was fastened This was unified in 1994 to make it one same style.
In the modern form, each contestant wears a belt, known as the satba, that wraps around the waist and the thigh. There should be little harm inflicted on the component if done well, since a series of techniques are used in order to prevent this.
Korean wrestling is usually conducted in a circular ring approx. 7 meters in diameter. It is then covered with sand.
In official Korean wrestling, there are three judges, a chief referee, and three sub referees.
Taking part in the Korean wrestling with the locals in Chilbosan though, it's just for fun - the rest of the group will be the referees (or some of the strict Koreans!)
---
Location
You can take part in traditional Korean wrestling at the homestay village in the Chilbo area of North Korea.
Chilbo, Chilbosan, or Mt. Chilbo, is located in North Korea's North East. It is rarely visited by foreigners but is famed for its stunning landscapes and fresh air.
The Korean wrestling area is located right next to the volleyball court.
Test out your skills!
(But please be careful!)
---
Tips
Don't take this sport lightly! The Koreans are very good at it and have been doing it for years. Get stuck in, but make sure you don't over-do it in the process!

It's a good idea to warm up and down before and after exercise.

Why not combine this with a game of volleyball with the North Koreans!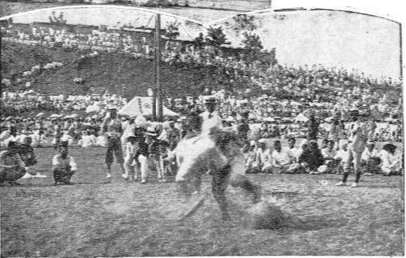 Photo: Korean Wrestling in Nampo
---
---
Interested in a tour to North Korea?


Travel to

North Korea

with the only
North Korea travel experts, Koryo Tours
North Korea Travel Guide PDF | Sign up to the mailing list | About Koryo Tours