Kim Jong Suk Textile Mill
Introduction
Location
History
Visiting
Introduction
Kim Jong Suk Textile Mill is the largest textiles factory in Pyongyang.
Light industry such as textile making and processing is a large part of the capital's industry and the best place to see this is in action is at the Kim Jong Suk Textile Mill.

Kim Jong Suk was the wife of Kim Il Sung and the mother of Kim Jong Il, she passed away young and is buried in the Revolutionary Martyr's Cemetery in Pyongyang. Kim Jong Suk's native city of Hoeryong is the only city in North Korea not to have a statue of her husband and son.
Instead, it has a statue of her as the main centrepiece.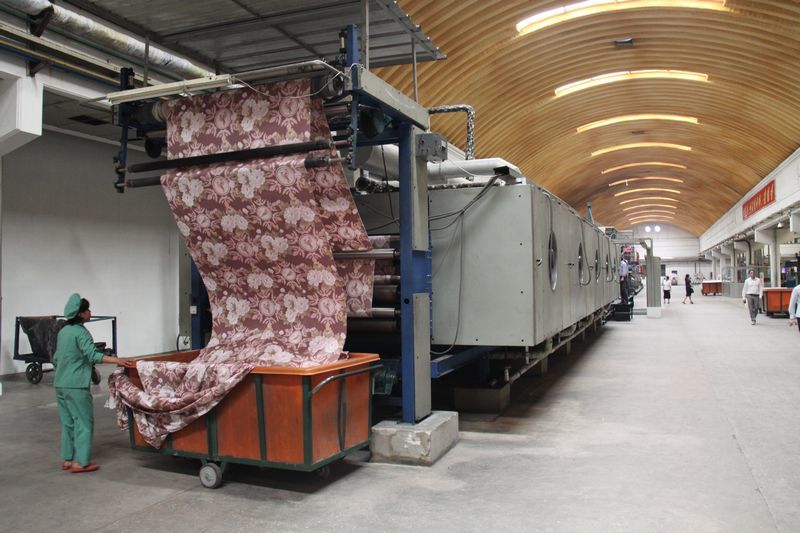 ---
Location
Kim Jong Suk Textile Mill is located on the east bank of the Taedong River.
Directly opposite the Yanggakdo Hotel. If you are in the hotel's revolving restaurant you can see the rooves of the workshops as well as the mosaic mural in the main courtyard of the Kim Jong Suk Textile Mill.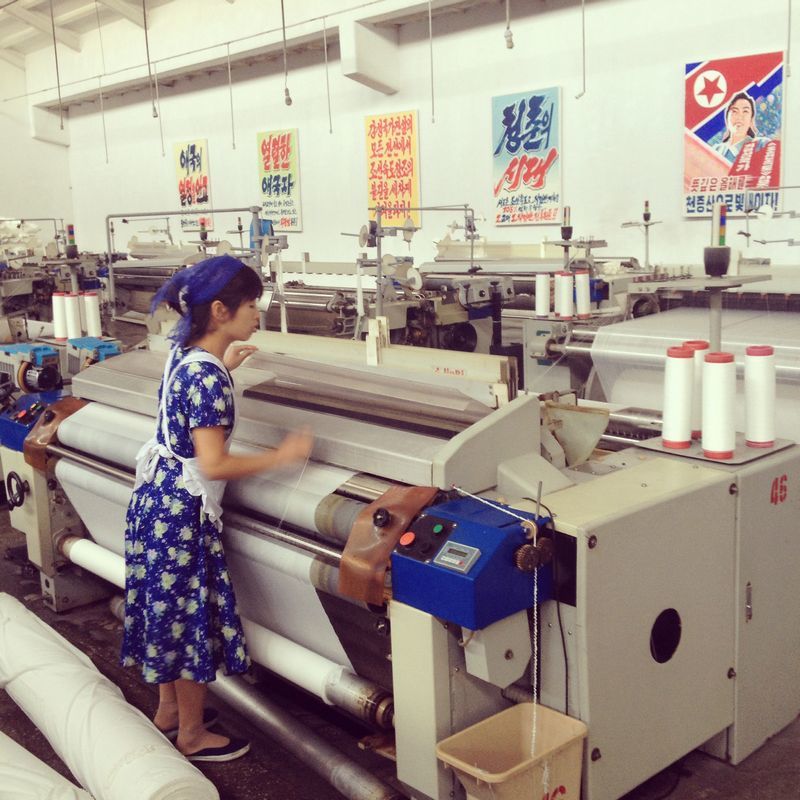 ---
History
Established in 1948 and then named for the 'Mother of Korea' after she passed away in 1949, the Kim Jong Suk Textile Mill is mostly engaged in production for the domestic market.
However, over the years various jobs have been done on commission for overseas companies, mostly in South East Asia.

One quirky fact is that there is a dyeing workshop which is part of the Kim Jong Suk Textile Mill which is named for a well-known Argentinian Revolutionary; the Cuba Che Guevara Twinned Workshop.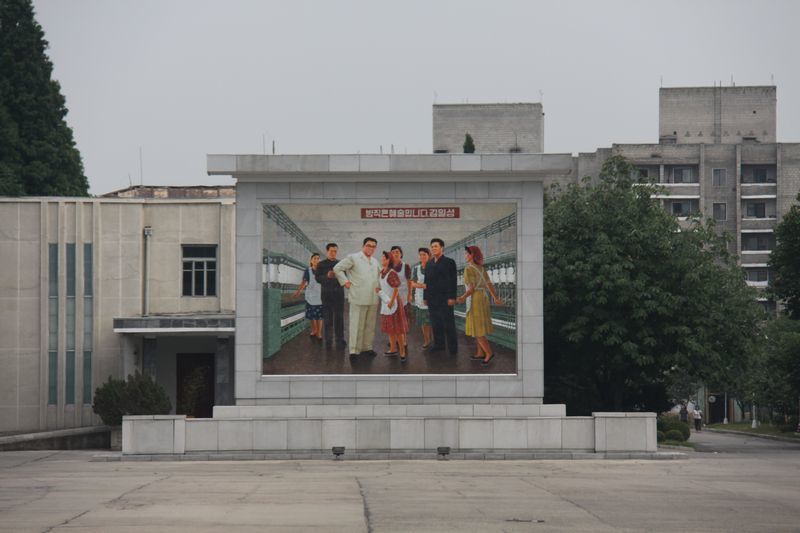 ---
Visiting
While it isn't a common fixture on tourist itineraries it is indeed possible to make a stop at the Kim Jong Suk Textile Mill on a tour of Pyongyang.

The first stop will be the main entrance courtyard.
Here, as in many North Korean factories, you can see boards showing propaganda slogans exhorting the workers to higher achievements, charts of the productivity of various work units (there are prizes such as trips to parts of the country for those who do well). Also here is an excellent mosaic mural of both Kim Il Sung and Kim Jong Il visiting the Kim Jong Suk Textile Mill.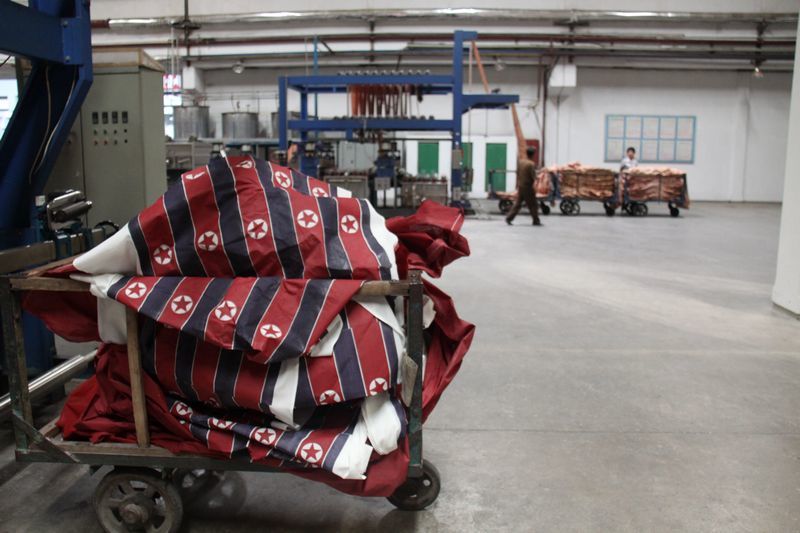 After an introduction from a local guide, you can take a tour of the various workshops. Spinning, dyeing, weaving, and so on.
Many thousands of people work here and you can see the fabric they pump out of their machines as well as ask questions about the processes used and the conditions of work.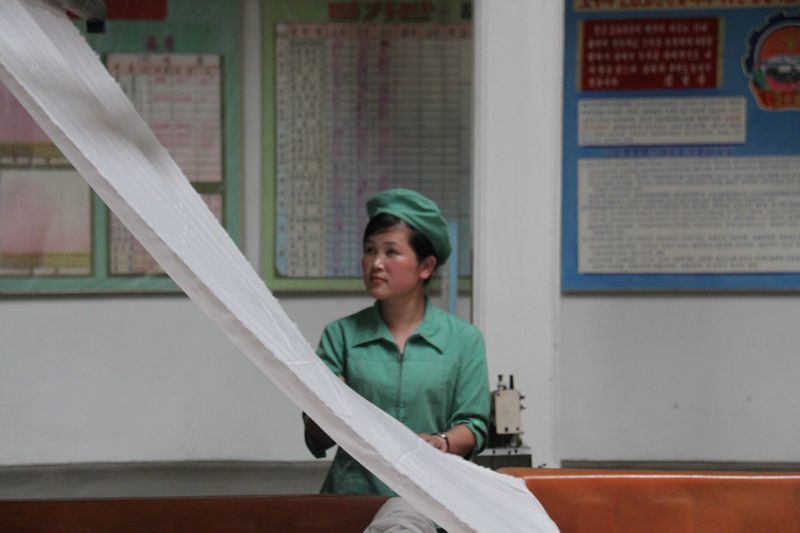 There are also cafeterias, kindergartens, etc on site. As almost all the workers are women it is permitted to bring their young children to work with them and they are looked after by the factory itself.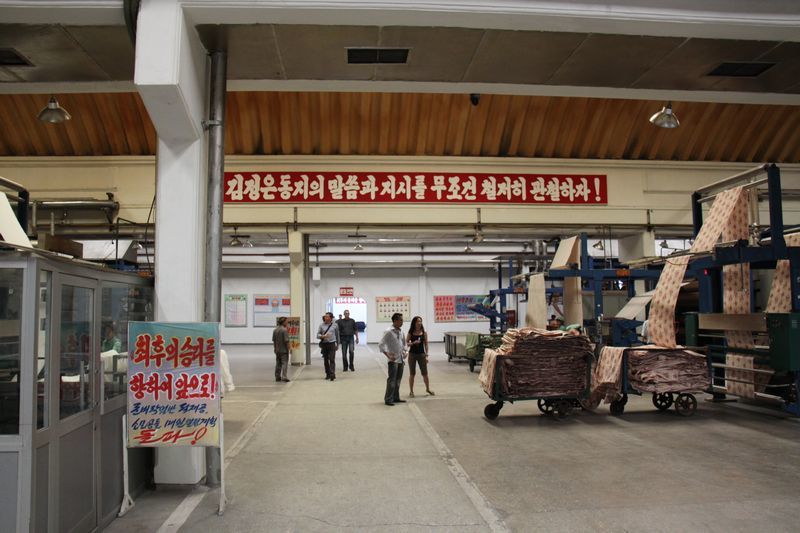 Also on site is a quite new building that is a dormitory for the unmarried workers. This can also be visited. Narrow beds 3 or 4 to a room in most cases, but very clean and shiny at least when visitors come in!

Around North Korea there are a number of factories that can be visited, many of them heavy industry though, For anyone looking to see a bit of how the Pyongyang proletarians work though the Kim Jong Suk Textile Mill is highly recommended indeed.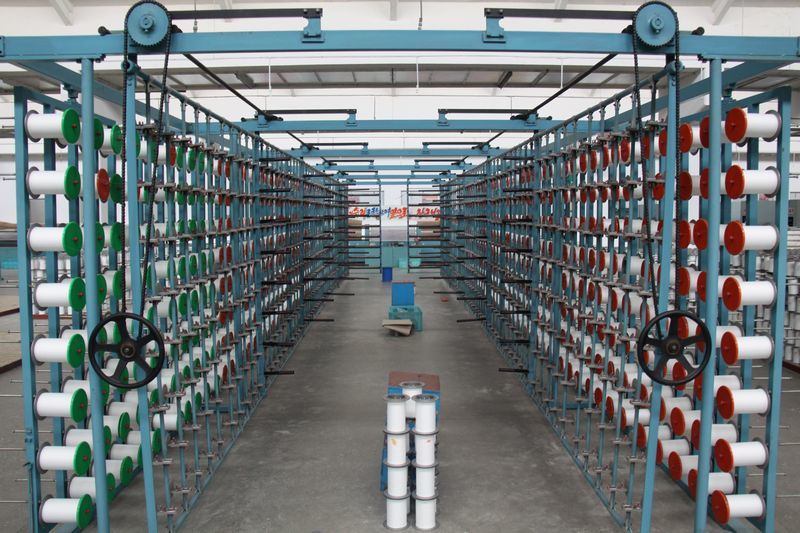 ---
---
Interested in a tour to North Korea?
Travel to
North Korea
with the only
North Korea travel experts, Koryo Tours
North Korea Travel Guide PDF | Sign up to the mailing list | About Koryo Tours