Hoeryong Hotel
Introduction
Location
Exterior
Interior
Visiting
Introduction
Hoeryong Hotel is the only place that can accommodate foreign tourists in the city of Hoeryong.
So, if you are visiting this area you will probably find yourself staying the night here, one of a very small number of tourists ever to stay in one of the most remote and least-visited parts of North Korea.
Hoeryong Hotel has 31 rooms to accommodate visitors.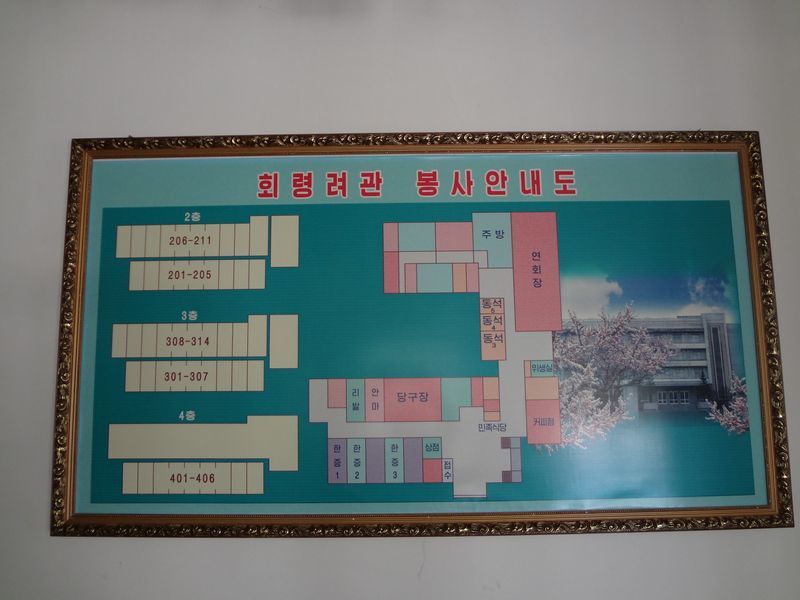 ---
Location
Hoeryong Hotel is right at the edge of the city, where the urban area gives way to countryside almost literally right next to Hoeryong Hotel.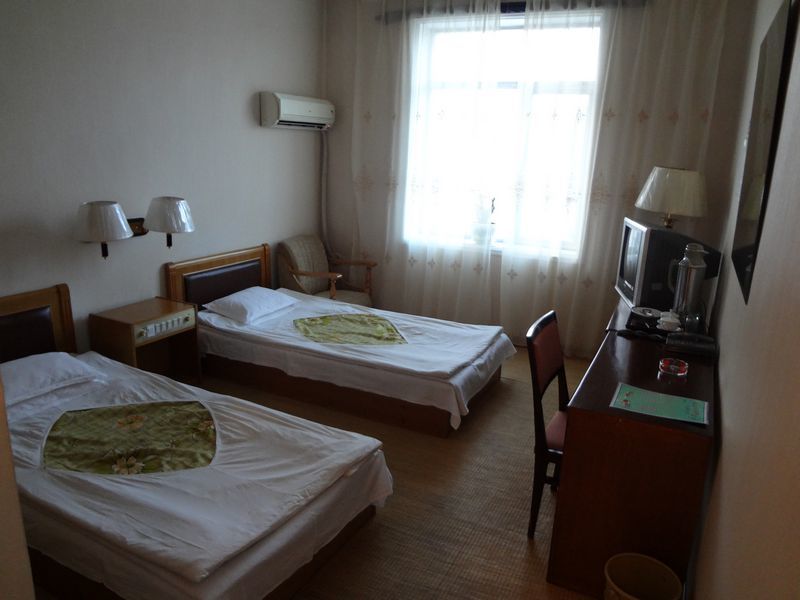 ---
Exterior
From outside, this four-storey boxy building is not hugely impressive. It has a certain modernistic charm though, with rows of decent sized windows and balconies for every room.
A small car park and grounds where tourists can step outside for air, but go no further outside the main gate.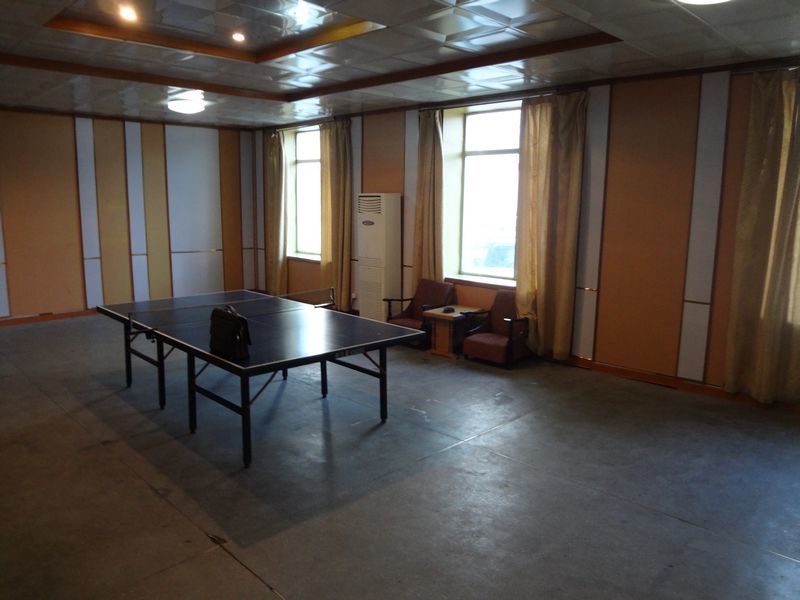 ---
Interior
The lobby of the Hoeryong Hotel is small and charming, wooden furniture and one of those quirky world maps that can be found in most hotels in the provincial parts of North Korea.

There is also a painting of Kim Jong Il and Kim Il Sung at the top of Mt. Paektu in the lobby, none of Kim Jong Suk, a notable absence given that she is the local hero and her Statue stands in the city centre in lieu of the usual ones of her husband and son.

Rooms are basic but kept clean and tidy.
Two low single beds, a desk, chair, and television as standard. Bathrooms are also a little past their primes but are good enough.
You can't rely on hot water and electricity 24 hours a day, but this is usual in such places.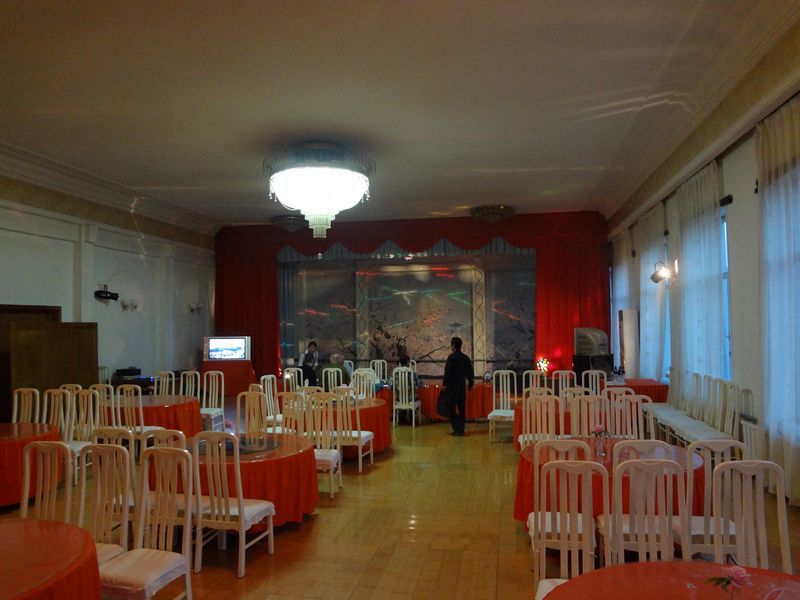 ---
Visiting
In addition to being the only place in Hoeryong that one can stay overnight it is also the only place one can eat, so all meals while on tour in Hoeryong City will be int his hotel. Luckily the food is good enough, the wait staff are attentive and fun, and the restaurant is a quirky retro-decorated place.

In the evening, after dinner, the waitresses put on a musical show which is genuinely amazing, they are very talented indeed and clearly spend a lot of time practising.

While the hotel itself has the usual North Korea hotel activities here like ping pong, billiards, Korean language karaoke, it is actually the post-dinner song & dance which is the main entertainment option, so don't miss that!

Hoeryong Hotel may be a fairly simple place, but visitors will find it more than sufficient for a night in a remote and rarely-seen place.
Comfortable enough and with enough to do, Hoeryong Hotel may be the only option for visitors here, but it is also a good one!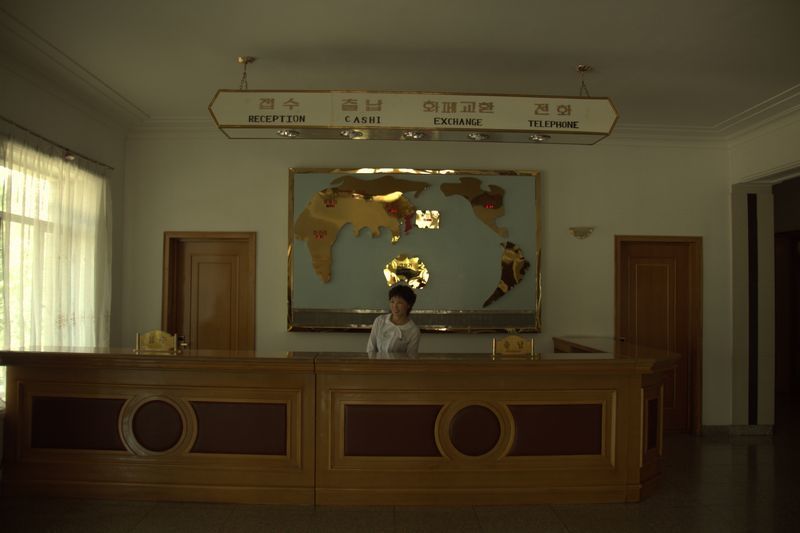 ---
---
Interested in a tour to North Korea?


Travel to

North Korea

with the only
North Korea travel experts, Koryo Tours
North Korea Travel Guide PDF | Sign up to the mailing list | About Koryo Tours