Haeju Hotel
Introduction
Location
Exterior
Interior
Visiting
Introduction
Haeju Hotel is Haeju City's only hotel that can accommodate foreign visitors.
If you visit Haeju you will eat or sleep or both in this place for sure!
---
Location
Haeju Hotel's location couldn't be better; literally the most central part of the city and right on the side of the central square that also houses the obligatory statues of Kim Il Sung and Kim Jong Il.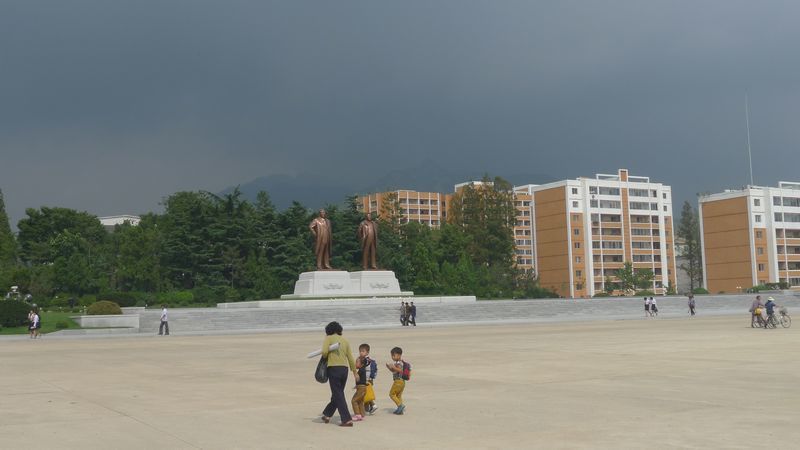 ---
Exterior
Very functional and utilitarian. The kind of building that is almost-universally described as 'Soviet-Style'. 4 storeys of grey concrete, topped by large letters spelling out the Korean slogan 'Let's Firmly Establish the Party's Monolithic Ideological System' (this is unrelated to the hotel, it is there because of the square in front of the building).

Haeju Hotel is not the prettiest building, but it does the job of containing hotel rooms!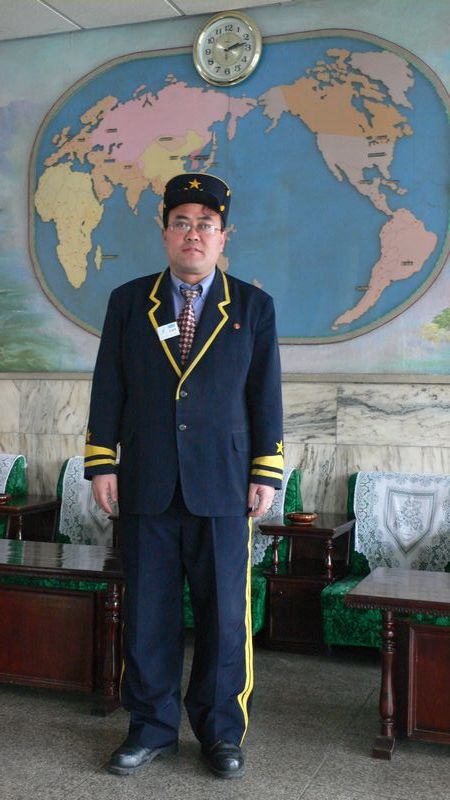 ---
Interior
Haeju Hotel's lobby is somewhat austere but has certain aesthetic charms for aficionados of the 80s DPRK styles.
So heavily upholstered chairs, doilies, and one of those amazing maps of the world that are common in North Korean hotels and which are different in each. It is functional but not without a certain retro-charm for sure.

The 48 rooms here are basic, with the usual two single beds as standard. Rooms are smaller than at almost all other DPRK Hotels, but almost all visitors to Haeju will be here for one-night maximum so it is enough. The usual problems with electrical supply and hot water access can be expected, so be prepared for that.

Haeju Hotel also has a restaurant, it is simple but puts enough food in the visitor's belly to get them through the day.
A small bar and ping pong area are the only evening entertainment available at the Haeju Hotel.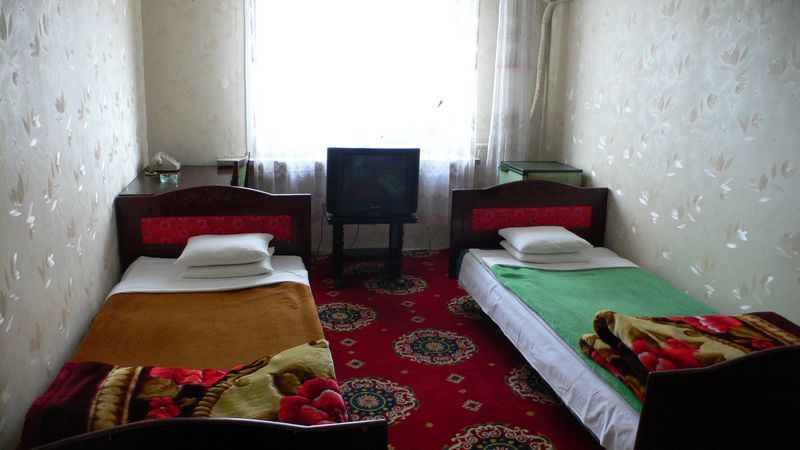 ---
Visiting
While the Haeju Hotel itself is not really enough to entice visitors to the city there are a few things to do around Haeju; scenic Sokdam Ravine, the fascinating Gyenam Stock Farm, and the historic Puyong Hall. Walking from the hotel to the Puyong Hall is a good thing to request as it is rare to be out walking in Haeju.

The trend in recent years has been for hotels in North Korea to be upgraded, improved, etc.
Haeju Hotel being one of the most classically 1980s of the regional hotels will be polished, upgraded, remodelled one day, so if you are a fan of the faded retro aesthetic that exists here then make a trip while it is still an exemplar of that unique style!
---
---
Interested in a tour to North Korea?
Travel to
North Korea
with the only
North Korea travel experts, Koryo Tours
North Korea Travel Guide PDF | Sign up to the mailing list | About Koryo Tours