Cemetery of Soviet Servicemen
Introduction
Location
Visiting
Introduction
The Cemetery of Soviet soldiers is a cemetery of soldiers, officers, and civilians who passed away while in North Korea.
North Korea has a number of cemeteries both honouring and containing the remains of foreigners; from the Chinese Cemetery in Hoechang (where Mao Anying, son of Chairman Mao is buried) to several small plots for people from the Soviet Union (including in Wonsan and Hamhung), the largest for the DPRK's Soviet allies is in Pyongyang.

The Cemetery of Soviet Soldiers contains the remains of 745 people, all of whom died between 1945 and 1959, soldiers, officers, and also civilians, including some embassy staff killed when the US Air Force bombed the Soviet Embassy on Oct 29th 1952.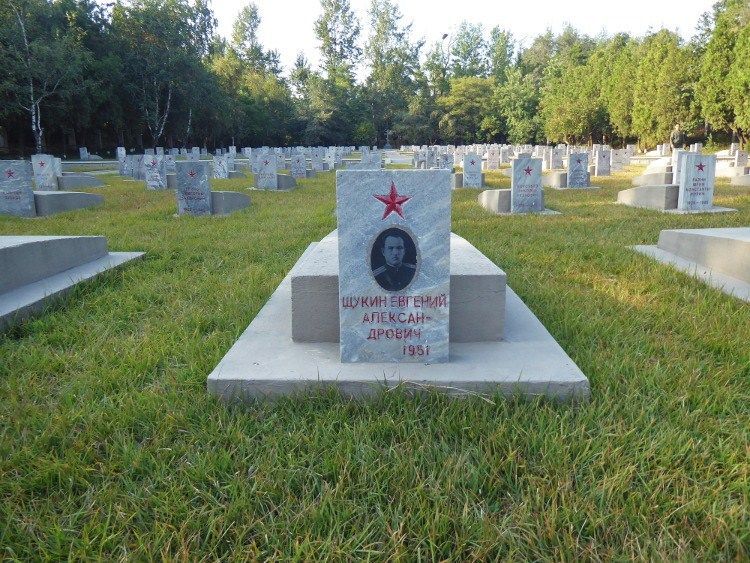 ---
Location
The Cemetery of Soviet Servicemen is located in the eastern part of Pyongyang, in Sadong District.
Not really close to anything that tourists would usually be visiting. Still only a short drive from the centre of the city.
---
Visiting
The Cemetery of Soviet Servicemen is not a common tourist site, but it can be arranged if requested in advance.

At the entrance is a granite block with an inscription in Korean and Russian which reads;

"Glory to the soldiers and officers of the Soviet Army. Fallen in the struggle for the Liberation and Freedom of our country".

Dated August 15th 1945; the day of the surrender of the Japanese – Liberation Day.

Behind this are the smaller tombstones of individuals and groups (some unidentified) with the distinctive red star at the top of the gravestones. Some have pictures of the departed on them but most are simply the star and some text with the names of the relevant people.

There are also monuments to soviet pilots who took part in the war as well as markers for different parts of the cemetery; soldiers, officers, etc.

As with all prominent cemeteries in the DPRK it is kept very clean and tidy, swept regularly, and so visitors should be aware of not walking on the graves, not stepping on the grass, etc.

On August 15th every year (Liberation Day) wreaths are laid by officers in both the Korean People's Army and representatives of the Russian Embassy in Pyongyang.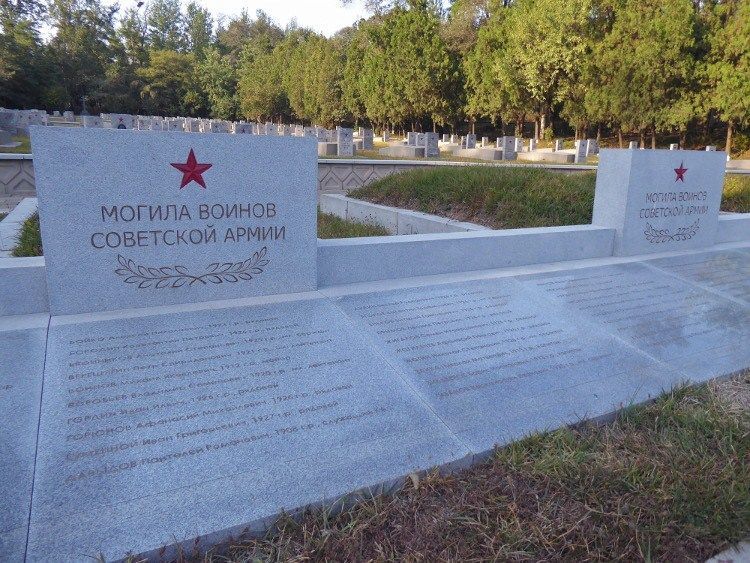 Photos provided by Marcus Neumann
---
---
Interested in a tour to North Korea?
Travel to
North Korea
with the only
North Korea travel experts, Koryo Tours
North Korea Travel Guide PDF | Sign up to the mailing list | About Koryo Tours