Sinchon Massacre Museum of American War Atrocities
Introduction
Controversy
Location
Visiting
Tips
Introduction
The Sinchon Massacre Museum of American War Atrocities is probably the most hardcore place in the whole of North Korea. It is an expanded exhibit about the Sinchon Massacre – said to have taken place between October 17th and December 7th 1950.
During a time that the US/UN forces occupied this part of Korea. North Korea reports that 35,000 people were murdered in an orgy of extreme violence during this Sinchon massacre.

Not a place for the weak-hearted or sensitive souls, this is an intense experience reflecting the deep and extant bitterness and anger in North Korean society against the United States and its actions during the Korean War.

Vastly more intense than the Victorious Fatherland Liberation War Museum in Pyongyang, the Sinchon Massacre Museum of War Atrocities is a site for showing and telling local people rather than something on display for tourists.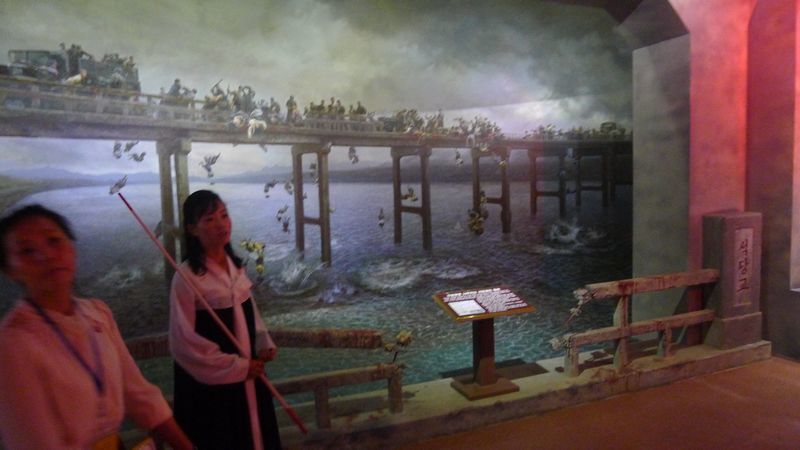 ---
Controversy
The exact details of the Sinchon Massacre are very much disputed in the wider field of North Korea studies. The official North Korean version is what you get when you are in North Korea of course.
This is something it is considered very bad form to question on the spot (imagine if you were in any similar museum to an unspeakable atrocity in some other country, and how well-received scepticism about the event would be there).

It is clear though that something truly awful occurred in Sinchon, so dismissing this as simply 'propaganda' would be lazy, insulting, and inaccurate.
Whatever happened caused the deaths of a great many people.

Wikipedia has a page about the Sinchon Massacre here which outlines some of the different points of view – we leave it to anyone interested to do their research and come to their own conclusions and opinions about it.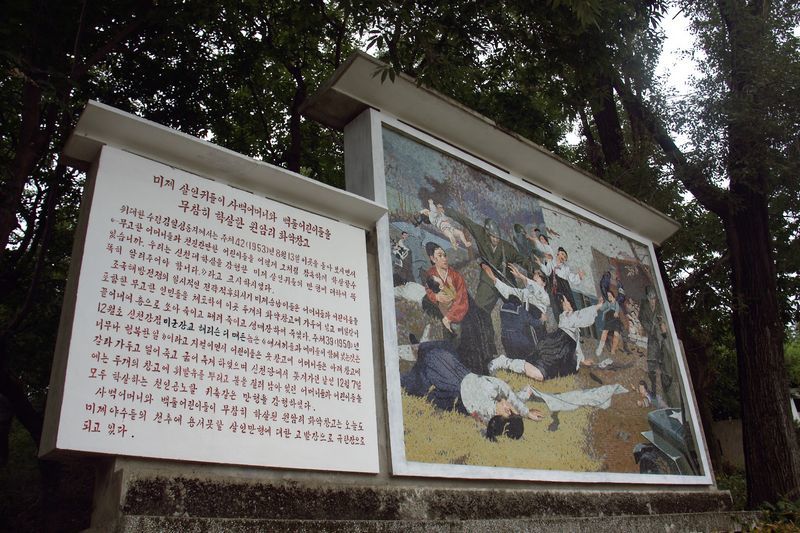 ---
Location
Sinchon Town is about 40 minutes' drive to the west of Sariwon, in South Hwanghae Province.
It is on the south side of the West Sea Barrage and about a 90-minute drive from there through the Mt. Kuwol area.
From Pyongyang, the journey to Sinchon by road is around one hour and 15 minutes usually.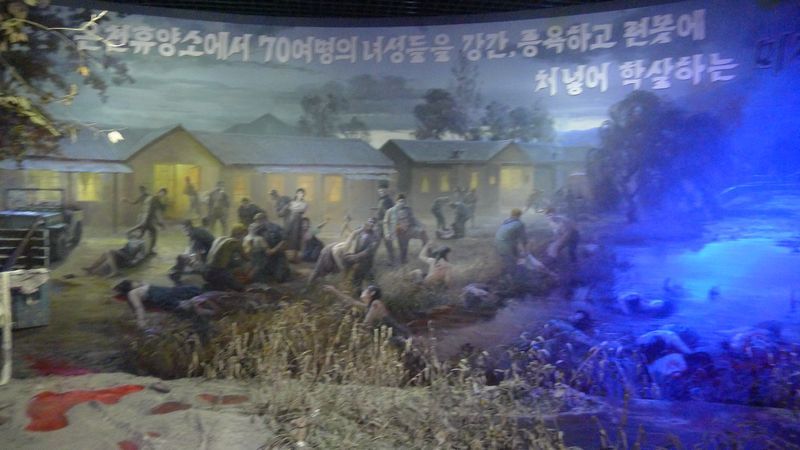 ---
Visiting
At the time of writing the Sinchon Museum of American War Atrocities is not open to foreign visitors.

In July 2015 a new museum was built, much larger and more detailed than the previous one, with many exhibits are in English.

There have been many reports on the new Sinchon Museum of American War Atrocities – in the DPRK and foreign media (for example this one from AFP).

Since Spring 2018 the museum is closed for foreign visitors. The closure came amid the preperations leading up to the Singapore Summit when North Korea eased its anti-American propaganda foreign tourists were exposed to.
The previous incarnation of the Sinchon Museum of American War Atrocities was open for foreign visitors. A more old-fashioned style museum built into a functional building in pretty surroundings, this was a place that tourists would be advised about in advance in case the intensity of the stories was too much for them. Photos were allowed also.

In addition to the museum itself, there are a couple of outlying sites in Sinchon related to the Sinchon Massacre – most notably a damaged concrete storehouse which is said to have been used by US troops to herd local people inside before setting it on fire.

A local survivor of the Sinchon Massacre would sometimes come and meet tourists to explain his story as a child at that time.

A visit to the Sinchon Museum of American War Atrocities has never been a fun experience, to say the least. However, as an insight into the depths and origins of institutional anti-Americanism in the DPRK, it is very instructive indeed and an important thing to experience.

The fact that there is literally a part of the current museum called the 'Revenge-Pledging Place' speaks volumes about how this is not just something that happened in the past for many people in North Korea, but a part of living and ongoing history, and a warning that history tends to repeat itself unless one is diligent and vigilant.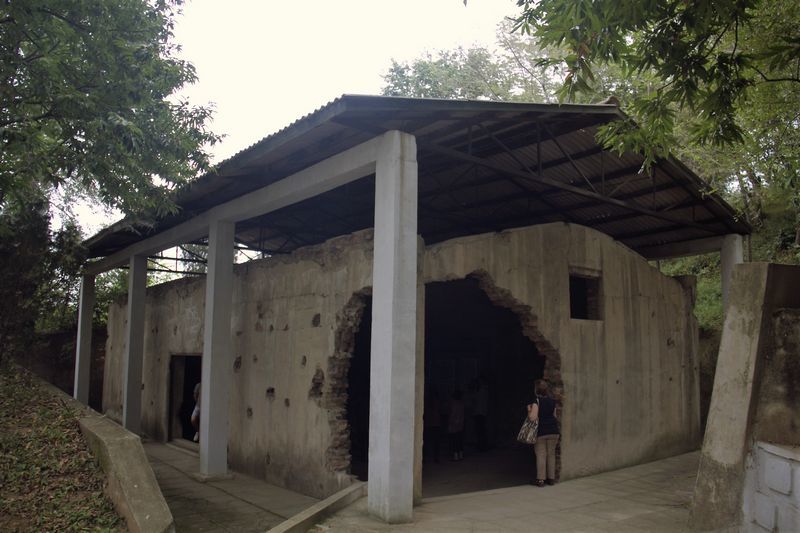 ---
Tips
• If you are one day able to visit this place take it seriously whether you believe the official story of the Sinchon Massacre or not. This is very much equivalent to somewhere like Auschwitz for North Koreans. Proceed with sensitivity here if nowhere else!

• Be warned that the exhibits and pictures shown here are quite grisly and gruesome. Many of them are drawings and paintings of what was said to have occurred, just because these are non-primary sources shouldn't mean that people do not take them as literal history though.

• An excellent novel to read in advance of a visit (or just in general, it is a fantastic book), is The Guest by South Korean writing Hwang Sok-yong. This novel is about an elderly pastor re-visiting Sinchon and learning of his family's role in what happened. Fantastically written, sensitive, complex, a classy piece of literature indeed.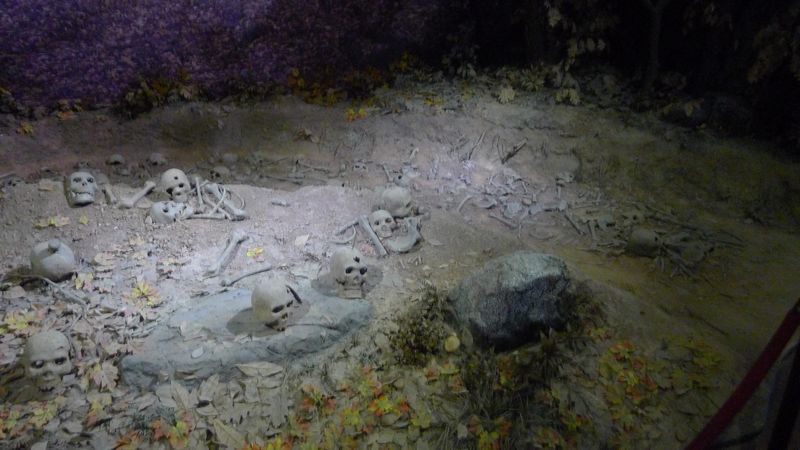 ---
---
Interested in a tour to North Korea?
Travel to
North Korea
with the only
North Korea travel experts, Koryo Tours
North Korea Travel Guide PDF | Sign up to the mailing list | About Koryo Tours