Rajin Mountain Viewpoint
Introduction
Location
Visiting
Introduction
Rajin Mountain Viewpoint offers panoramic views over Rajin City and beyond.
It is an elevated area offering a panoramic and birds-eye view over the port city of Rajin in the Rason Free Trade Zone. On a clear day the ideal way to get a view over what you will be visiting in this unique city as well as see a bit of sea, mountains, industry, and the entire residential layout of the town as well.

---
Location
Rajin Mountain Viewpoint is located directly to the north of Rajin City.
From the city centre, an uphill drive of around 4km takes you to the turning from the main highway, just a little bit beyond the Rajin Bag Factory.

At the turning point, you pass a souvenir shop for Chinese tourists. Then there is another 3km of winding and climbing single-lane mountain road until the pavilion and look-out areas are reached.
From here there are a few spots for taking photos, enjoying the view, sucking up some clean mountain/sea air.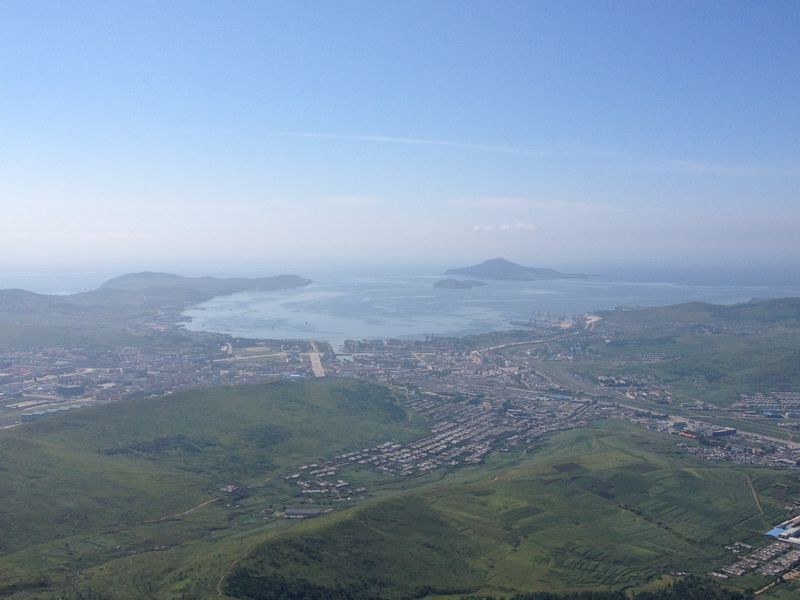 ---
Visiting
Visiting this spot couldn't be simpler.
It is open during daylight and everyone in the Rason tourism field knows how to get there. In winter, the mountain road can be closed when snow or ice is present, and if the air is too hazy the view over the city can be significantly obscured.

Even though the viewpoint is very close to the city, the winding part of the road can take some time, so allow 45 mins for a round trip to the Rajin Mountain Viewpoint at least.

---
---
Interested in a tour to North Korea?
Travel to
North Korea
with the only
North Korea travel experts, Koryo Tours
North Korea Travel Guide PDF | Sign up to the mailing list | About Koryo Tours