Hyangsan Hotel Restaurant
Introduction
Location
Hyangsan Hotel Restaurant
Visiting Tips
Introduction
Hyangsan Hotel is North Korea's first so-called 7-Star Hotel - actually they don't use star ratings, it is just code for something luxurious
One of the most recognisable buildings in the DPRK and certainly the most iconic in this area is the pyramidal Hyangsan Hotel,
This was the main tourist hotel in the area for many years until it was renovated in 2010 and became one of the DPRK's '7 star' (not really) hotels.
The pyramidal building is topped with a small revolving restaurant; however, this is usually reserved for 'VIPs' whoever they may be.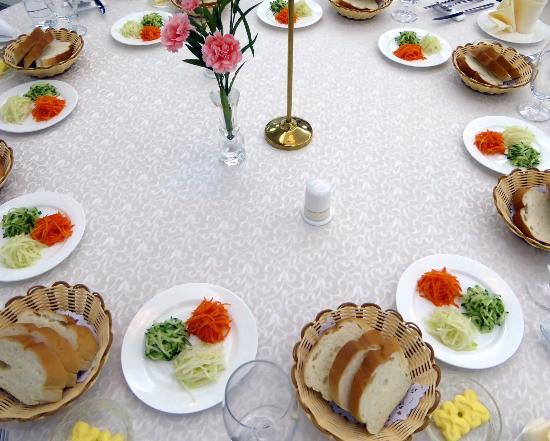 ---
Location
The Hyangsan Hotel is nestled at the end of a valley just a few mins drive from the International Friendship Exhibition.
The restaurant at the Hyangsan Hotel is located on the third floor - and can only be reached via the elevator.
---
Hyangsan Hotel Restaurant
One of the poshest meals you'll have in North Korea, a meal at the Hyangsan Hotel is held at the dining hall restaurant.
The space is white and blue coloured and relatively modern. Also reassuringly very clean.
The size of the dining hall is very large considering how many guests there will be.
The food comes in three courses - and is usually a Western/Korean fusion of sorts.
The food is usually beautifully presented and is pretty decent - especially if you have been eating similar meals in Korea for a long time.
---
Visiting Tips & Anecdotes
The food here is good. But not THAT good for a 7* hotel. Don't get too disappointed - it is the best meal available for many miles!

The staff here are absolutely lovely and are happy to practice their English with you.

Vegetarian options are available.

---
---
Interested in a tour to North Korea?


Travel to

North Korea

with the only
North Korea travel experts, Koryo Tours
North Korea Travel Guide PDF | Sign up to the mailing list | About Koryo Tours