Amnokgang Hotel
Sinuiju
Introduction
Location
Exterior
Interior
Visiting Tips
Introduction
The Amnokgang Hotel in Sinuiju is central Sinuiju's only hotel permitted to accommodate foreign guests.
On a tour to Sinuiju, foreigners will usually stay in the Dongrim Hotel located far from central Sinuiju, but in a beautiful location.
---
Location
Situated just a short drive south of the Sinuiju railway station in Northwest North Korea.
It is situated very close to the North Korea - China border.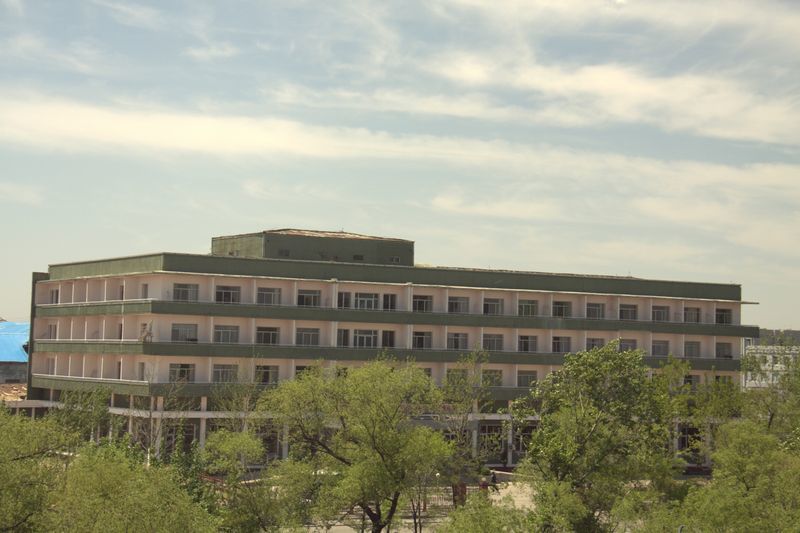 ---
Exterior
The Amnokgang is a 5 storey building.
In front of it is a driveway and carpark.
On-site to the side is a good noodle restaurant.
---
Interior
The rooms, like those in many regional 1970s hotels in the country, are fairly basic but some have new furnishings such as desks and TVs, the comfort level is enough for one night as well.
The hotel has a few options for entertainment; 2 small bars off the lobby, and a popular billiards room where locals can be found crowding the pool tables.
---
Visiting Tips
The Hotel sauna comes highly recommended. It costs a mere 2 EUR and is pretty retro itself with old-style tiles and wood, it heats up and does the job though.

The hotel bookshop is worth a visit, some of the older pamphlets that have all been bought-up in Pyongyang can be found here sometimes
---
---
Interested in a tour to North Korea?


Travel to

North Korea

with the only
North Korea travel experts, Koryo Tours
North Korea Travel Guide PDF | Sign up to the mailing list | About Koryo Tours