Ponghak Beer Factory
Introduction
Location
Ponghak Beer Factory
Visiting Tips
Introduction
Ponghak is one of the largest beer brands in the DPRK, and also not a bad one at all (for connoisseurs think something between Ryongsong beer and Taedonggang beer).
Read more about Ponghak Beer.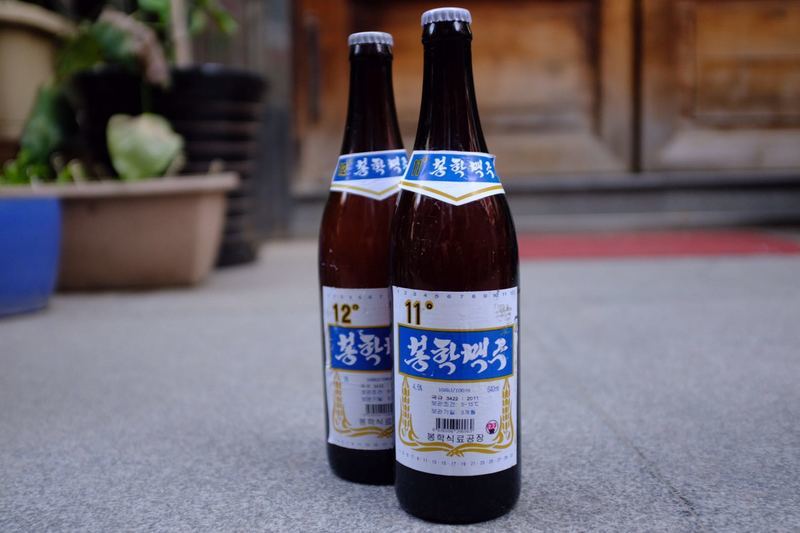 ---
Location
The Ponghak Beer factory here has quite a lovely setting a few minutes outside Pyongsong city centre.
---
Ponghak Beer Factory
Ponghak Foodstuffs Factory is one of the country's oldest beer breweries with construction starting in 1978. The factory started producing beer for the masses in 1982 and has been doing so consistently ever since apart from some breaks for renovations & expansion.
Visiting the Ponghak brewery is a unique experience compared to other breweries in the country. We visit the source of the spring water, the spring water bottling plant and then watch a very informative video on the production of Ponghak beer, but at this stage, the brewery building itself is not set up to be able to accept visitors.
At the end of the tour you are treated to a picnic on the factory grounds amongst tall pine trees with servings of fresh fruit, sausage and the ubiquitous dried Pollack.
The real highlight of this picnic though is your only chance to drink fresh Ponghak beer – both Ponghak 11 and Ponghak 12 – unpasteurised and fresh out of conditioning.
This is the peak Ponghak experience.
---
Visiting Tips & Anecdotes
If you buy some beer to take away then do be aware that the North Koreans don't pasteurise their beer.

This means that you have around 3-4 weeks to drink it before it starts to go bad. So don't leave it too long!
---
---
Interested in a tour to North Korea?


Travel to

North Korea

with the only
North Korea travel experts, Koryo Tours
North Korea Travel Guide PDF | Sign up to the mailing list | About Koryo Tours