Sariwon Folklore Park Makgeolli Grandpa & Grandma
Sariwon
Makgeolli
Makgeolli Grandpa & Grandma
Sariwon Folklore Park: Sariwon
Formerly a small rural town on the southern side of the Taedong River estuary, Sariwon was transformed into a significant regional centre in 1915 with the development of a new railway line.
Today, Sariwon city serves as the provincial seat of North Hwanghae Province and is a major centre for North Korea's agriculture industry.
Sariwon's location on the low-lying west coast makes it ideal for farming and is the location of one of the nation's top agriculture universities.
Sariwon is located very close to Mt. Kuwol, a notable summer vacation destination for locals, which is nearby sites such as the Woljong temple and Anak tombs.
---
Sariwon Folklore Park: Makgeolli
Makgeolli is a popular drink in both South and North Korea.
Aside from Taedonggang beer, it is one of the most popular drinks in North Korea.
Makgeolli (막걸리) is raw rice wine. This gives it its milky off-white colour.
Makgeolli is usually around 6-9% alcohol. You can purchase it in many restaurants and shops in North Korea, including the Kwangbok Supermarket.
But the best Makgeolli is made fresh!
---
Sariwon Folklore Park: Makgeolli Grandpa & Grandma
On a visit to Sariwon, you can go to the Sariwon Folklore Park.
Here, you can try on traditional Korean dress and experience traditional Korean life.
There is also a hill you can climb to see a good view of Sariwon and the surrounding areas.
But by far the most special experience you'll have visiting this area is meeting who we can fondly refer to as "Makgeolli Grandpa" and "Makgeolli Grandma".
This is an old couple who live in Sariwon and run the Sariwon Folklore park. They are two of the sweetest and most hospitable people you will meet on your tour to North Korea.
This couple brews their own Makgeolli at home and brings it in. You can either try it in a shell, or buy a bottle to take for later!
Their home-brewed fresh Makgeolli is arguably some of the best you will get in North Korea.
They are very happy to try to talk with you - despite their lack of English - and are always trying to persuade tourists to have some fun and try on the traditional dress. One of their pride and joys is their photo album. They love taking pictures of tourists or with tourists dressed up, and they will take great pride in printing this out. If you're a frequent visitor, you can be sure to see your picture there next time!
If you're lucky enough, you might come across their daughter, and/or her son!
Seeing all three generations together is a great experience.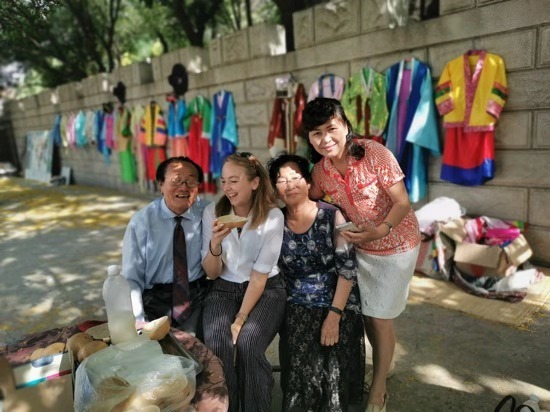 ---
---
Interested in a tour to North Korea?


Travel to

North Korea

with the only
North Korea travel experts, Koryo Tours
North Korea Travel Guide PDF | Sign up to the mailing list | About Koryo Tours