Russian Orthodox Church
Introduction
Location
Russian Orthodox Church
Visiting
Anecdotes
Introduction
In August 2002 Kim Jong Il took a trip to the Russian Far East (this was not the famous train trip across the country, that was in 2001), including a visit to the Church of St. Innocent Innokentiy in Khabarovsk.
Impressed by the architecture, style, and history of the place he then ordered for a church to be built in Pyongyang, to serve the orthodox community (made up entirely of Russian Embassy staff, no Koreans) in the North Korean capital.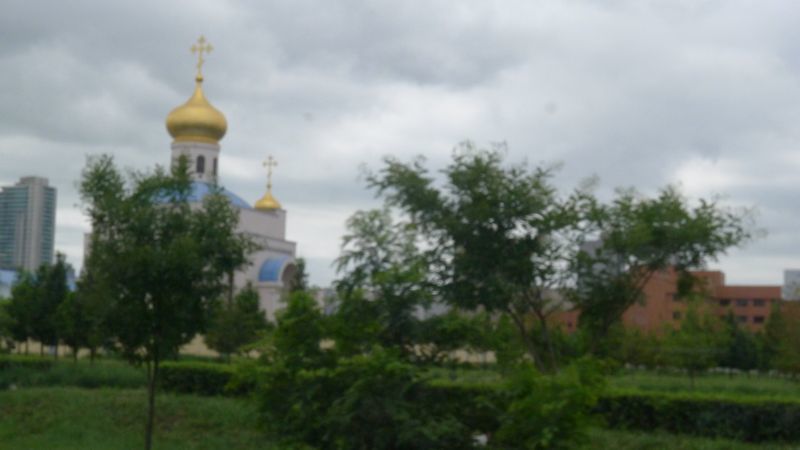 ---
Location
A spot was chosen, in Rangrang District on the east side of the Taedong River.
If you are staying in the Yanggakdo Hotel go to the window by the lifts and look out around the 10 or 11 o'clock direction.
You may see the golden domes of the building, the only Orthodox church in the whole of the DPRK.
---
Russian Orthodox Church
Ground was broken in 2003 and in August 2006 the church was dedicated, coming under the authority of the Patriarch of Moscow and all Russia (rather than the Korean Orthodox Church, the South Korean branch of the institution).

The Priests are actually North Koreans. Four of these priests were sent by the North Korean Government to Russia for religious education, two of them made the grade, converted fully to Orthodoxy, and became deacons, later priests (the consecration of one of them can be seen on video here, performed by the visiting Patriarch of Moscow).

While commonly and simply known as 'the Russian Church' the actual name of this building is the Church of the Life-Giving Trinity.
It's a modest building as Orthodox churches go, two golden onion domes, and a small garden with monuments in it, sufficient in size for the regular worshippers though.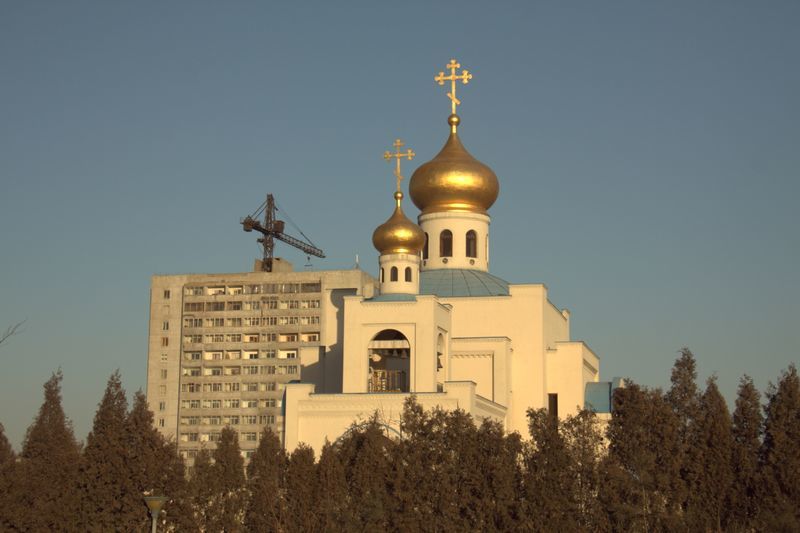 ---
Visiting
Services are held on Saturday evenings and Sundays.
Tourists can attend but it is an actual religious service so best not to just be there for photos and disruption.
After all, a lot of the attendees are quite serious about their faith, and it is a pretty serious faith too, not exactly hostile to outsiders, just quite ritualistic and hard to get into.
Sermons and rituals are delivered in a very complex form of Russian, making it very hard to follow unless you're accustomed to this kind of service.
---
Anecdotes
This church, as is customary in the Orthodox faith, and contains a holy relic.
In this case it is a bone from St. Sergius of Rakvere.
Interestingly, this chap was shot by the Bolsheviks in 1918 in Estonia following the Russian Revolution, becoming a religious martyr.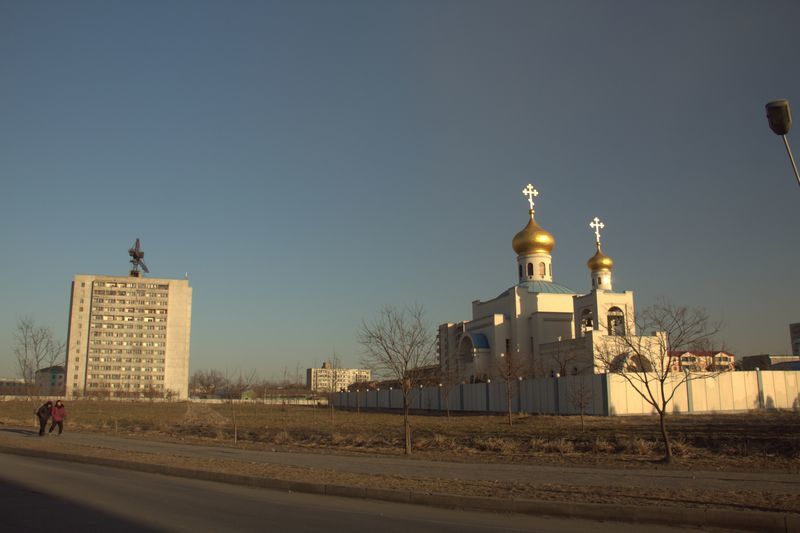 ---
---
Travel to

North Korea

with the only
North Korea travel experts, Koryo Tours
North Korea Travel Guide PDF | Sign up to the mailing list | About Koryo Tours