Paulaner Bar
Introduction
Location
Visiting
Cost
Tips
Anecdotes
Introduction
A small German themed beer bar, hidden away in Pyongyang wearing the famous Paulaner bar branding.

Germany's Paulaner beer is a well-known brand in many major cities in Asia, with large brauhaus institutions commonly found in this part of the world.

Is this Paulaner branded bar in Pyongyang the real thing?
---
Location
This bar is located in the Haemaji Complex, very close to the Mansudae Grand Monument (the statues of Kim Il Sung and Kim Jong Il)

To access it you need go under the ground and to cross the road that leads to an underground parking lot.
---
Visiting
The familiar Paulaner logo is there (a monk's face in profile), as well as Paulaner brand coasters and ephemera.

The beer it is also claimed is Paulaner beer. But is it?

There is nothing in the bar that says "Paulaner Pyongyang" after all, and the food on offer isn't up to the normal standards and quantities you would expect if you have every ordered a plate of sausages at the Paulaner in Beijing or elsewhere.

It's all very strange and the fact that the Paulaner website doesn't mention Pyongyang as one of its locations (see the list here) also adds to the mystery.

We reserve judgement on how legit this bar actually is a Paulaner, but still it is a nice place, 'German' style in that it has wooden tables and chairs and also serves Taedonggang Beer from time to time, and is a quiet spot for a pint.

Check it out if you are curious or spend the time instead mixing it up with the locals in proper Korean bars such as Mansugyo Beer Bar.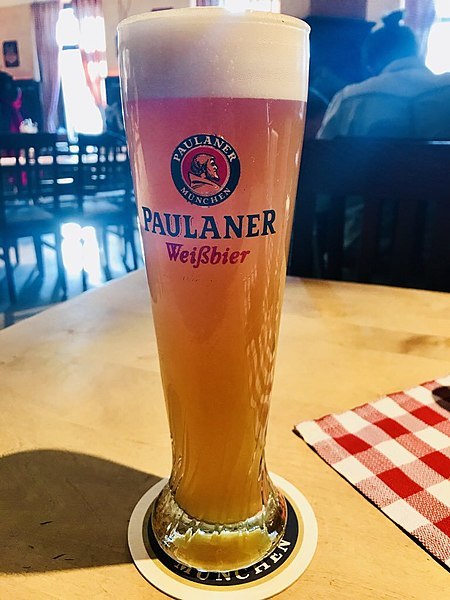 Photo Credit Wikimedia Commons (not from the actual bar)
---
Cost
Beer costs around 2-3 EUR per pint, all paid for on the spot of course.
---
Tips
Photos are not allowed in the bar
---
Anecdotes
In 2013 German daily paper Bild reported that the DPRK (actually they stated 'Kim Jong Un' himself, but this is likely just the frustrating tendency of the media to reduce the whole country to one person) had requested that Munich-based Paulaner open a beer garden and brewery in the DPRK, but were turned down on the grounds that they already had plans to expand their range of establishments around the world. However the very next year a Paulaner appeared in Pyongyang, albeit as a small bar instead of the standard beer garden and brewery associated with the Paulaner brand.
Lead Photo Credit Wikimedia Commons (not from the actual bar)
---
---
Interested in a tour to North Korea?


Travel to

North Korea

with the only
North Korea travel experts, Koryo Tours
North Korea Travel Guide PDF | Sign up to the mailing list | About Koryo Tours