Mary, Turkmenistan
Introduction
What to do in Mary
Where to stay
How to get there
Bonus Information!
Introduction
Capital city of Mary Region, in the central part of Turkmenistan (so, Mary, Mary – so historically significant they named it twice?)
Mary city (It is pronounced 'Ma-Ree' rather than 'Mare-ree') was, like many extant cities in Turkmenistan, founded by Russians in the late 19th Century, but built atop a string of earlier inhabitations that have been there since the very distant past.
A mere 30km from Mary lies the colossal ruined silk road city of Ancient Merv, at one time a legitimate claimant for most important city in the world.
These ruins are of immense historical significance to all civilisations involved in any kind of trans-Central Asian trade at ay time (so…almost everyone really) and make up the main reason any tourists would head to Mary.
We cover Ancient Merv in another Travel Guide, but read on for what you could do in the non-ruined sister city of Mary.
As with much of Turkmenistan the main industries are extraction of natural gas and production and processing of cotton.
The city (again as with most regional centres) has its key buildings covered in marble in imitation of Ashgabat; to the hospital, sports centre, library, administration, etc buildings all feature a similarity with their counterparts in Dashoguz, Balkanabad, and Turkmenabad.
While the whole of this area is infused with amazing events of history one of the crucial events for Mary would be the Panjdeh Incident of 1885;
In brief Russian troops occupied the Merv/Mary area and were seen as a threat to the Afghanistan Emirate, at the time a buffer state between India (the British Raj) and the Russian Empire.
Sabres were rattled, fingers were both pointed and wagged, and in the end a diplomatic solution was found which drew a line (literally, in the case of all subsequent maps) between the two sides.
All part of the complex machinations and maneuverings of the Great Game.
Most tourists visiting Dashoguz will be doing so not for the city itself but while visiting the site of Ancient Merv (frankly if you are going to Mary and not visiting Merv then we would advise you to think again about the trip!).
As Merv is an abandoned site and a ruin any hotel overnight would necessitate being in Mary for at least a little while.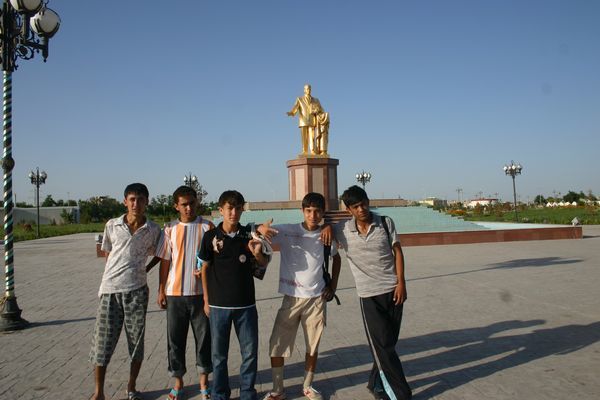 ---
What to do in Mary
Compared with the other provincial capitals Mary city actually has a good few things to see and do.
The National History and Ethnology Museum is well worth it as an introduction to some of the civilisations that used this area as a base in the past
(be warned, there are loads of them and it is all very confusing! – take a tour guide with you as they will know it better and be able to translate the exhibits too).
The impressive Gurbanguly Haji Mosque, completed in 2009 and boasting four 63 metre high minarets, is very picturesque (it is named for the second President Gurbanguly Berdimuhamedov).
The Pokrovskaya Church is an impressive orthodox church with a dwindling number of parishioners, but much more 'orthodox church' looking than most other examples around Turkmenistan.
Take at least an afternoon or morning to spend in the city is our advice, don't just arrive and go straight to Ancient Merv.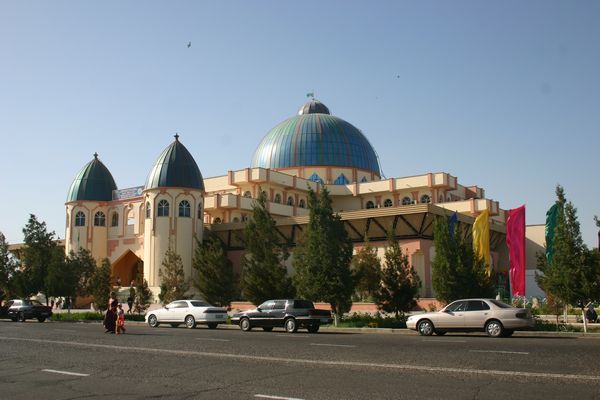 ---
Where to stay
Central Mary has a couple of marble-clad options in the Mary Hotel and Margush Hotel.
Either one of them are more or less interchangeable and are typical 21st Century Turkmenistan Hotels.
There are a few smaller options that may be available sometimes but we would recommend taking one of these two main hotels as any stay in Mary is likely to be just one night after all.
---
How to get there
Turkmenistan Airlines, the all-Boeing national fleet, flies to Mary Airport from Ashgabat several times a day, also flights to other regional centres are daily too.
So this is the quickest way (less than an hour from Ashgabat).
The road journey is 45 hours and is a good way to experience the various terrains of Turkmenistan; first driving south with the Kopet-Dag mountains on one side, then turning into the desert for the second half of the ride.
If one is driving from Ashgabat to Turkmenabad then this is a good place to stop and break the journey. From Mary to Turkmenabad would be an additional 4 hours' drive.
One day it may even be possible for tourists to arrive in Mary, then from there depart directly south down the once-military highway used in the 1980 soviet invasion of Afghanistan to its troubled neighbour.
This area remains off-limits to visitors though. One to put in the to-do list for the future perhaps!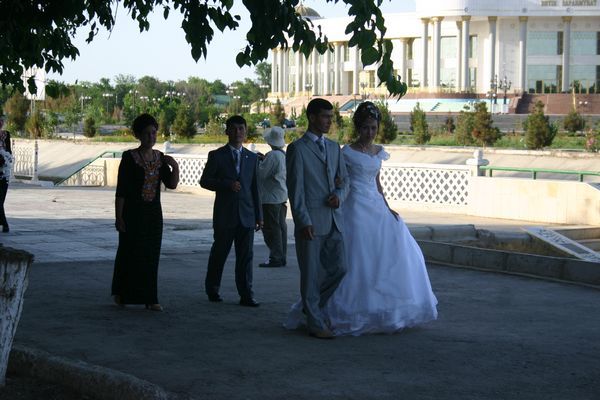 ---
Bonus Information!
Mary also happens to be the birthplace of the famous Yelena Bonner; giant of Soviet/Russian human rights activism, wife of and collaborator with physicist/nuclear weapons innovator/Nobel laureate Andrei Sakharov.
Bonner took part in World War Two as a nurse (being wounded twice), spent a decade in the Soviet Gulag, and became known as a thorn in the side of successive Soviet Administrations.
Even after emigrating to the US she still kept up with activism and was publicly denouncing Vladimir Putin as late as 2010, at age 87, just a year before her death.
Yelena Bonner was a truly impressive person, worthy of her enduring fame, but sadly of no relation to Koryo Tours' very own boss Nicholas Bonner!
---
---
Turkmenistan Travel Guide | Sign up to the mailing list | About Koryo Tours