Kow Ata Underground Lake
Introduction
How to visit
Post-Swim
Introduction
Just over an hour's drive from the Turkmenistan Capital City, Ashgabat, lies a very unusual and fascinating spot.
Almost invisible from the road, not really sign-posted at all, and equipped with almost no facilities at all this spot is nevertheless one of the most interesting places to visit in all or Turkmenistan: the Know Ata Underground Lake.
Turkmenistan is almost entirely made up of desert, for those who really want a swim you can try out a hotel pool (boring!) or the Caspian Sea (freezing!)

But this spot is different; a Sulphur-heated underground lake around 80 metres below the ground at the foot of the Kopet-Dag mountain range (which separates Iran from Turkmenistan).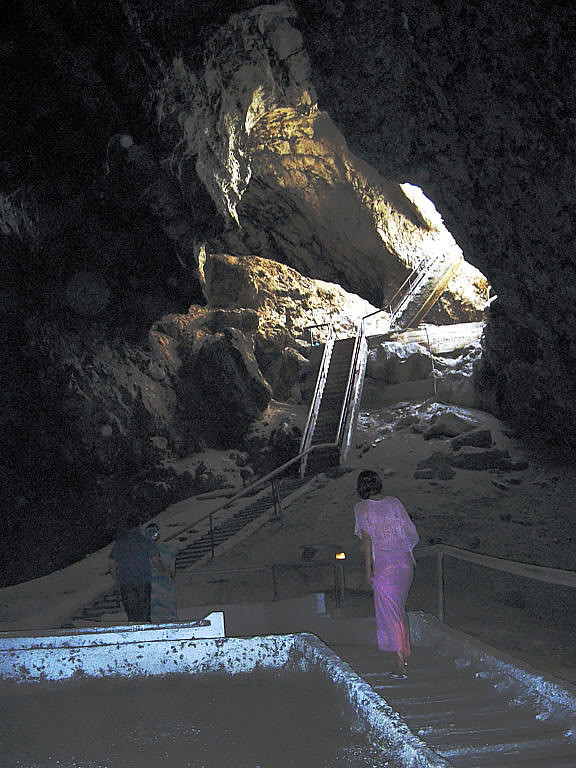 ---
How to visit
Upon arriving in the modest car park one should first read the safety board;
This is important partly because of the idiosyncratic use of English, and mostly because it is best to know what you're getting into at this place (don't go in if you have hear problems, can't climb several dozen steps, are afraid of the dark or bats, are drunk, etc)
Start your downward descent; at this point you'll be thinking two things:
1. It's very dark (although there are dim lights illuminating the path)
2. It stinks! That would be the pungent small of Sulphur, rising up through the earth and heating the water.
It reeks of rotten eggs and this smell will cling to you after a dip, so be prepared to carry a whiff of hades around for the rest of the day!
There is a level platform and a couple of ad hoc changing cubicles about 80% of the way to the lake, not much privacy so if you're shy then consider changing in your vehicle before going down to the lake.
After getting kitted out in whatever you swim in (many locals simply bathe in something more like normal clothes than proper swimming gear) and climb into the water.
Its hot; the temperature and height of the water does vary a lot (look at the marks on the wall for evidence of various levels) and there are the remains of an artificial platform for the first few metres so that non-swimmers can wallow happily.
There is usually a line of tape stretched across the cave a few metres from the start of the water, telling people not to swim past this, but the 'lifeguard' who is almost never there doesn't really seem to care if stronger swimmers set out past it.
The cave itself is claimed to be around 100m long, more like 75 we would say.
If you set out to the end then don't take a flashlight, your eyes will adjust a little bit, even in winter when steam can rise off the water.
This cave is also home to a bat colony (claimed to be the largest in Central Asia, although there don't seem to be all that many of them actually) and they whirl above you as you swim from one end to the other.
It's a great fun experience and really should be tried (only if you are a decent swimmer though), be warned there are no safety features here at all.
This should not be the first swim you ever attempt.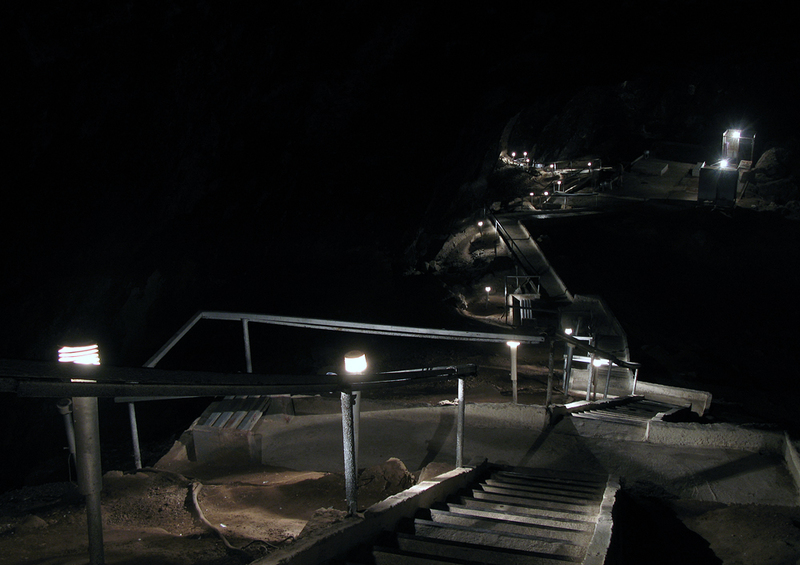 ---
Post-Swim
After the dip (if you stay up to 20 mins it is good for you, after that it is bad for you – so the warning sign claims anyway) dry off, then start the climb back out into the sunlight.
Around the car park are a handful of shashlik stands that do a great simple meal, cold beers and soft drinks and so on.
There are some of the vilest public toilets too, consider simply walking away for a bit if you need to take a comfort break.
All-in, a trip to the lake should take around 4 hours as a side trip from Ashgabat.
Consider combining it with a trip to the amazing mosques of Geok Deppe and Gypjak, the Geok Deppe fortress, or a local stud farm to see the beautiful Ahal-Take Horses.
A trip to Know Ata should be on the itinerary for anyone visiting Ashgabat, taking a dip in the pool may be a less than pleasant olfactory event but the memory will linger longer than the smell, so get yourself there for sure!
---
---
Turkmenistan Travel Guide | Sign up to the mailing list | About Koryo Tours