Ashgabat
Introduction
Ashgabat History
Ashgabat City
Places to See in Ashgabat
Where to Eat in Ashgabat
Introduction
Pre 1991, Ashgabat was often spelt Ashkhabad in English. This is a transliteration of the Russian form. From 1919 until 1927, the city was named Poltoratsk after the local revolutionary, Pavel Gerasimovich Poltoratskiy.
The name Ashgabat literally means "city of love" or "city of devotion" in modern Persian, although for many it can be best described as Pyongyang meets Las Vegas.
At face value, this may be true however there is much more than meets the eye.
As with many of the central Asian capitals, Ashgabat is still a relatively young city.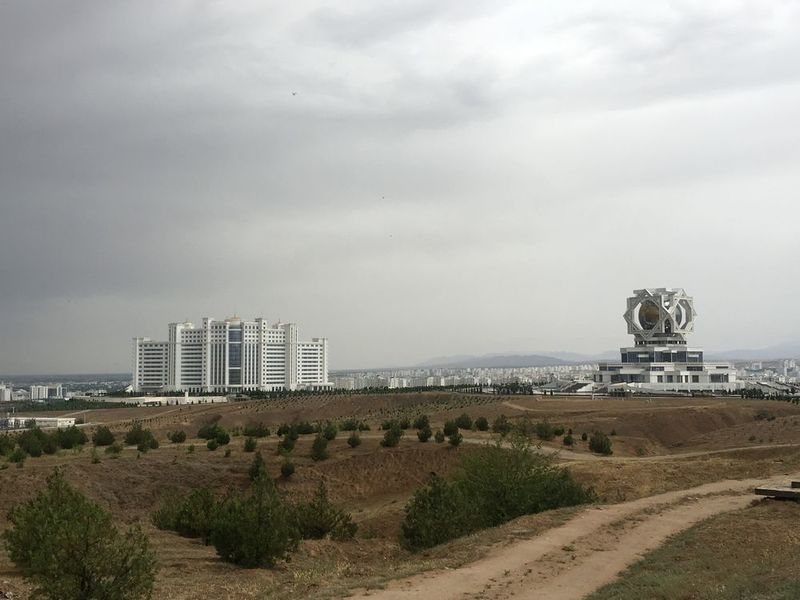 ---
Ashgabat History
1881
It was founded in 1881 as a fortified settlement. Its foundations were built upon the ancient city of Konjikala. Konjikala grew from a small wine-producing village in the 2nd century into a Silk Road hub, and later a portent of future events, Ashgabat was level by an earthquake continuing on after its rebuild until the Mongol hordes tore through the region in the 13th century.
It limped on as a small village until the Russian advance in the 19th century.
1917
Once ceded to the Russian empire, the Russians began to develop the area and Ashgabat once again grew, it emerged as a city with European style buildings, shops and hotels.
The fortunes were again to change influenced by events many miles away.
During the Russian revolution of 1917 a mixture of forces fighting against the Bolsheviks briefly captured Ashgabat making it part of the state of Transcaspia along with greater Turkmenistan. This wasn't to last. Eventually in 1919 after much fighting, Turkmenistan finally became part of the Soviet Union.
1927
From 1927, the name Ashgabat was restored and the city experienced its largest period of growth. Large scale industrialization moved in and the Turkmen resources of oil and gas were mined.
All the while, it experienced tight controls politically, and the country remained closed not only to the outside world but the populace of the Soviet Union.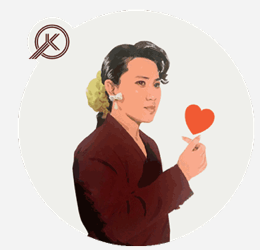 1948
The growth was not to last as the country was to experience another history-defining event in the form of a 7.3 magnitude earthquake.
The story has been told many times.
At 1:12 in the morning on 6 October 1948, at a small village of Gara-Gaudan just 25 kilometres from the capital, a huge earthquake shook the land.
As many of the cities residences were asleep, the death toll was huge killing around 110–176,000 approximately ⅔ of the population of Ashgabat.
Furthermore, it has been estimated that 90% of the cities buildings were destroyed. As Soviet censorship was so strict, most in the outside world did not know how serious this disaster was. To help recovery, large numbers of Soviet soldiers were ploughed into the area remaining and reconstruction followed.
In much of Ashgabat, the typical grey soviet architecture replaced the typical brick buildings of the area.
1991: The Golden Era
As the Soviet Union collapsed, Turkmenistan gained its independence in October 1991.
Saparmurat Atayevich Niyazov, the former Chairman of the Supreme Soviet of the Turkmen SSR, took the mantel of power cementing his position as the leader of the country. During the Turkmenistani presidential elections of 1992, he was the only candidate.
A year into his presidency Niyazov declared himself Turkmenbashi the leader of all Turkmen. This led to the golden period as money from the countries resources were pumped back into the countries construction. This led to the marbalisation of Ashgabat as many of the old Soviet apartment blocks were torn down and overtime replaced by modern slick marbled structures.
Many of the Soviet apartment blocks that remaining were eventually covered in pseudo marble.
As if this were not enough, monuments and statues began to fill the parks, avenues and available land. These grandiose structures extolled the achievements of the new leader, covering moments from his life, writings and god-like status.
Since the death of Niyazov, the construction has continued under the leadership of the country's current leader Gurbanguly Berdimuhamedow. New stadiums, palace-like shopping malls, and even the falcon shaped airport have all been constructed in recent years.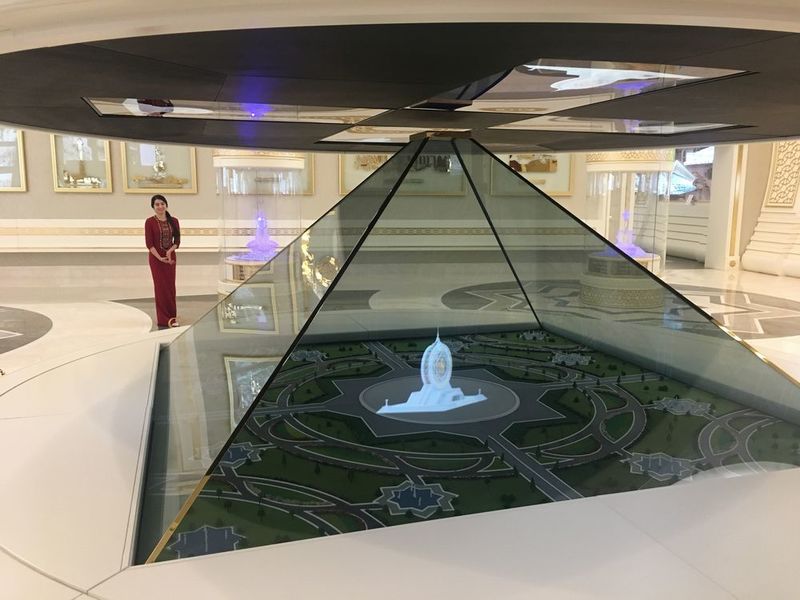 ---
Ashgabat City
A majority will either arrive into Ashgabat via the airport or by road. There are train connections but the train tends to be slow and not as reliable as the other links.
When entering Ashgabat, you're first met by the vast expanse of the desert. This shouldn't come as a big surprise, as over 70% of the country is covered by the Kara-Kum desert.
As Ashgabat approaches and comes into view, the cloud-like Kopet-Dag mountain range rise from behind. This helps to enhance the crisp white lines of the city buildings.
Ashgabat is home to around 1 million people. However, Ashgabat is large with only the mountains to the south curbing its growth.
Since the earthquake of 1948, building practices have also been adapted to allow for a future quake. When a building is constructed, the height of the building must be kept clear around it.
This practice means not only a sprawling city but wide open spaces, large avenues and streets.
To add to this, it is marbled. So heavily marbled that in 2013 it made it into the Guinness Book of Records as the world's highest concentration of white marble buildings within a city.
With its mix of architecture strong white lines oversize palaces and government buildings, it's like arriving at a set for a science fiction movie.
Ashgabat is a great city for walking. Although, be prepared as Ashgabat is far-reaching and walks can be long.
However, if you are out and about and decide you've had enough and want to return back to base, you can always hale a local driver whom will transport you on your way for a small fee.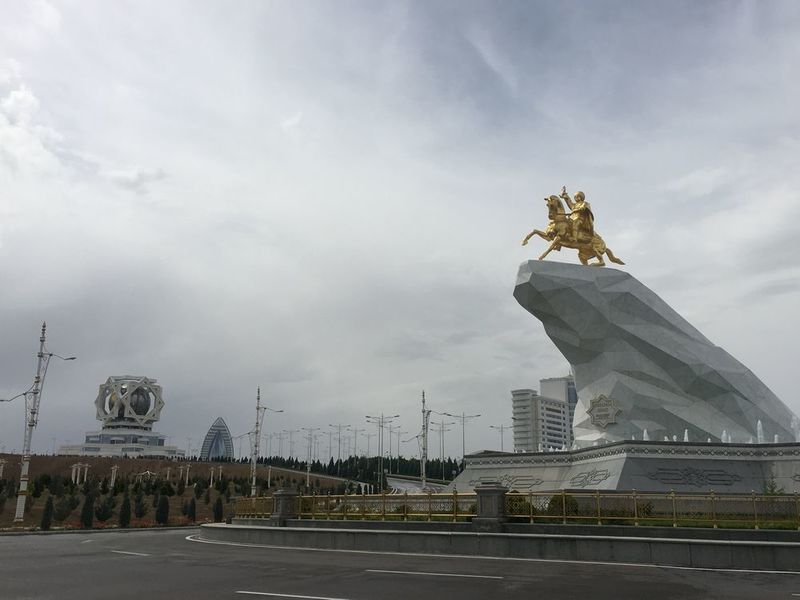 ---
Places to See in Ashgabat
Oguzkhan Presidential Palace
This is the official presidential headquarters. A place so big it's almost beyond belief.
The gates themselves are impressive as there so big a man can squeeze between the bars. Unfortunately, photos are not allowed in this area so a walk past the entrance needs to be committed to memory which isn't difficult with its grand architecture and stunning domed roofs.
Ruhyýet Palace
This is a place for official state events, forums, meetings, inaugurations etc. It is only rivalled by the Oguzkhan - another grand building that can only be viewed at a distance. Nevertheless, it's well worth the walk just to get an idea of scale.
Wedding Palace
As the name suggests, it is the location where locals go to register their wedding and is normally incorporated as part of a larger celebration.
Located just outside Ashgabat, it's another grand building but well worth the journey.
Turkmen Museum of Fine Arts
This museum can be a little difficult to find but worth the visit.
There are around 6,000 works in its collection filling a palatial style building. It is a fascinating visit.
Don't visit expecting famous pieces, however, but the museum does house works by Turkmen, Russian and foreign artists.
Another added bonus is the views out to the presidential palace which looks stunning from the second floor.
Turkmen Carpet Museum
This is known by many Turkmens as the leading authority on the nation's carpets.
If you're interested or need to know anything about carpets this is the place to go.
Opened in 1994, it has the largest collection of Turkmen carpets including a rich collection ranging from medieval times through to the 20th century.
Another reason for visiting is to catch another of Turkmenistan's entrance into the Guinness World Records. It's the largest hand-woven carpet in the world a carpet woven to celebrate 10 years of Turkmen independence from the Soviet Union.
Alem Cultural and Entertainment Center
If you're searching for more record-holding entrants, then this is a stop you should make.
A little bizarre but worth the visit. The Entertainment centres entry in the Guinness World Records is the world's tallest Ferris wheel in an enclosed space. If you want to see some locals here, visit in the evening or at weekends.
Berkarar Shopping Mall
For Shopping, people watching or western comfort food this is a great stop especially during the toasty summer months.
Visit the Kamil supermarket on the basement floor for all your needs.
The top floor has a modern entertainment system with arcade games and even a small indoor roller coaster. Also on the top floor, you can find a real mix of restaurants from Burger joints through to local eats.
Tekke Bazaar
Walk through this real local slice of life - a true local market very popular amongst local people for shopping.
On weekends, there are also local booksellers in the park opposite selling a selection of second-hand books, if you're lucky you may be able to pick up a copy of the Ruhnama - the book written by Saparmurat Niyazov the president of Turkmenistan.
Niyazov famously said, "a person that reads Ruhnama three times becomes smart, and after it he will go straight to heaven".
Russian Bazaar
Located in the very centre of town, this covered bazaar is where you can go to buy almost everything you may need in daily life; fruit & nuts, cables & chargers, sweets, kimchi, baked goods, souvenirs, and so on.
Nearby is also the Alty Asyr Shopping Centre which is a good place to buy cotton goods (tracksuits, towels, bedsheets, etc all made from local cotton, and all very cheap). Not so much of a hit with the locals these days, so do not be surprised if there are few other shoppers.
Ashgabat Train station
Originally built in 1888, the first railway station was completely destroyed in the earthquake of 1948 along with much of Ashgabat.
A new station was built shortly after in 1950, although this was remodelled in 2009 taking on its now grand form crowned by the eight-pointed star (Rub El Hizb).
Tolkuchka Bazaar
The nation's largest and most famous market, built outside Ashgabat and home to various sections selling household goods, clothes, the famous Turkmen carpets, camels & other animals, and much more!
Since its relocation and rebuild it's so vast it no longer has that crowded feel, although a visit here is still very much worthwhile to see the variety of its wares and the sheer scale.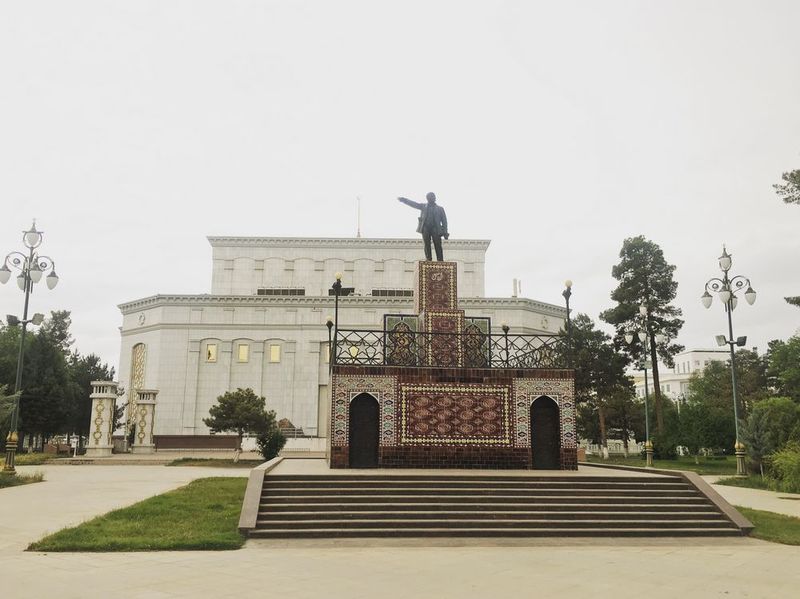 Where to Eat in Ashgabat
Gunes
Local BBQ, European and Russian.
One of my favourite laid back picks for Ashgabat, prices are good and it's centrally located.
This is a great outdoor option, although it can be busy on weekends. The menu is in English and Turkmen making choosing a lot easier. Great for BBQ as food is cooked on-site and easily washed down with the local ZIP beer.
If travelling in a larger group, do expect a delay in service.
There are vegetarian options although vegans may have a tougher time.
Ammar Café
European and Asian.
Prices are a little higher than similar options, but a great pick for vegetarians, vegans and carnivores alike.
It's a little further from the city centre, but well worth the journey.
Predominantly indoor eating with some outdoor seating.
The restaurant may be small but it has a light airy feel with good customer service.
It's also a good stop for those needing a coffee fix during the day.
Uzum Café
French, European and Turkish.
A newer choice on the list, and another choice for vegetarians, vegans, and meat-eaters.
It's located in the older area of the city making for an enjoyable walk predominantly indoor with a few tables outside.
The menu has a nice selection although on busier days some choices may be limited.
There is no alcohol served here but visit for the meticulously presented food.
Altyn Shafran
Central Asian and European
This is located next to the Uzum Café, another mixed menu especially great for drinks and food.
A little bizarre in its decor part sports bar, part library with a real ecliptic feel, the staff are friendly and service is relatively quick, offering everything from salads to local bites.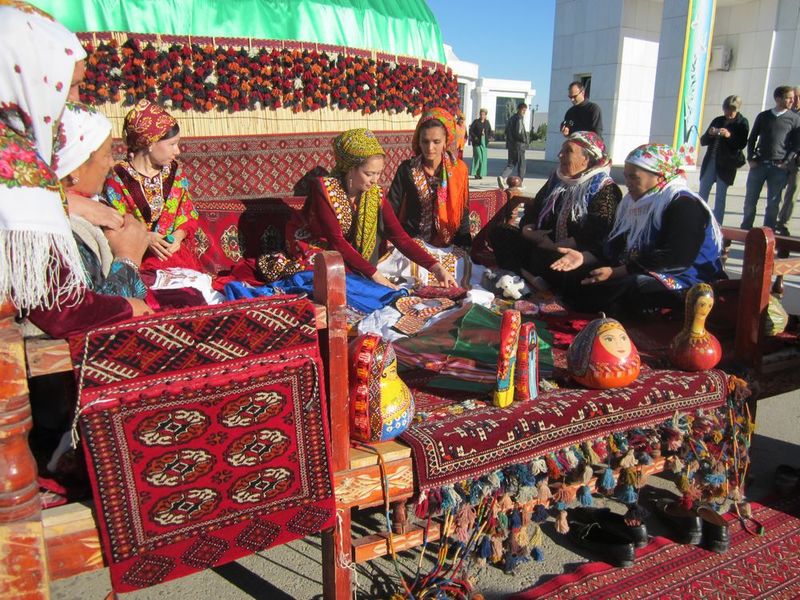 ---
---
Turkmenistan Travel Guide | Sign up to the mailing list | About Koryo Tours