Kim Ki Song School, Hoeryong
Introduction
Location
Design
Visiting
Introduction
Kim Ki Song School is Hoeryong's very best school, named after the brother of Kim Jong Suk - Kim Ki Song.

Born in 1921, the younger brother had a tough early life, orphaned and impoverished. Joining the anti-Japanese struggle along with his sister, Kim Ki Song joined a children's battalion and became a bugler, taking on the responsibility of sounding reveille and also calls to arms.

Tales are told of his bravery, and also his use of his bugling skills to fool Japanese units into believing that there were more armed guerillas than there actually were. Tragically he died at age 12, hit by an enemy bullet while in action.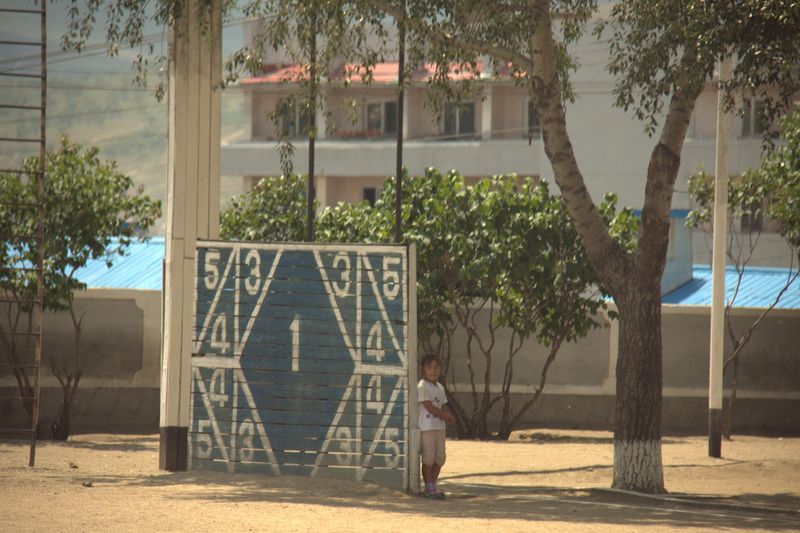 ---
Location
Kim Ki Song School is in the heart of Hoeryong, as befits its status as the best school in the city.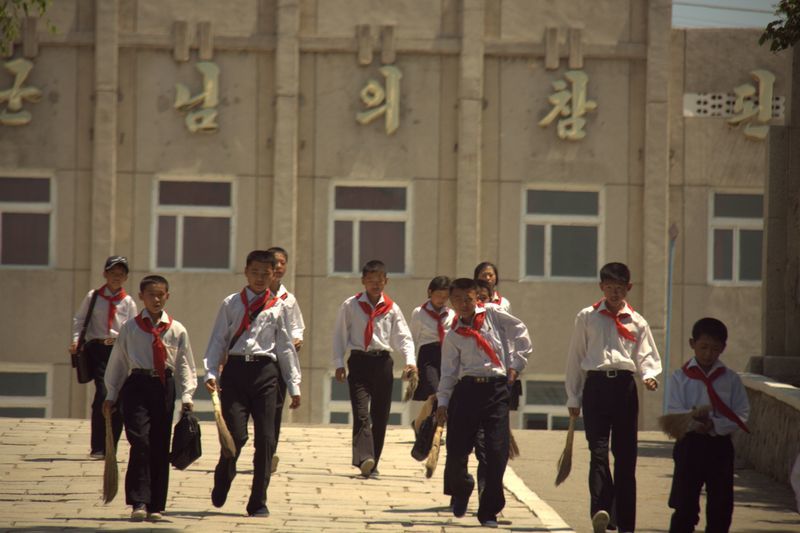 ---
Design
The design of Kim Ki Song School is a classic concrete modernism - three-storeys of concrete. Attractive to those who like their schools with a touch of brutalism!

The slogan 'Let's be Faithful Children of the Respected General Kim Jong Il' is emblazoned on the outside of the building in gold Korean letters. And a statue of Kim Ki Song himself stands in front of the entranceway, bugle in hand, looking very heroic.

As with all schools in North Korea, there are classrooms for the various subjects on the curriculum; maths, science, revolutionary history, sports, and so on.
Every school also has a room of taxidermied animals to show the kids what the fauna of North Korea looks like.
The inside of the building looks simply like a school. There are corridors with classrooms, stairwells which alternate between being completely empty and then suddenly overrun with children as classes charge, auditoria, and rooms for various activities.
What you would (or at least should!) expect!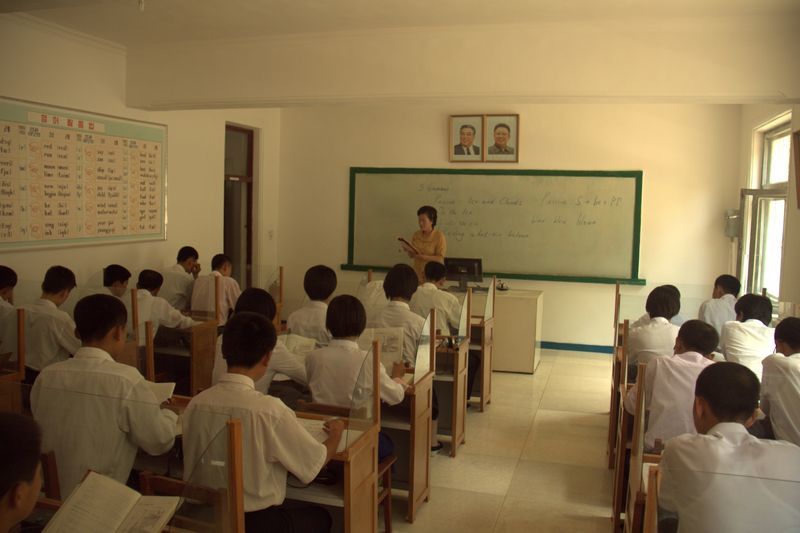 ---
Visiting
When foreign visitors come to Hoeryong's Kim Ki Song School a teacher and/or some students are usually tasked with showing groups around. So expect to be led through a few classrooms, see the posters and paintings on the walls, which alternate between useful educational material and some often-violent propaganda.

Languages are also taught here, Chinese and English as well as Russian. It is possible to have short chats in the language classes, which is fun and a good chance to see what level these kids have reached – of course, they will have prepared conversation topics and such for visitors, but still it is good to give them some practice!

Teachers here are particularly proud of their computer centre, with machines donated from the grand-nephew of Kim Ki Song; the present leader Kim Jong Un.
These are connected to the national intranet system so that students can connect to other schools, universities, and study houses across the country, although they cannot use the global internet.

Also on the school grounds are two large 'Sun Portraits' the official portraits of Kim Il Sung and Kim Jong Il, both of whom visited the Kim Ki Song School during their lifetimes, visits also recorded in the red plaques above the main entrance to the school.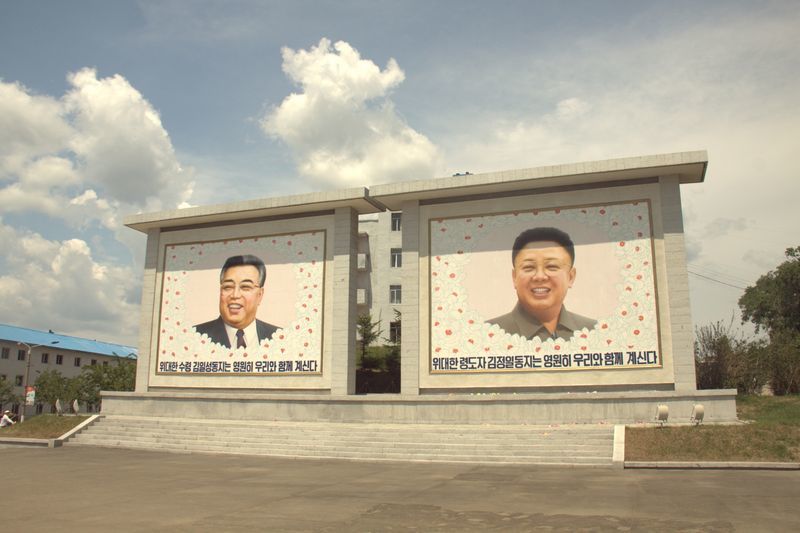 ---
---
Interested in a tour to North Korea?


Travel to

North Korea

with the only
North Korea travel experts, Koryo Tours
North Korea Travel Guide PDF | Sign up to the mailing list | About Koryo Tours