Where is the Khoja Obi Garm Spa?
Why the Khoja Obi Garm Spa?
Khoja Obi Garm Spa History
Your Stay at the Khoja Obi Garm Spa
What to expect from the Khoja Obi Garm Spa
When to go to the Khoja Obi Garm Spa?
When is a health spa, not a health spa?
When it is the Khoja Obi Garm Health Spa!
It is much more than just a health spa!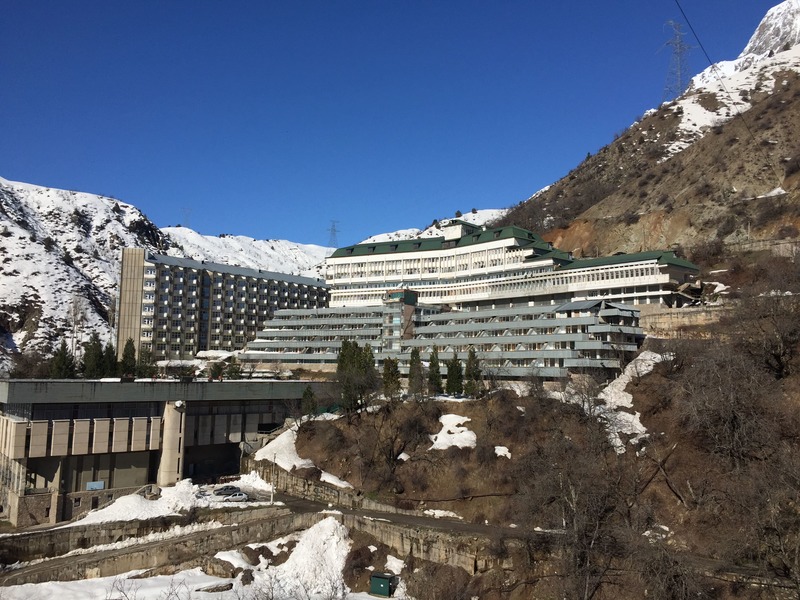 ---
Where is the Khoja Obi Garm Spa?
Located 48 KM from Dushanbe in Tajikistan at a dizzying 1960 metres above sea level, nestled within the Khodzha-Obigarm River gorge on the slopes of the Gissar mountain range.
---
Why the Khoja Obi Garm Spa?
In the year 1920 Lenin issued a decree "On Utilising the Crimea for the Medical Treatment of Working People." This decree was then later ratified and expanded on, in the Soviet Union's 2nd labour code of 1922 (the first being 1918). It was decided that mandatory vacations would improve a worker's outlook and productivity. This ruling was enacted across the Soviet Union; with Sanatoriums constructed at a rapid pace. Construction of various types of sanatoriums was to continue until the late 80s and the demise of the Union.
Scientific principle applies to the simplest of activities.
As with the Khoja Obi Garm Spa, most spas were a lot more than just spa resorts; they were considered medical institutions. As with many things during the Soviet Union, there was a scientific explanation and reasoning for almost everything. Most Spas were like hospitals, with doctors and nurses employed and educated in the various treatments.
Patients would visit for a week or two each year; most visits centred around a voucher system. Ideally, it was supposed to be those in the toughest jobs would get the best facilities.
In reality, those with better connections got better spas at better times of the year.
Upon check-in, local patients are seen by a doctor and then prescribed a serious of treatments, exercise, and diet. Even sunbathing would be considered a viable treatment. The spas were heavily controlled mainly in the early years; there were no family members allowed, singing, dancing, noise, and alcohol.
It was believed that during rest, one should have time to contemplate work and socialist ideals.
These rules were eventually to be relaxed from the late 1930s.
---
Khoja Obi Garm Spa History
Work on the Khoja Obi Garm Spa resort was to be completed in stages, hence the differing building styles. Work here began in 1935, utilising the site of an already existing natural spring from which local people would collect the water believing it to have healing qualities.
The last build at the spa took place in 1983 it has been speculated that the resort today remains unfinished.
The complex comes equipped with a theatre, cinema, banquet halls, bars, cafeterias, shops, multi-level elevators, various treatment rooms, and the guest rooms.
Outside of the complex, there are further steam rooms and small local shops selling everything you may need for your stay.
---
Your Stay at the Khoja Obi Garm Spa
Most foreign tourists only stay for one night as part of an extended journey within Tajikistan.
Tajik visitors will vary their stay choosing from one to seven nights at times there on advice from doctors.
Finding the entrance itself can be tricky as you enter from behind the building.
Check-in is often slow, adding to that genuine soviet feel. Once checked in, visitors see the doctor for their prescribed treatment. As a tourist one rarely sees the doctor until mealtime as our reasons for visiting are slightly different.
If staying overnight meals are also included; they are a little basic, meaning extra snacks may be required. There are two convenience stores on-site offering chocolate bars, beer and other snacks; this may be counter to the health spa ethos but a necessity at times.
The treatments at Khoja Obi Garm Spa all include the spas magical radon water:
Radon pools, baths, showers, colonics, steam rooms and a human jet wash.
These treatments are all included while there are other options which do cost a little extra.
If you opt for the massage treatment, male and female options are available. The men's masseuse is definitely to be reckoned with, he not only looks like a bond bad guy but offers a heavy massage to match (great if you want to complete the experience).
Other options include heat light treatment, mud treatments and a paraffin wax option. More treatments are advertised, although many are seasonal or have never been available upon my visiting, such as "bloodletting with leeches."
For all treatments, you may use the towels from your hotel room, although you should return them after. It is one of the hotels where I would never mess with the staff!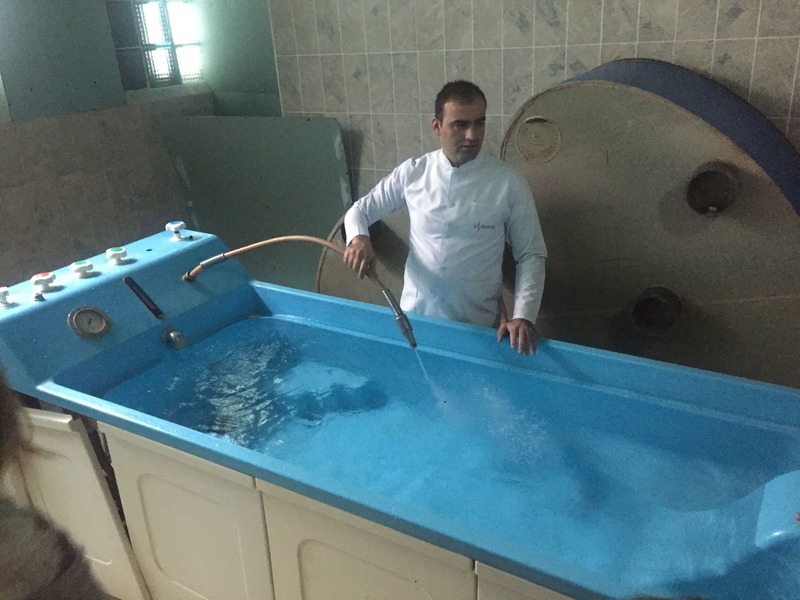 ---
What to expect from the Khoja Obi Garm Spa
Remember this is not a boutique high-class spa retreat; it was constructed during the period of the Soviet Union and has seen little or no money spent on it since. Rooms are basic in need of repair, the spa water is thermal, so there is a sulfurous smell throughout the building. The facilities themselves are ageing with broken taps and mould in places.
Food is ok, although a little basic, the borscht (soup) is excellent.
That said, the Architecture from the outside is a fantastic example of raw Soviet brutalism; this is why we love it here!.
The mountain vistas are beautiful, especially when viewed from your room window. If the range of treatments is not for you, then these mountains offer great hiking possibilities. For those that want to take their experience a little further and imagine that they are on the set of a movie, explore the hotel at night by torchlight for added effect.
When visiting during peak times if lucky there may even be an impromptu nightclub in the basement, explore join in and have a dance. The DJ does take requests for starters we suggest the monster mash, thriller or Werewolves of London!
---
When to go to the Khoja Obi Garm Spa?
June and July are the busiest times as local Tajiks will travel from Dushanbe to escape the summer heat. May and September can be pleasant as tourist numbers are lower, but the weather is still lovely (perfect for Hiking). The spa is open year-round, although during winter months weekday services can be limited as staff finish early to recharge.
How to Get there and away?
A taxi from Dushanbe to the sanatorium will take around 45 - 60 minutes depending on the weather. A taxi can be arranged for the return journey from the spa through reception, although it may be better to book something in advance.
Some visitors get dropped off at the turnoff on the main highway (Dushanbe to Khujand). This option is taken by passengers using shared minivans or cars from Dushanbe. When arriving at the turning, you then need to hitch a lift to the Spa care should be taken as this can involve a long wait.
---
---