How to Get to Bhutan
How to Get to Bhutan: By Flight
How to Get to Bhutan: By Car
How to Get to Bhutan: By Bus
Before 1960 it was almost impossible to enter Bhutan. Now, there are regular direct flights from many different cities in neighbouring countries, and there is also the ability to cross by land borders in India.
To enter Bhutan, you will need to organise a group tour to Bhutan and have your visa or your visa documents ready in advance.
This is the tourist policy of the Bhutan government.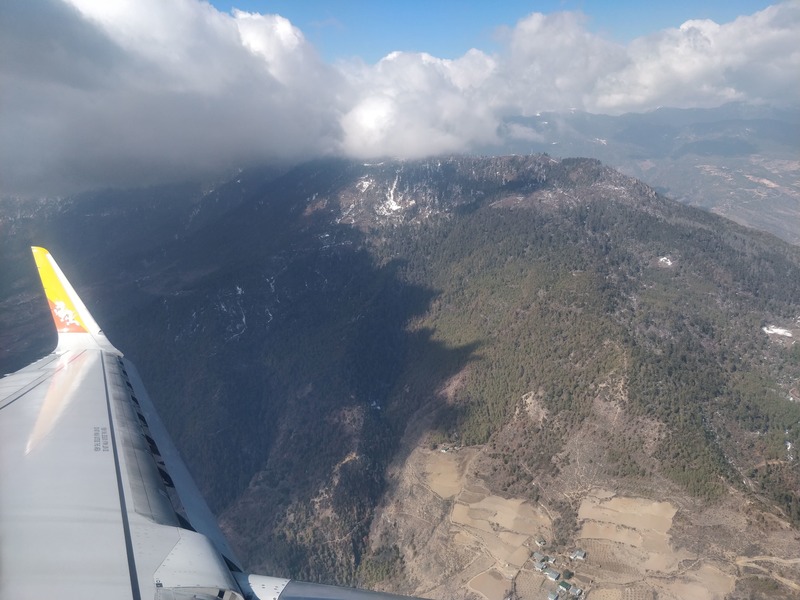 ---
How to Get to Bhutan: By Flight
Paro International Airport is the only international airport in Bhutan. It is surrounded by mountains, and flying into it is quite spectacular! Paro is situated ca. 2,200 meters (7,200 feet) above sea level.
If you're flying from Kathmandu, you can even catch a view of Mt. Everest if you are lucky with clear weather.
Make sure to stay awake for the landing!
There are other domestic airports in Bhutan; Gelephu Airport, Yonphulla Airport, and Bathpalanthag Airport.
The only airlines flying into Bhutan are Druk Air and Bhutan Air.
Nepal shares no border with Bhutan, however, it is a popular gateway to Bhutan due to the regular direct flights between Nepal and Bhutan.
Other flight routes include various flights from India throughout the week, flights from Bangkok in Thailand and Singapore.
There is also a flight twice a week from Dhaka, Bangladesh.
Apart from flying, there are also land borders you can enter from India.
None Stop Flights to Bhutan:
Get to Bhutan from Nepal

Kathmandu Tribhuvan International Airport, 1hr 20 mins, 6 flights weekly.


Get to Bhutan from India

- New Delhi Indira Gandhi International Airport
2hrs 30 mins, 3 flights weekly.
- Kolkata Netaji Subhas Chandra Bose International Airport
1hr 40 mins, 6 flights weekly.
- Bagdogra International Airport
1hr 30 mins, 2 flights weekly.
- Guwahati Lokpriya Gopinath Bordoloi International Airport
1hr 20 mins, 4 flights weekly.
- Gaya Bodhgaya Airport
1hr 40 mins, 3 flights weekly.


Get to Bhutan from Bangladesh

Dhaka Shahjalal International Airport, 1 hr, 3 flights weekly.


Get to Bhutan from Thailand

Bangkok Suvarnabhumi International Airport, 2hrs, daily flights.


Get to Bhutan from Singapore

Singapore Changi International Airport, 2hrs, 2 flights weekly.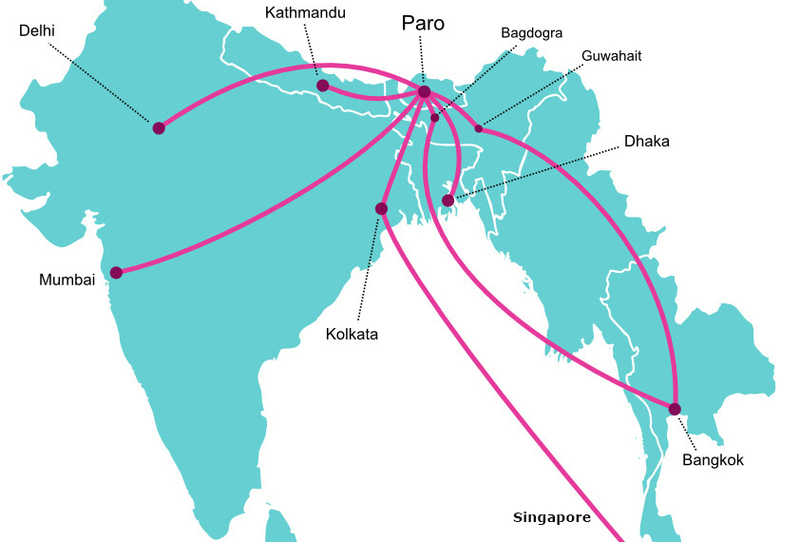 Image: https://www.tibetdiscovery.com/assets/images/bhutan/map/map-of-flights-to-bhutan.jpg
---
How to Get to Bhutan: Car
The only land borders in Bhutan open to foreigners are;
Phuentsholing - Southwest Bhutan

Gelephu - Southcentral Bhutan (250km from Thimphu)

Samdrup Jongkhar - Southeast Bhutan (700km to Thimphu, approx. 3 days travel)
From these borders, you can either get a private car, taxi, or public bus.
If you are entering India via these ports for the first time and you have not yet got your visa then this will not be possible.
NOTE: You should first have a visa to India then you can enter through the land border. E.g. if you enter India via flight and have a 2 entry visa, you may enter for the second time by land.
---
How to Get to Bhutan: Bus
Buses to Bhutan are available for Indian tourists only.
They depart from Kolkata and arrive in Phuentsholing 18 hours later.
These buses are provided by the Bhutanese Government.
---
---
North Korea Travel Guide PDF | Sign up to the mailing list | About Koryo Tours