Awaza Resort
Introduction
What is Awaza?
Where to stay
How to get there
Introduction
The Caspian Sea is a cold place; never really suitable for swimming, populated by sea snakes, salty, it's not the obvious place to build a massive multi-billion dollar beachfront tourist resort.
But when you are Turkmenistan you have to dance with the shoes you're wearing; No Mediterranean or gulf coast for Central Asia's most fascinating country, so the Caspian it is!
Situated on a spit of land, largely artificial in fact, a mere 10km from the older city of Turkmenbashi, the Awaza resort area is simply one of the most ambitious and aspirational mega-projects ever undertaken.
It is also a project which has put up with its fair share of ridicule over the years – some earned, some not.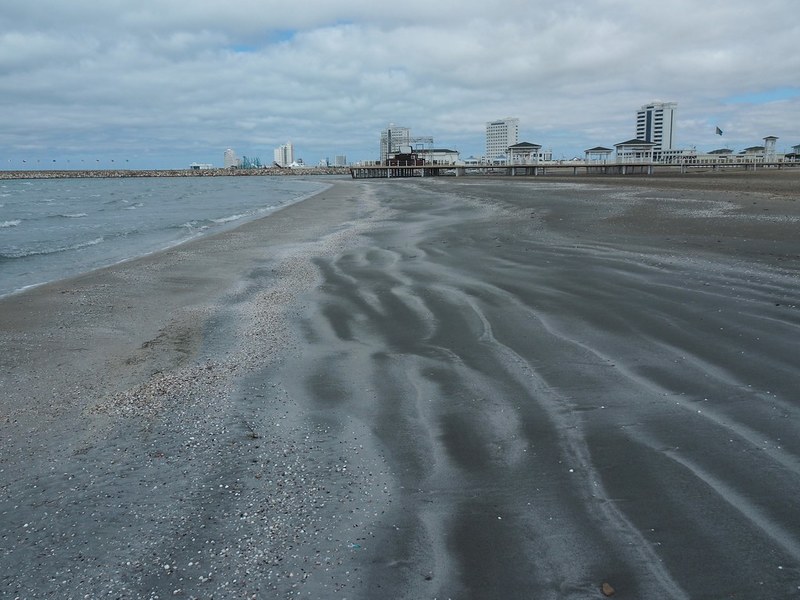 ---
What is Awaza?
Firstly though, what is Awaza? Its basically a load of hotels in a row on the banks of the Caspian.
None of them are recognizable chains, many of them have names that male little sense and are even hard to pronounce for non-Turkmen guests.
There is also an artificial 7km canal that runs past them all which you can take a glass-topped boat trip along
(recommended, although the cafes along the route are almost always all closed)
Plus a weird small park with models of dinosaurs and smaller versions of the some of the ancient architectural marvels of the past in places around Turkmenistan such as Konye-Urgench, Merv, and Old Nisa.
These seem to be there to establish a legacy, to say to the ancients that they may have built the greatest cities of the silk road.
But they never built several km of empty hotels did they?
(the dinosaurs are mainly there because dinosaurs are cool, which seems the most reasonable and sensible thing about the whole place)
So, its easy to mock, but the truth is that sometimes this place does fill up.
As trips can be very good value for local people and also they can get around their own country with ease, the lower middle classes especially do indeed frequent Awaza.
Swimming is a cold experience in the Caspian but all the hotels have pools, along with bars, billiard rooms, saunas, and so on.
So, a subsidized trip for a family of Turkmen is suddenly something vastly more affordable than flying off to the Med or the gulf.
However, you are definitely more likely to find a somewhat post-apocalyptic collection of empty buildings than a bustling Torremolinos-like atmosphere on arrival.
There isn't anything else to actually do in Awaza, but you can get to Turkmenbashi City very easily and that's a real place with real people, cafes, markets, etc.
There are also hotels in Turkmenbashi that can be used so you can avoid Awaza entirely if you so wish, this would be a mistake though, for sure!
Construction and development of Awaza is usually credited to Gurbanguly Berdimuhamedov, the second and current President of Turkmenistan.
But planning and construction did in fact begin in the era of Saparmurat Turkmenbashi The Great (an honourific not generally recognised outside of Turkmenistan).
The first hotel built here was the Serdar (Leader) which is still fronted by a bust of the Turkmenbashi in the modest car park.
At the time this was built (around 2004) it seemed to be a lonely sentinel of a hotel weirdly built in the middle of nowhere.
Now it is the most modest and sensible of an increasingly wacky rage of buildings you can choose to stay in.
At the last count done by us (a few years ago) there were 22 hotels here.
Would it have been a smarter move to build 3 good ones instead?
Yes of course, but that kind of thinking doesn't get you far in Turkmenistan!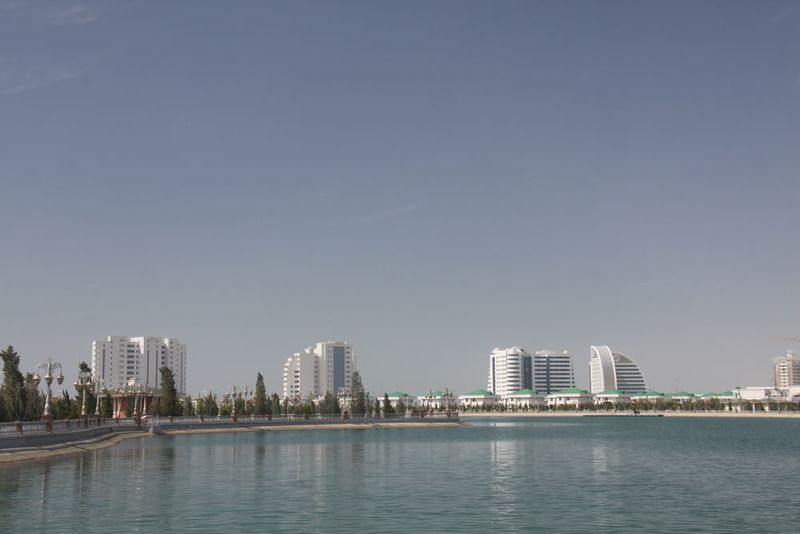 Here are your choices:
Hotel Hazyna
Wellness Centre Kerwen
Wellness Centre Kuwwat
Hotel Watancy, Hotel Nebitchi
Wellness Centre Arzuw
Hotel Bereket
Hotel Serdar, Wellness Centre Dayanch
Complex of Cottages Shapak, Rest and Wellness Centre Hasyl
WellnessCentre Galkynysh, Complex of Cottages Showhun
Complex of Cottages Yupek Yoly
Hotel Deniz, Complex of Cottages Ashgabat
Rest and Wellness Centre for Adults and Children Ahal
Rest and Wellness Centre for Adult and Kids Lebap
Rest and Wellness Centre for Adults and Kids Balkan
Rest and Wellness Centre for Adults and Kids Mary
Rest and Wellness Centre for Adults and Kids Dashoguz
Yelken Yacht Club.
No Holiday Inn option, sorry!

Joking aside, it is easy to make fun of Awaza, and it deserves to be made fun of, but it is well worth a visit, especially if you head here from somewhere rugged like the Yangykala Canyon.
The sea is stunning, the weather is often very good, it is relaxing and simply fun too. Not noisy or boisterous but much more chill and simplistic.
Also, you would be one of the relatively rare foreign visitors. Along with Jennifer Lopez who performed a concert in Awaza in 2013 to mark the 56th birthday of President Gurbanguly Berdimuhamedov.
J-Lo didn't cover herself in glory with this one as she ended up giving away her huge fee on the ground that she "didn't know" that there might be any kind of human rights issues in the country.
Come and visit Awaza if you like to tell your friends you like to holiday in difficult countries they have never heard of but you also really want to stay in a beach resort.
Come to see something very wasteful and quirky.

Come to laugh or come to be amazed at how on earth this ever got built.
Anyway come to Awaza!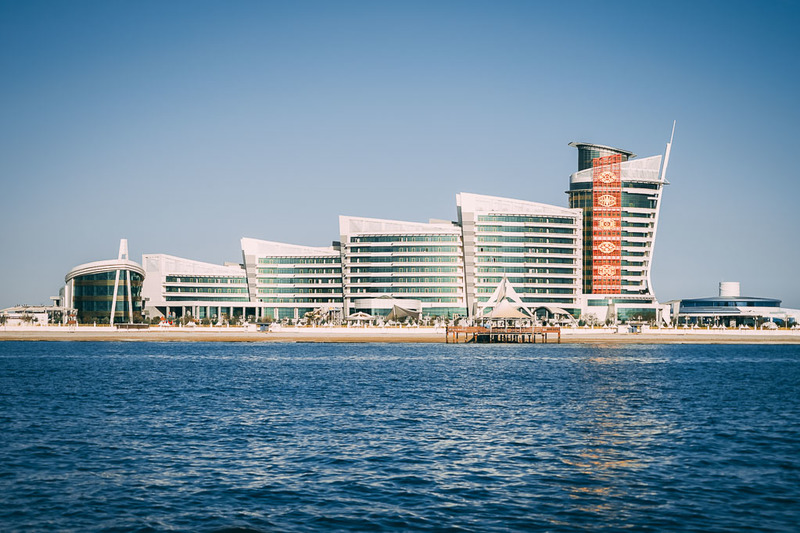 ---
Where to stay
Yelken Yacht Club, easily the best place to stay here.
A complex of villas spread over a well-manicured area, half-decent wifi, watersports and an excellent breakfast.
This Turkish-run place is the jewel in the crown for sure.
If saving money then go with the Serdar for a bit of retro charm and experience the now-modest luxury of the late-Turkmenbashi the Great era.
For mid-range go with the Hotel Watancy – for the simple reason that it is often called either the Hotel 'Wait-and-see' or the Hotel Vacancy.
As most of the hotels are more or less the same choosing on the basis of puns is as good a reason as any!
---
How to get there
There is no airport in Awaza so you would fly to the very modern and shiny Turkmenbashi Airport.
Then, drive around 40 mins to Awaza.
Or you could take the train to Turkmenbashi and drive 20 mins to Awaza, Or a long 6-7 hour drive from Ashgabat.
If you are heading there across the sea then the ferry from Baku in Azerbaijan would take anything from 14-40 hours to cross to Turkmenbashi.
Basically you go to Awaza via Turkmenbashi
---
---