Walk in Kaesong City
Introduction
Location
Walking in Kaesong
Visiting Tips
Introduction
If you stay in Kaesong, you can enjoy an early morning walk through the city.
Kaesong is a very traditional area of North Korea.
There are many traditional buildings and houses to see on your walk!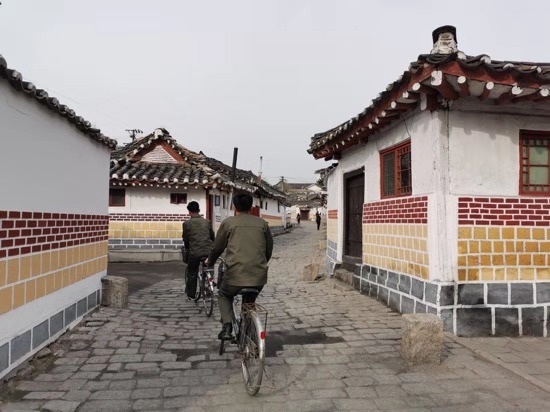 ---
Location
Kaesong city is located in the south of North Korea, a short distance away from the DMZ North-South Korean border.
---
Walking in Kaesong
Kaesong is one of the few places in North Korea not bombed during the Korean war. This means that there are many buildings still standing.
Windy side streets, traditional housing, uneven cobble floors will pave your way as you stroll through these ancient streets.
A walk through Kaesong city will take you usually from Minsok Hotel.
The walk is not long but will take you through the old streets of the city up to a crossroads.
Here, you will be picked up from your bus and you can carry on to the DMZ.
---
Visiting Tips & Anecdotes
You should be aware that it will be rush-hour for the cars and bikes when you embark on your walk. Remember not to walk on the cycle paths and take care when crossing the roads.

Photos are permitted but please be mindful that local North Koreans may not want their photographs taken.

Please be aware that there will be many local North Koreans on the street trying to go about their daily business and probably rushing to work or school. Try not to disturb them too much.

---
---
Interested in a tour to North Korea?


Travel to

North Korea

with the only
North Korea travel experts, Koryo Tours
North Korea Travel Guide PDF | Sign up to the mailing list | About Koryo Tours