The Zanabazar Museum of Fine Arts founded in 1965, named after Öndör Gegeen Zanabazar, a religious leader who was responsible for the spread of the Gelugpa (Yellow Hat) sect of Buddhism throughout Mongolia.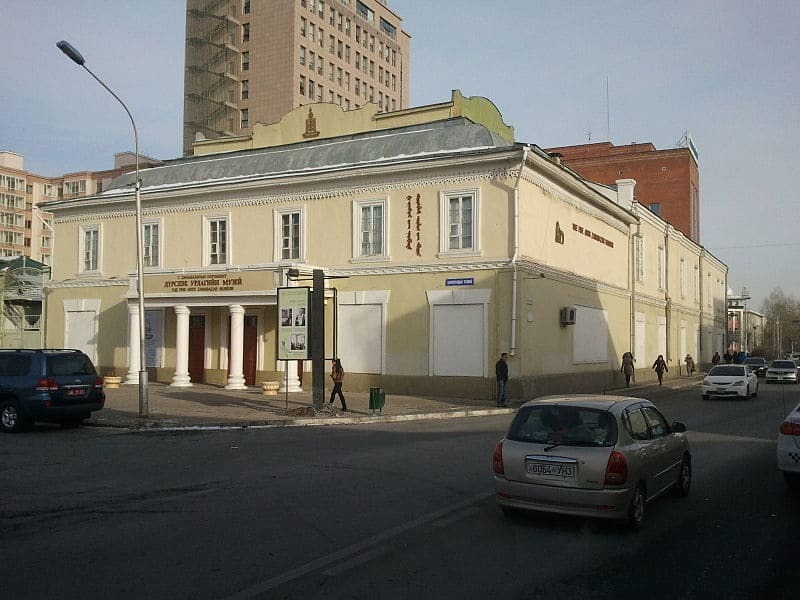 ---
Zanabazar
Zanabazar himself was an accomplished sculptor, painter, and architect. Credited with launching Mongolia's seventeenth-century cultural renaissance Zanabazar is an essential figure in Mongolian history.
Amongst Mongolians Zanabazar is best known for his delicate and intricate Buddhist sculptures as well as creating the Soyombo script. From the Soyombo the national symbol of Mongolia was to be formed which is now found most famously on the Mongolian flag.
---
The Zanabazar Museum of Fine Arts
The Zanabazar Museum of Fine Arts is more than just an art gallery as-it houses a diverse range of exhibitions ranging from ancient petroglyphs, deer stone's as well as other historical relics.
The real masterpieces of the museum, however, are its Buddhist pieces with actual sculptures from Zanabazar the intricacy of the work is exquisite. The museum also shows other Mongolian works of traditional paintings, the usual arts, crafts and sculptures as well as a little contemporary art.
However, I would head to different galleries to catch better examples of the latter.
If you're more into architecture or history, then we would also recommend a visit to the museum. The building was constructed in 1905 by a Russian merchant it was one of the first two-story buildings in the city. This European construction was initially a trade centre before housing a bank. The building was to be commandeered for use by the Russian military in 1921.
Before the opening of Ulaanbaatar's famed state department store from 1930, the building was to serve the city as the central department store. Once doors closed on its retail audience, the building was to find a new lease of life in 1965 under its current role as The Zanabazar Museum of Fine Arts. As you do wander around this ageing construction, do take a look as you will find a few gems from its life during the Soviet period and before.
Opening times
Summer Time: Daily 09:00-18:00 (May 1st – Oct 1st)
Winter Time: 10:00-17:00 (Oct 1st – May 1st)
TICKET PRICE
Adult: 8000 MNT
Students: 2500 MNT
Children: 1000 MNT
---
---