When visiting Dushanbe, there are a few things that stand out in one's memory, the giant flagpole being one while another close second looms large. The giant superhero style statue of Ismoil Somoni topped in gold and said to have given Lenin the boot stands tall.
This statue is a must for visitors to Tajikistan's growing capital.
Located at the heart of this vibrant city a selfie, group photo or just a pic with the mountainous backdrop are all high on most visitor's lists.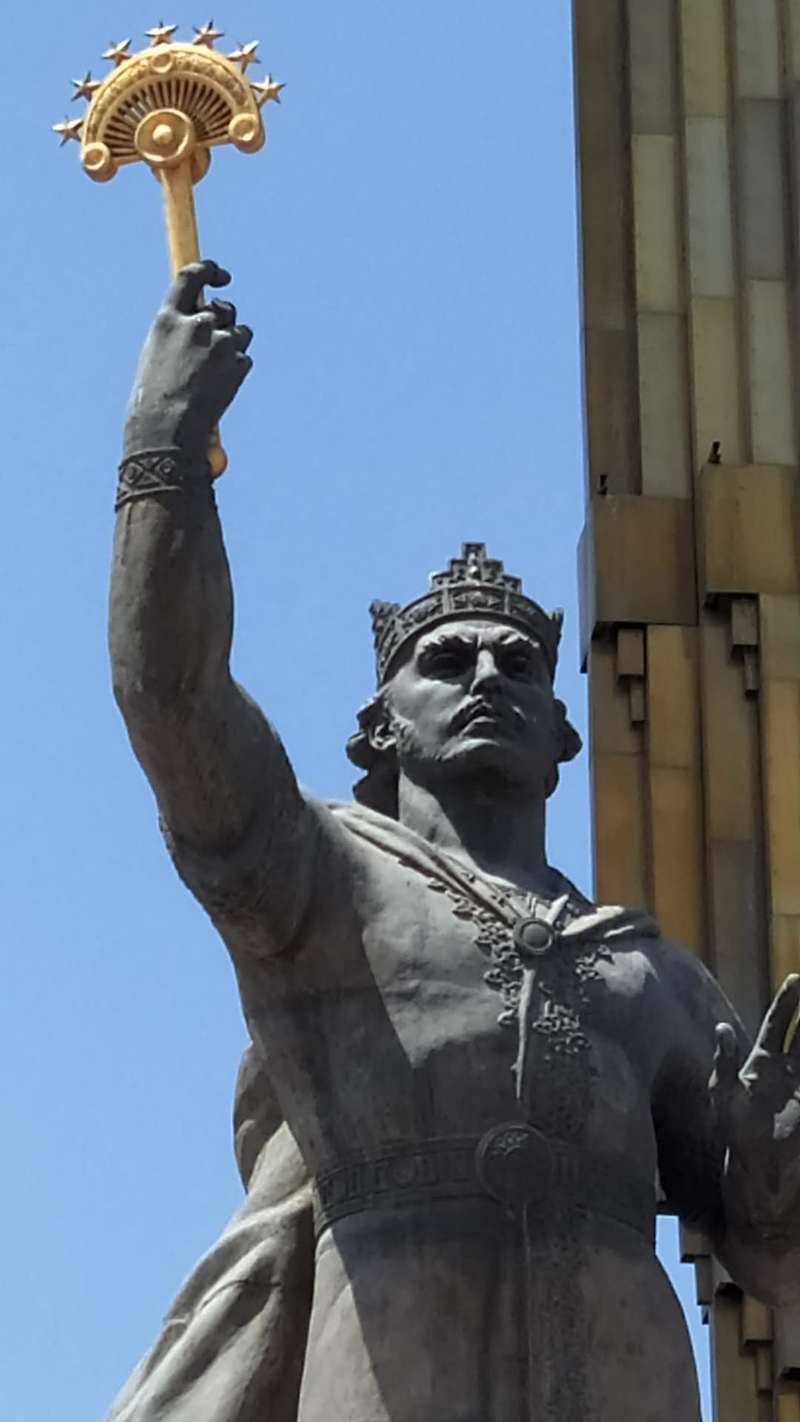 ---
Statue of Ismoil Somoni
Ismoil Somoni is considered by most modern Tajiks to be the national hero of Tajikistan. The statue of this ancient king can be seen in most major towns and cities across the county.
However, this Dushanbe giant is one of the most memorable located in Dusti (friendship) square at the very heart of the city.
It has a real art-deco quality to its design adorned with splashes of gold against a darker surface.
The actual figure of Ismoil Somoni is 13 meters high although his surrounding arch extends the total statue to an impressive 43 metres adding to its imposing nature. If the monument weren't already grand enough, it is all topped off by a golden crown said to be made of pure Tajik gold.
Ismoil Somoni stands with a sceptre in his right hand which bears seven stars also found on the emblem of Tajikistan. These seven stars are supposed to represent the seven traditional stars found above seven mountains which in turn tower above the seven orchards located in heaven often a big part of Tajik legends and storytelling.
Just outside of the arch either side of Ismoil Somoni are found two lions looking somewhat chilled, for many this may be a little unusual. However, stone lion statues are found throughout the region and believed to be related to the once numerous Asiatic lions.
---
History
The monument of Ismoil Somoni was erected in 1999 to celebrate the 1,000th anniversary of the Samanid State which existed from 819 to 999.
Ismail Samani lived between 849-907 it was in 865 he was given his first taste of power with authority to rule Bukhara.
Upon his brother's death in 892 Ismail Samani was elevated to the ruler of Transoxiana. He was to prove a capable military leader with successful engagements against the Saffarids, eventually expanding his Empire to include Khorasan. For many in the region, Ismail Samani is most famous for spreading Sunni Islam throughout his Empire.
---
Around the Monument
Behind the monument is a raised tiled map showing the Samanid Empire which shows the extent of this once mighty Empire.
With the capital located in Bukhara it stretched into many Central Asian countries including Afghanistan, Pakistan and much of Iran.
The Square on which the monument rests was constructed during the 1930s. In 1949, an impressive memorial to the Tajik Soviet Socialist Republic was installed similar in design to the current national emblem. Lenin's statue was to replace the Tajik symbol in 1961, and the street leading to the Square renamed in his honour. Other attractions nearby include a clock monument, the imposing National Library and the Independence monument, all of which are located close to the memorial.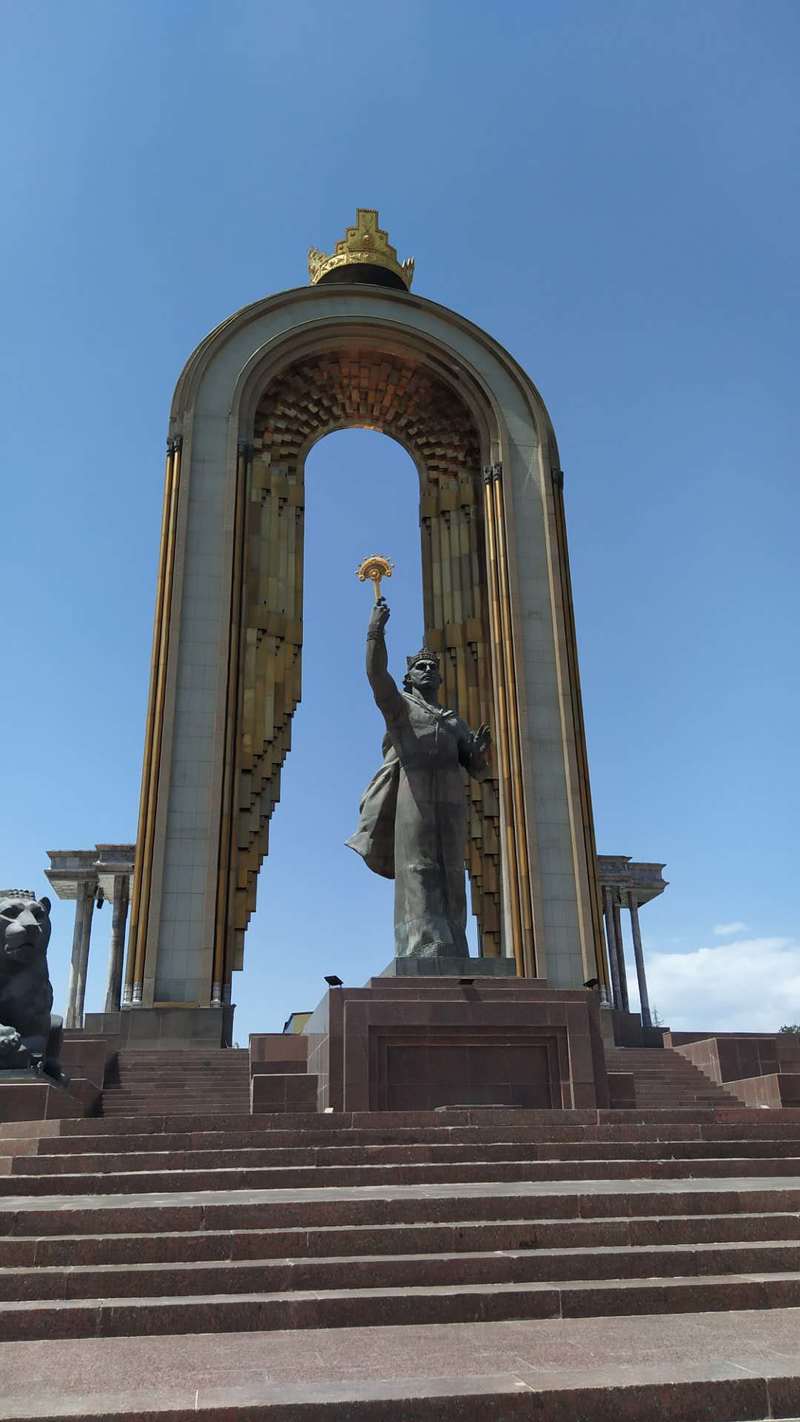 ---
Did Ismail Samani replace Lenin?
Some guide books and local guides will always be quick to tell you that the statue of Ismail Samani replaced Lennin. Ismail Samani certainly stands on the spot that Lenin once covered, but there was another statue!
Upon Tajikistan's independence in 1991 Lenin was hastily removed, and a statue of Abulqosim Firdavsi installed in his place. With Lenin gone the Square was then renamed "Ozodi" (Freedom). After only nine years one bloody civil war and Tajikistan's drive for a more apparent national identity Ismail Samani was to take pride of place. The Square was also to have a change of name to the more welcoming Friendship square.
---
Visiting
The statue of Ismail Samani has no opening and closing time, and one can visit at any time. At night the figure is impressively lite which is excellent for photography. During the day, however, photographs look even better with the snow-capped mountains as a backdrop.
The statue is reached by climbing a set of steps a couple of surly-looking police officers protect the higher reaches. Perhaps they are worried that one will reach the golden crown on top of the monument!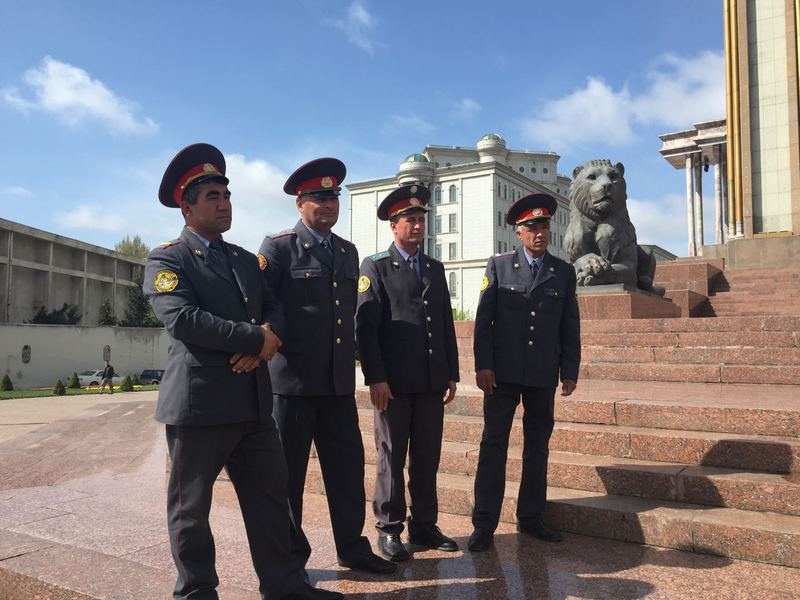 ---
---