Pyongyang Ice Rink
Introduction
Location
History
Visiting
Costs
Anecdotes
Introduction
Pyongyang Ice Rink is exactly what it says it is. The first indoor Ice Rink in the DPRK and a major landmark in Pyongyang.
Home to elite hockey and figure skating as well as a place for locals and foreigners to practice their skating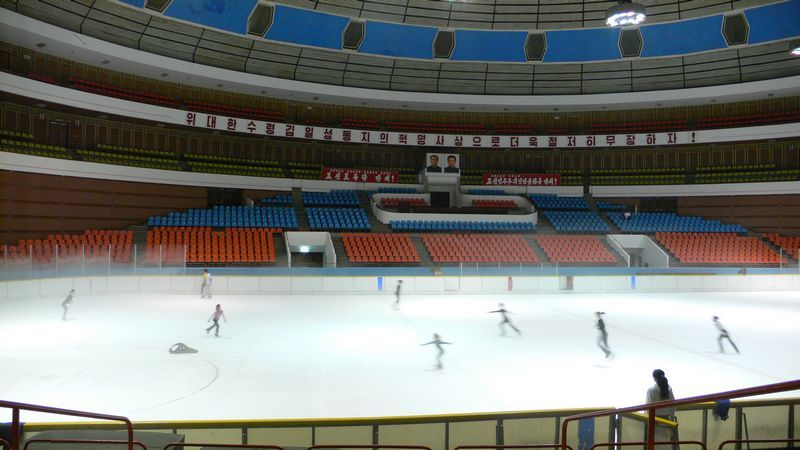 ---
Location
On Changgwang Street and Chollima Street in the centre of Pyongyang. Situated between Pyongyang Indoor Stadium and the Changgwangwon Health Complex.
Easy to spot and one of the instantly-recognisable buildings of the city, looking nothing like any other building at all!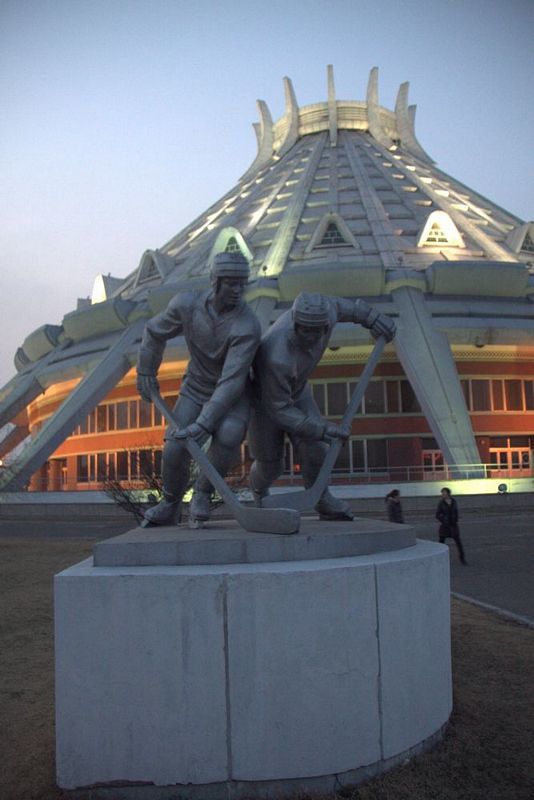 ---
History
Opened in April 1980 as the very first Ice Rink in North Korea the Pyongyang Ice Rink is a very distinctive building indeed. Constructed to look like a skaters cap (whatever that is), in the shape of a cone, it looks rather like both Brasilia Cathedral and Liverpool Metropolitan Cathedral, although this is due to the non-traditional shape of these buildings rather than to any religious influence in the architecture of the decidedly-secular Pyongyang Ice Rink.

With seating for over 6000 spectators, this is also a major venue for ice sports in Pyongyang – hockey mainly with tournaments and practices taking place here, as well as visiting tourist teams taking on local opposition in friendly games from time to time.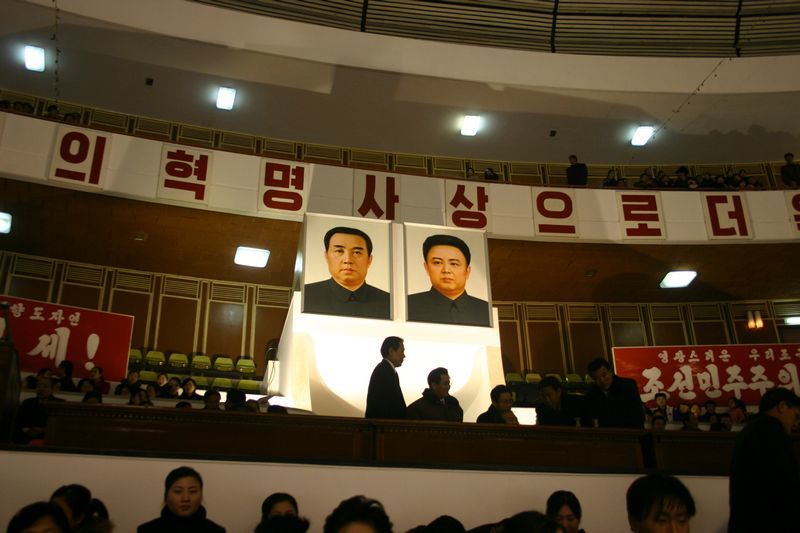 ---
Visiting
Pyongyang Ice Rink is one of the very 1980s-style buildings in Pyongyang and while it is probably in need of some renovation it is also a very aesthetically pleasing and photogenic structure both inside and out.

Open to foreigners for skating on Saturdays and with skates available to rent, even just a stop at the outside of the building is worth the time.

Around the outside of the Pyongyang Ice Rink there are white statues of sportspeople engaged in various pursuits, not just ice-related as this is a shared area with the Indoor Stadium next door.

Anyone visiting here is highly likely to encounter various ice hockey teams arriving and departing for/from training sessions.

While Ice Hockey doesn't command the popularity of sports such as football it is still a prestigious event in this country. Many of the best players come from the north of the DPRK where frozen rivers and lakes make for more rustic practice areas. Qualifying for a team that plays at the Pyongyang ice Rink is the height of domestic achievement.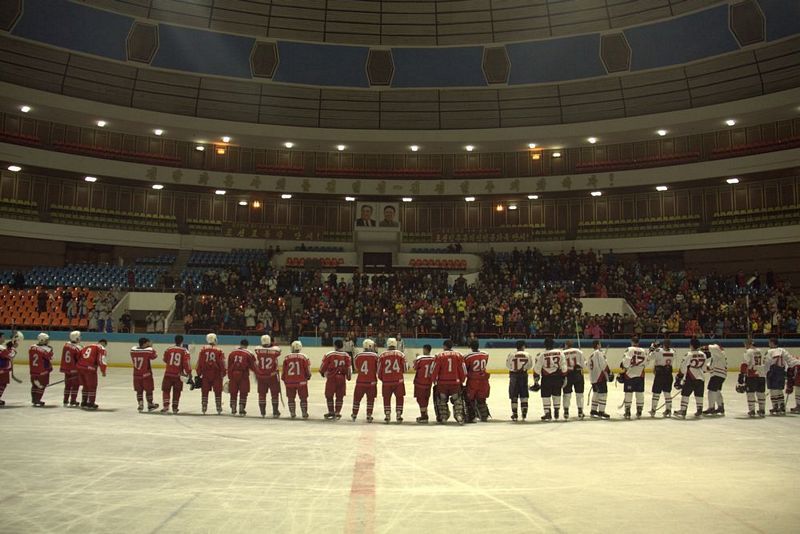 ---
Visiting
Including skate rental $10 for foreign visitors. Be warned that skates available here are not the newest ones and also the largest sizes are in short supply. Visitors are welcome to bring their own equipment with them.

Use of the changing rooms is included and non-skaters can sit in the stands to watch, under the portraits of Kim Il Sung and Kim Jong Il which hang on the walls.

If planning to visit it is best to check in advance if the Pyongyang ice Rink is open at that time, as there are hockey matches sometimes played and also training for figure skaters that cause the Pyongyang Ice Rink to be closed to visitors.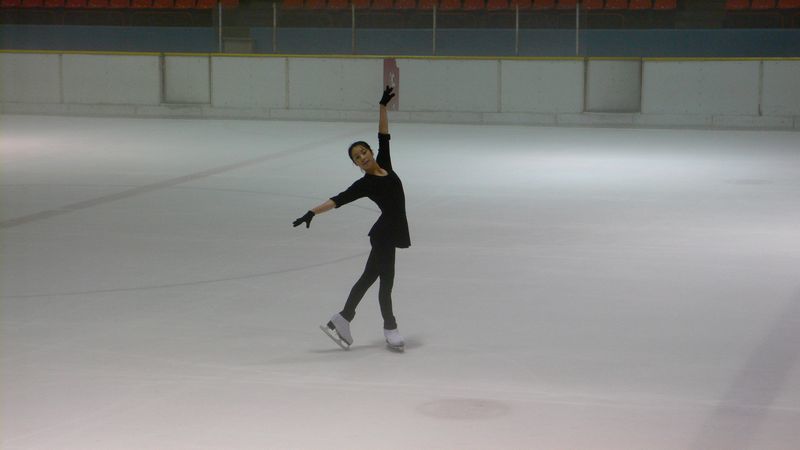 ---
Anecdotes
Every February, during the 'Day of the Shining Star' – the birthday of Kim Jong Il - a celebratory festival of Figure Skating is held at the Pyongyang Ice Rink. There is always a capacity crowd at that time and tourists can attend too.

Part-competition, part demonstration, this is a fascinating occasion and is broadcast in national television over and over. Some prominent foreign skaters such as Russian Olympic gold medalist Evgeni Plushenko have taken part in this event multiple times and as a result, have become well-known in the DPRK.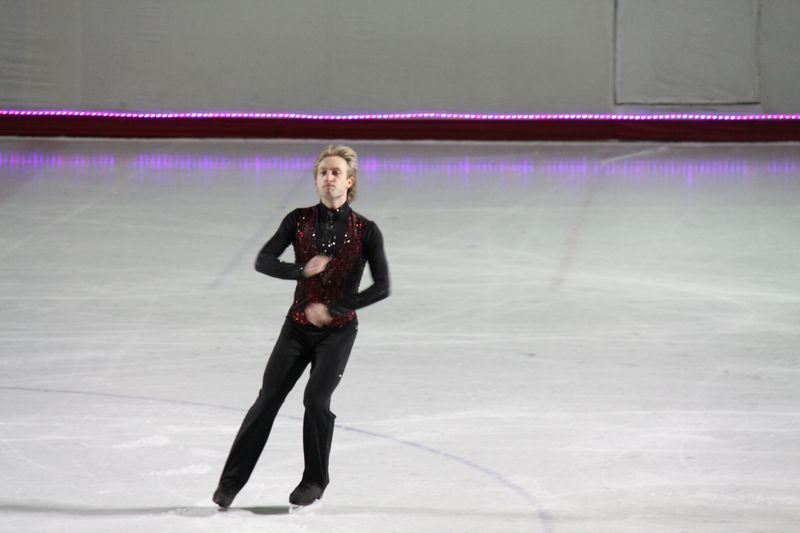 There is, of course, a heavy layer of patriotic propaganda in the routines of the North Korean skaters, which is not usually matched by the more pop or classical music-accompanied routines of the foreigners (for example Plushenko did a routine one year to the tune of 'Sex Bomb' sung by Tom Jones). Making for an uncanny couple of hours!

An AFP report in the 2019 Day of the Shining Star Figure Skating Festival can be seen here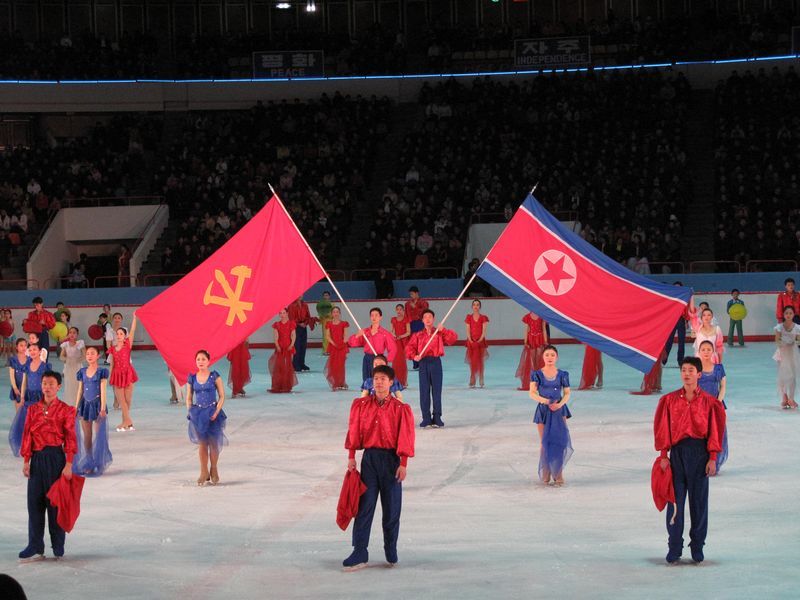 The Banner Photo in this Travel Guide to the Pyongyang Ice Rink was taken by the amazing Carl de Keyzer. Check out his photographic book about North Korea 'DPRK Grand Tour' for more of his stunning work.
---
---
Interested in a tour to North Korea?
Travel to
North Korea
with the only
North Korea travel experts, Koryo Tours
North Korea Travel Guide PDF | Sign up to the mailing list | About Koryo Tours