Introduction
Location
Tips & Anecdotes
The Pyongyang Dolphinarium opened in 2012 to much fanfare. The construction was part of a broader city expansion of public leisure facilities in Pyongyang along with other new sites such as the Munsu Waterpark.
The Dolphinarium is one of the many amusements that make up the Rungrado Pleasure complex located on Rungra Islet along with a swimming pool, mini-golf course, arcade and much more.
The building is one of Pyongyang's signature futurist-style constructions with a roof representative of a wave and a large glass facade at the front.
Inside this modern building, a giant LED screen sits above a large performance pool, opposite the spectator seating area. Visitors can not only view shows from their seats but move to the lower reaches of the tank to peer through heavily glazed windows to see the dolphins underwater.
Behind the pool, there is a further painted backdrop depicting waves crashing against a coastline in a classic North Korean art style.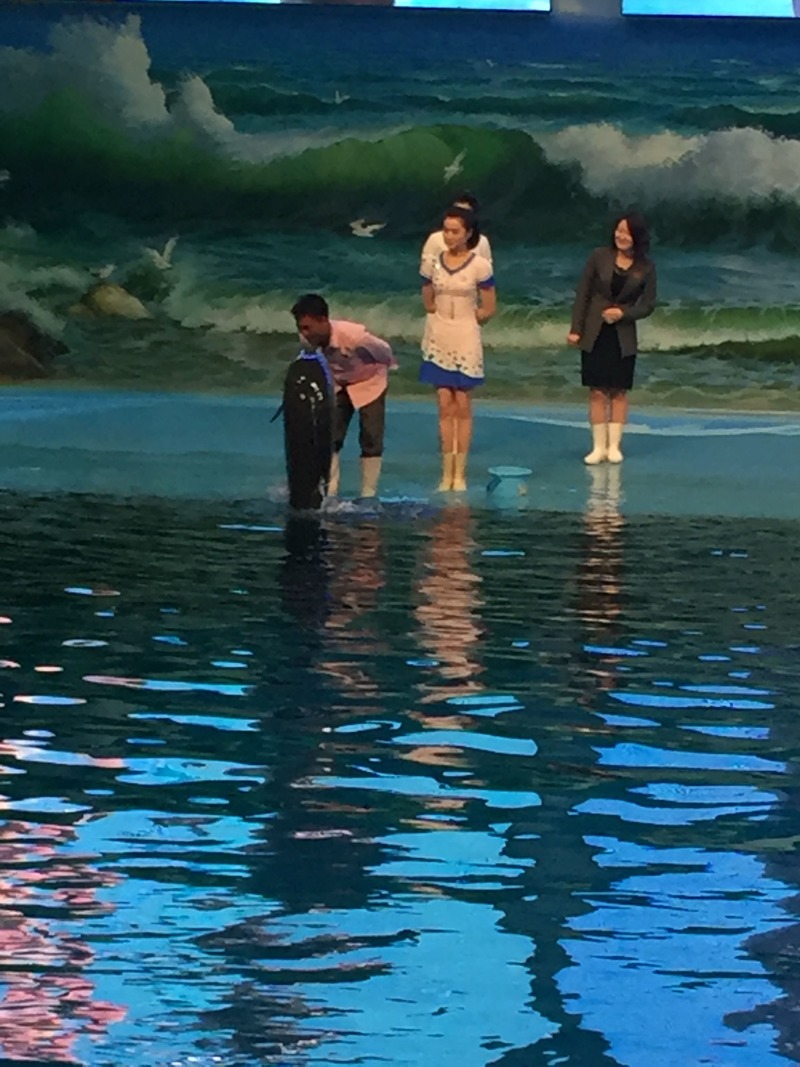 ---
Location
The Dolphinarium is located in the Rungrado People's Pleasure Ground on the Rungra Islet in the middle of the Taedong River in North Pyongyang.
The pleasure ground is situated just south of the Rungrado May Day Stadium and is accessible from both East and West Pyongyang over the Chongryu and Rungra Bridges.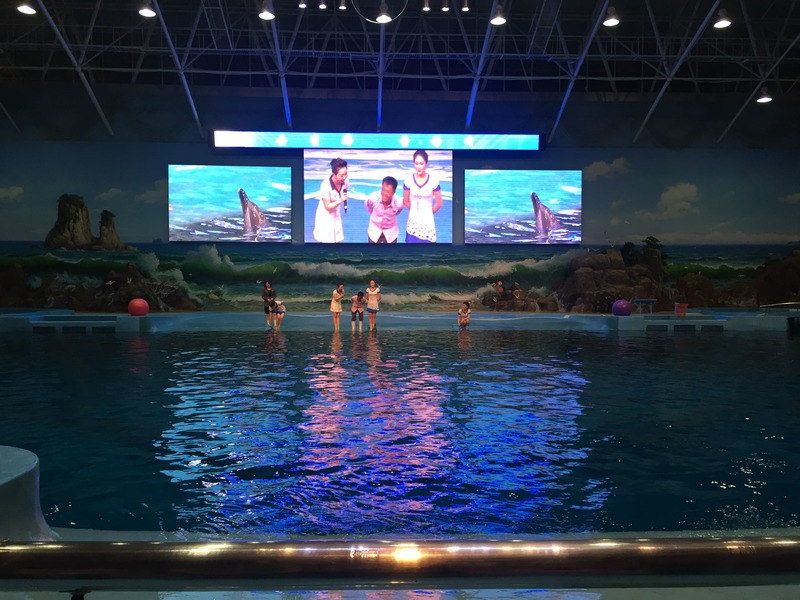 ---
Visiting Tips
The entrance fee for the Rungrado Pleasure Ground is 5 EUR per person and a small additional fee 5 EUR for access to the Dolphinarium.
The location of the Dolphinarium is ideal for any tourists wishing to enjoy a fun day out in the nation's capital, with its central location and easy access to the Kaeson Youth Park, Munsu Water Park and the Rungrado People's Pleasure Ground.
The Dolphinarium can be added to any itinerary to make it all a little more surreal.
---
The Show
Viewers are treated to a highly choreographed display with numerous dolphins and their trainers performing tricks to a delighted Korean public. If that wasn't bizarre enough while sat watching dolphins in Pyongyang; there often follows a demonstration of performing sea lions and some synchronised swimmers.
Further to watching synchronised swimmers dressed as mermaids swinging and catapulting into the pool below, things become even more impressive.
The water in the Dolphinarium is pumped some thirty miles from North Koreas west coast, and no one can tell you where the dolphins come from!
---
---
Interested in a tour to North Korea?
Travel to
North Korea
with the only
North Korea travel experts, Koryo Tours
North Korea Travel Guide PDF | Sign up to the mailing list | About Koryo Tours