History of the Kayagum
Kayagum Performance
Tips & Anecdotes
The Kayagum, or Gayageum, is a 12-stringed traditional Korean musical instrument similar to other Asian instruments such as the Mongolian Yatga and the Chinese Guzheng.
Traditionally, Kayagum players sat cross-legged, resting the tail of their instrument on the floor, with the other end sitting in their lap. However, it can also be played sitting on a chair with the tail end resting on a stand or table.
Many traditional Korean songs are played on the Kayagum, most notably, Arirang, a melody famous in both the north and south, seen by many to represent the Korean peninsula as a whole.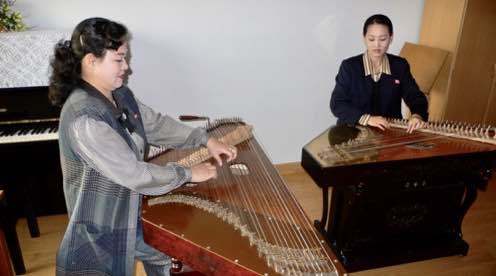 ---
History of the Kayagum
The Kayagum is understood to have been developed in the 6th Century during the Kaya confederacy. Kaya confederacy was a small kingdom located on the southern tip of the Korean peninsula.
The Kayagum was further developed during the 19th Century, and the Sanjo Kayagum introduced.
This iteration used silk strings and was suited to the music of the time; the closer strings were able to accommodate higher tempo music preferred during this period.
Today, most Kayagum use nylon strings, and some variations of the instrument are available with more than 12 strings allowing for a higher range.
The instrument is still used mainly for playing traditional Korean folk music, as the sound of the Kayagum is almost synonymous with the country.
---
Kayagum Performance
The Minsok Folk Hotel in Kaesong is the go-to spot for a traditional Korean experience.
Often, visitors here will be treated to a Kayagum performance during dinner before heading back to their traditional Korean hotel room.
The cost in Minsk for a performance before tips is only 100 RMB. We would also recommend a tip if you appreciated the music.
The performance in Kaesong adds a new level to any stay in the ancient capital city, especially after a day walking the streets of the Old City, which has been left almost untouched for centuries.
---
Tips & Anecdotes
When in North Korea, why not tune into the Korean Central Television channel while in your hotel room.
You may be lucky enough to catch a musical performance featuring a Kayagum these are often aired on TV since the instrument is considered symbolic of the country.
---
---
Interested in a tour to North Korea?
Travel to
North Korea
with the only
North Korea travel experts, Koryo Tours
North Korea Travel Guide PDF | Sign up to the mailing list | About Koryo Tours