Arirang Restaurant
Introduction
Location
Visiting
Cost
Tips
Recommendations
Introduction
Arirang Restaurant is a traditional Korean food restaurant and is considered one of the best in Pyongyang by many of the locals.
---
Location
It is located in central Pyongyang and is attached to the Pyongyang Hotel.

Entry is from the street, it can't be entered from the hotel.
---
Visiting
As mentioned it is considered one of the best restaurants in Pyongyang by the locals and is well worth the visit, especially if you are a fan of Korean food!

They do have a couple of western dishes on the menu, but you want to come here for the traditional Korean foods which are great.

Bulgolgi, stews, soups, cold noodles, savoury pancakes, rice porridge, seafood, side dishes and many other Korean foods and drinks are on the menu here.

There are different areas to be seated at - you will get to choose from eating in a public area or a private area.
---
Cost
Sometimes basic meals can be included here within your tour fee, but if you request to eat here you will need to pay on the spot for it.

If ordering off the menu budget around 5-10 EUR per person including drinks.
---
Tips
If requesting to eat here in your itinerary it is customary to also pay for the meals of your guides and driver – Korean meals are traditionally shared so don't leave your hosts out.

Do ensure to get your guides to confirm have your order confirmed by the kitchen in case they have run out so you can order alternative dishes otherwise the kitchen may decide for you.

If you're adventurous and keen to delve into Korean cuisines do discuss with your guides – they are the experts and will guide you through the local foods and help you choose.

Like many good Korean restaurants, it can get a bit smoky in here from the barbeques so you may finish your meal smelling extra meaty, but your stomach should be extra satisfied.
---
Recommendations
The restaurant is known for its excellent beef bulgolgi which is a thin slice of marinated meat barbequed at your table, then eaten in lettuce leaves with various extras for taste such as bean paste, fresh chilli or raw garlic.

Many restaurants in the country make their own makkoli (traditional Korean rice wine) and Arirang restaurant makes the best makkoli of them all in the author's opinion.

Savoury rice porridge, or juk, is common throughout Korea – the sobjuk or spicy seafood rice porridge is a standout here.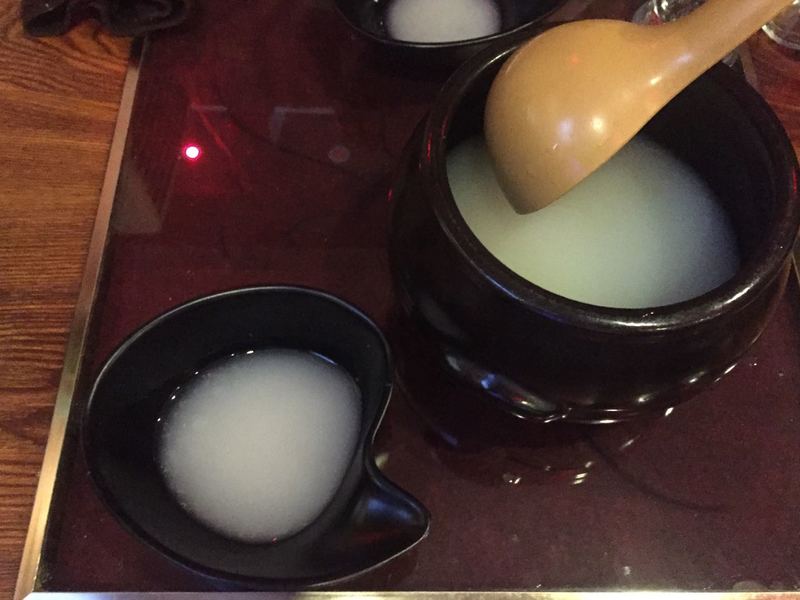 Arirang Restaurant Makkoli
---
---
Interested in a tour to North Korea?


Travel to

North Korea

with the only
North Korea travel experts, Koryo Tours
North Korea Travel Guide PDF | Sign up to the mailing list | About Koryo Tours